Here's what's new, improved, and fixed in Windows 10 Mobile build 10536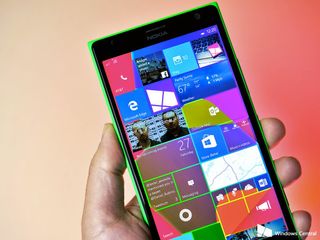 Microsoft has finally let loose the chains on Windows 10 Mobile build 10536, and the list of improvements features an updated photos app, one-handed mode for all devices, and much more.
Here's a rundown of the list, provided by Windows Insider chief Gabriel Aul:
Insider Hub is now included again!
Mobile hotspot functionality has been fixed.
Voice input has been updated to add support for Japanese and >- English (India) speech recognition.
Single hop updates are again available from Windows Phone 8.1 to Windows 10 Mobile Insider Preview for all devices.
Two-factor authentication is fixed when setting up a device for both text and phone authentication.
Start screen will successfully load instead of failing with "Loading …" displayed in a loop until device was rebooted. (We are still tracking down an issue were it may show "Loading …" for a few seconds.)
Quite Hours\Do Not Disturb has been fixed.
Delay in showing date and time on Lock screen has been improved. -Pinch and zoom in Maps now works as expected.
In addition to the above improvements, Aul noted some bigger changes in this build, including:
All-in-all, this is a pretty solid update. If you haven't yet, you can go ahead and check for the update now.
Source: Microsoft
Windows Central Newsletter
Get the best of Windows Central in in your inbox, every day!
Dan Thorp-Lancaster is the former Editor-in-Chief of Windows Central. He began working with Windows Central, Android Central, and iMore as a news writer in 2014 and is obsessed with tech of all sorts. You can follow Dan on Twitter @DthorpL and Instagram @heyitsdtl.
Good start on the photos app but they still need to add the ability to create folders or albums in the app.

It is a good start indeed.
.
Does it have openvpn support?

Also, allow rotation of favorites on the live tiles and lock screen. Posted via the Windows Central App for Android

Why did they say introduced favorites? Like it was already there in WP8 and WP8.1

Probably would've been best to say reintroduced, as it was probably added into the Win10M Photo's app.

W8 photos app is built into the system, isn't universal, and doesn't have some of the other features that the universal app has. So the new app is a different one and didn't have favorites in the mobile version initially.

As a workaround, you can create folders using File Explorer :)

I don't think so. There may still be problems with battery life and heating.

Yes the phone is getting really hot and burned down the entire planet. . btw jk

So true Posted via the Windows Central App for Android

Lock screen show time speed improved??? How hard is that to fix...

And how about restoring glance options from the settings menu, is that fixed now? I want to deactivate my glance screen on build 10512, but the option disappeared after I did a hard reset.

I don't know why glance is inaccessible from the settings menu but you can get to it by opening it from the store. SysApp Pusher is the easiest way.

Try installing the SysApp Pusher app from the Store. You can use it to run the Glance settings app.

Thats an easy fix. Just download SysApp Pusher app from the windows store. In that app you can find and install missing nokia based features... Glance included.

It's really easy. They just took their time because they like people from the internet comments section questioning how well they can do their jobs.

You know what they say, "If it ain't broke, break it and spend forever trying to fix it."

I checked for the preview build update after reading this post. Couldn't find. Phone: Microsoft Lumia 535. Current OS : W10M TP build 10512

Reinroll into the Insider Fast program.

you cannot since the phone is likely trying to update and so the best way is to use Windows Phone Recovery Tool and go back to WP8.1 From there, upgrade to W10M through Insider app - you should get updated directly to build 10536.1000

Love that One handed mode is coming to all phones now. Looking forward to the hour that I have this done installing (consdering two builds have to be installed) :)

I have problems with the TP. My 535 doesn't react correctly to Touch input, mainly in games. Does anyone know anything about that?
My guess is because of resolution incompatibility, and the soft keys.

Also on my 1520 But not in games, but after each call ( WhatsApp call, Phone Call ... )

I don't know but u can try the forum. :(

Thanks. Will do. Maybe going back to 8.1 and re installing tp will fix.

Wasn't this supposed to be released tomorrow?

It's already tomorrow here in Jordan :P

My name is Jordan and it's here today for me!

Me too :) Now Downloading... the updates

I'm from Saudi Arabia, looks like we're neighbors ;)

Can't trust anything MS says ;)

Just got notice on my Samsung ATIV S that this update is available. This is the first Windows 10 preview build for Samsung!! I'm not so sure about getting it...

Try something new buddy!
Buy wait, check for an update for recovery tool

Yeah, I want to but I only have the one phone - not sure until I see more comments. :-)

BTW - I'm not on Technical Preview so I'm not even sure why I'm seeing the option.

are you sure it's for windows 10 then?

Yes. Windows 10 Technical Preview - 10.0.10536.1004. It states that it's a important update. I don't want to beta test since.I only have the one phone, but now I'm stuck with that update notification unless I do a hard reset (so I've been told).

If you've every installed a Windows Insider app, then you will get that update showing

You got me excited, I ran to my Neo and checked and no updates. You had to get my hopes up...

Sorry!! I did specify mine was the ATIV S. I was shocked to see it.

Really .. You got an update notification for Samsung ativ S. I don't see that on the supported list. I have an Ativ S too but I don't seem to be able to get any of the preview builds. Have you installed it?

Yes - really on the ATIV S. I'd post a screenshot if we could.

No, I haven't installed it.

OK, this is WEIRD. I did not have the Windows Insider App installed - but I stll got the update notification. I do not want the technical preview - but I cannot get rid of the notification. I thought, by some off-chance, that if I installed the Windows Insider App it would let me opt of of the technical previews and get rid of the notification. NOPE - It tells me there are no preview builds for my phone!! Screenshot if anyone is interested: https://onedrive.live.com/redir?resid=7E15920FED0603B1!268172&authkey=!ACMFYf3WnC3bQK0&v=3&ithint=photo%2cjpg

DO NOT INSTALL IT! Microsoft have stated that it will not work on non-Lumia devices other than the HTC One M8.

I didn't install it. But, it downloaded the update and gave me until the 18th to manually install it, or it would do so automatically. I had to factory reset the phone to get rid of the update. I was NOT impressed.

Downloading 2 updates now on my 930 10.0.10514.0 and 10.0.10536.1000

Me too! Any ideas of what is happening?

Same here, stuck on "preparing to install updates 1%". Gonna read the comments and forums and then reboot. Fingers crossed don't have to revert to 8.1 first.

Same. I tried restarting, but confusingly the next time it said it was downloading updates, but didn't say what they were. The bar didn't move, so I've doing a factory reset (quicker than faffing around trying to find an answer, usually!)

I ended up not rebooting. Jumped from 1 to 15 and smooth sailing after that. Working good now. One screen worth of apps on Start, maybe 100 apps total. Dumped what I never use after the last reset. A bit slow at the start, not responding to touch for a minute or two, maybe do to all the pending app updates after updating.

And then you'll have a third; 10536.1004

One handed mode. For a second there I thought they had improved the UI so that you could navigate the OS like before but it's just the silly thing they copied from Apple to work around their design mistakes. Sigh.

But the desperate masses lap it up. Classic.

I hate it, tbh. On 920 and 930, which I can use one-handed anyway, all I wanted was a switch to turn it off. It just annoys me when I accidentally trigger it.

yeah... a toggle should be made, but i do wanted it tho (920)

Had this on my 535 about 2 months ago, maybe I'd installed the 1520 version of the OS?

me too. LOLOLOLOLOLOLK. anyways... better than not having it.

One handed mode is that thing when you press windows button and the screen is half?

Doesn't matter. Not what she said though. Posted via the Windows Central App for Android

Oh, can't wait to check out the Photos app update. It was woefully slow and not too useful without folder support. Wonder if Groove works better, too? I and others have been experiencing issues syncing playlists, songs, and also indexing of "music" that belongs to installed Apps/ Games.

i have problems with groove too, i have to kill the app several times before it starts playing, and then after a while it starts skipping everysong.

Does it seem stable? Do the core adopts work ok? I stopped with the new builds when Edge did not work and everything lagged in the update. Of course I broke the screen on that phone and have been weary to put it on my daily driver.

What is your daily driver? Almost everything (what I use) works good on my 1520.3....

I have been using previews since last built on my 930, 1520 and 640xl without any major issue, only loading and resuming was annyoing but over all useable as daily driver. As it says the new built has resoved those isssue so just waiting to be installed!!!

I hope dropdowns work in Edge now. That is the one real major annoyance I've had, didn't realise how much I used them until I couldnt.

OMG HELL YES. Sorry, but I doa lot of research and every site uses a drop down for filtering. Made the browser unusable.

I had to download opera and uc browser to do that..useless browsers all 3 of them

I hope now they stop to spend time with transition delay variables * Sighs *

I installed 10536.1003 on my Lumia 1020. It has a weird annoying bug regarding "Quiet Hours", it turns off by itself when manually activating it and keeps turning off and on during the whole automatic rules period. That behaviour occurs since ever in Windows 10 Mobile, even when a hard reset is made. Could anyone confirm if my phone is the only one with this issue? I did report it in the feedback app. Also, trying to upgrade to 10536.1004 it says "We're having some trouble downloading updates. Restarting your device may help"... For the those that might be wondering... Will reflash to 8.1 this evening :) Regards from Costa Rica,

10536.1003 was given by mistake to around 200 people, in order to update to a new build, you must reflash 8.1 the intermitent quiet hours is a bug that was introduced in an old build, the next fixed it, but then another build brought it back, this 10536.1004 should fix it again.

Yes, I´m aware about having to downgrade, but thanks anyways.
Regarding ​"Quiet Hours", I´m also very clear about the blinking toggle. I´m referring that, for example, if you hit the Quiet Hours toggle (now that is fixed, not blinking) turning it on, seconds later it will be deactivated by itself. Also, if you pay attention to the "moon" icon during automatic rules, you will notice that it will deactivate and active repeatedly until the final hour of automatic rules is reached. At least, that´s the behavior in my Lumia 1020 (hard resetted after update).

I hope they bring hey Cortana and the other cool stuff from 8.1 to win10

what about landscape keyboard issue? Posted via the Windows Central App for Android

This build available on HTC 8X!

They finally added a folder view to Photos. THANK HEAVENS! That has been the most annoying thing other than some of the "Loading..." issues.

I wasn't desperate for it, but glad to see it has made it's way in. I move a lot of my photos out of my Camera Roll in OneDrive to organise them, so they are pretty much albums in a way (to me)

Still no Microsoft pay, guess that's an Oct. thing.

I have no beef with Microsoft because developing software normally happens secretly, but seriously some insiders need to take a chill pill and remember you agreed to use bug ridden software to help Microsoft develop a polished product. So how about more of the constructive feedback and less of the piss and moaning about bugs. If you want finished product get off the insider program and wait for the full product release.

Completely agree. And for anyone who asks if this release is stable enough to be used as a daily driver.....please roll back to 8.1 as beta testing is not for you.

It's not that simple. Insiders should be used to test a wide range of hardware and in very specific scenarios, that internaly there is no way Microsoft can test. Something like: there is an issue when the VPN is on and I'm trying to do a remote connection (no idea what I just said). You can't release a build where the start screen does not wok or the email app is broken. You don't need insiders feedback for that. Your internal team can see it. Yes, insiders should expect more bug than beta testers, but they are basicaly the same people. And people will complaint when something is not working and they consider that thing a basic feature to have. I could care less if the Mobile hotspot is broken. I don't use it. But if the Email app is not functional my lumia is useless Regards

One handed mode; for keeping your other hand free while browsing your umm pics. Yeah, that's it.

Your profile image is altogether too much of a match with your comment. I don't like it, sir. No, I don't like it.

Showing 2 updates on my UK 930 too... 10.0.10514.0 and 10.0.10536.1000 but nothing actually downloading now for over 30 mins. ....

same for me here right now

okay, now it works.. but without feedback in download. it just flips to prepare for install...

I just had a bad experience with the build 10166 @ L830 (eternal 'loading' on screen, start screen settings didnt help, had the 'sad face' during hard reset ) ... Restoring to 8.1 and wondering if I must flip to Fast Ring or not to try this new one.... i would ask for opinions, but it seems these issues are very random ... some are having luck, some don't ...

Hey, cool, when you have been unjustly banned from the forums you can still respond to posts. Downloading right now, really looking forward to the fixes. Almost all of the announced fixes are to issues that are a regular annoyance on my 1520. I hope updating will reinstall the maps app which sadly went missing at some point during the 10512 debacle.

I will wait a day or so... But looking forward to it

English India speech recognition? I can't believe.

Still more to fix and much more to improve.

Gifs gifs gifs can I send gifs now? Posted via the Windows Central App for Android

Downloading now, hope the 1520 likes it

With the one handed mode couldn't this be extended to include split screen too?

This would be useful for the times you want to keep Netflix playing and go check something in Edge or read an email - I think I read iOS 9 has a Picture in Picture view/mode. That could work quite nicely for something like this if it was added in Windows, but don't think we would see it added before RTM

I just want to see a video of this running on Daniel's 1520. Then I will decide if this headed to my 1520, and not just the 1020.

Disappointing that we have to go through this "they're rewriting the whole code base, of course there aren't going to be a lot of new features!" Every two years.

Cortana quiet hours when calendar busy??? Back yet or not?? :(

Now that hotspot is back I've put this on my 930. So far so good just from upgrade. I'll do hard reset later today but seeing how it handles upgrade first.

Have you tested the WiFi hotspot, dies it work without issues?

not yet. it turns on fine so that's a good start but i'll have to try connect a device to it when i get home.

Let me know how it goes, please. If it works I may give the TP a try on my 930. Just essential that internet sharing is working. Thanks :)

We still need geotagging and autotagging for the photos app.

Is the Bluetooth stack fixed in this build? Will it properly sync with my MS Band? Small thing I know, but it's important to my and why I've been waiting to do the upgrade again.

What about Groove music?! I know that's an app but a Windows 10 app more so. My gf can access all of the functionalities on her android, but I can't explore, do radio, or even download music though I have the yearly pass. I can only pay for the music and it's super annoying! On 8.1 I can do all of that through Music many will say go back to that. No reason Groove should be in beta when its fully released on every other device

It's not too bad you can still shuffle your music in the collection, but it has a bug where if you say suffle offline only it still shuffles streaming music. If you toggle the filter it works again (it's been reported a few times on the feedback app). That app is very far from the version on my Android that gets updates weekly.

Have anyone notice about the otg availability??

Help!!! Maybe someone can explain to me. When you're using your phone in one-handed mode, what are you supposed to do with your other hand?

I am getting loading bug for start screen. ARGH! just did install from 8.1 on a 1020.

What about landscape keyboard issue in L1320? Fixed or what?

I had the same problem with my 640XL and now it's working just fine in this build

What does Maps update have got to do with an OS update? Not enough to show in the OS, so they delayed the launch of updated Maps instead?

Is it just me, or are custom ringtones and text tones not working? I can't even get them to show up in my list when selecting one...

Thank goodness I'm not the only one. Nearly reset my phone becos of this. Will just sacrifice since i love the W10 Mobile preview

Mine also doesn't work tried many methode to solve. nothing works. hope, it will be fixed in next build. Pathetic O.S developers.

Does this also include the new compressed memory store that desktop got a while back? IIRC Mobile never got a build that was newer than that so it should probably be mentioned as phones benefit from it quite a lot.

Does Notification light is working now on Lumia 730...??

I was hoping this build would finally kick the Ilama's ass.. :(

Nice, but I think I'll stay on build 10512 since the new build 10536 has some problems I want to avoid..

Following are the buggs that I stiil found in this build in my HTC M8. Double tap to wake up. Dot View not Working. Some time it auto restart my device. Dual Cam not working. All these issues are perfectly working in window 8.1.

The start screen 'oading...' issue is still a problem for me.

using HTX 8X - System reboot's each 5-7 minutes Hope they fix this soon

Maybe Off topic, But I'm seeing a new folder named "Recorded calls" in the file explorer on the phone memory(not the external SD card). Any Ideas ?

NSA have no more space to save your recorded calls so you'll hold your recordings for them xD

LOL , I have no problem knowing they are lestining to me when talking to my gf XD

Nice update so far :) Off-Topic: Whats the wallpaper used on the phone in the headlight image? Anyone know?

In old build wifi n hotspot not working then how can i download the latest build plz rply any one

Hey Cortana still not working on my Lumia 930 says voice activation not supported by my phone ?

The start screen loading issue is not fixed on my 920. Damn, I was really looking forward to having that fixed.

Same on my 1520. Mine will eventually load, usually within 15 to 20 minutes. You? Or did you go back to 8.1?

No, I didn't revert. If I pull down notifications I can get to the settings button. Then if I fiddle with the start screen background I can ususally get it to come up.

the keyboard woks fine on the landscape mode, in previous builds i had this issue where the keyboard doesn't show up in landscape

When using apps to send or use photos (messenger, twitter, fhotoroom), the photos app just closes then leads me back to the app. I can't tweet nor edit my pictures now. Can someone help me with this?

I need to know this too... Was the reason I reverted to 8.1 :/

my 10536.1004 update is stuck on 14% from last 6 hrs. What do I do ?
Plz reply.

Quiet Hours is still bounded to Cortana btw and not supported in my region (The Netherlands).

Do not for any reason change the transparency level for tiles. I have done it a few times now with the old build and this one, it I get the "loading" issue with the start screen for 30 minutes. It's awful

Can anyone tell me if the soft navigation keys are fixed? My daily driver uses soft keys and I couldn't swipe away to hide them two builds back and haven't wanted to install it again until that was working.

Start screen still shows loading on my Lumia 1520, whenever i try to change the accent colour

Mobile HotSpot works for me but I am unable to turn it on from another device. That setting is enabled on my phone and I have paired it with my Surface 3 but the Surface seems to see it as just another hireless network. In previous builds, the Surface would report in the wireless network list that it was a Mobile HotSpot and whether it was On or Off but now it just reports "Secure" as it does for any old network. Can anyone confirm that are or are not seeing the same behaviour?

On my Lumia 930 I still have the Start screen issue; loading, loading, loading...

what about the feature to set photo as Picture Profile on FB directly from photos ??

OTG support, spotlight lock screen all missing :/

0x800705b4 error i can't update

I have installed this build from WP8.1 on Lumia 1520. After installing OS there is no migrating step. Which generally takes long time. Now there is no start screen it is only showing list of Apps which was downloaded after installing this OS. I cant see previously installed apps in the list. Though it is dispalying as installed in store also. i even getting notification from previous apps but cannot open once i click on it. Is there any solution rather than hard reset.??

Question: I've just upgraded to the latest build. Is there a way to do a reset (so I can restore my backup) and still retain the latest build or will it automatically revert me back to the older build?

Nokia Made better phones than this new Microsoft sh** and I use the 920 and love the design off the phone the camera is top class zeiss optics just shi*** software omw technical preview what a fail.. yall should of never chased those Nokia Guys man When they release the new Android phone Im ditching yall pinky promise...

Need to Add call recoder.

ON CONTACTS , MICROSOFT MUST ENABLE US TO EDIT LABELS (MOBILE PHONE, WORK PHONE ETC) TO PUT OUR OWN RATHER THAN ONLY CHANGING THEM. WE MUST NOT BE RESTRCTED TO ONLY 2 MOBILE NUMBERS (LABELS) IF MY CONTACT HAS 3 MOBILE NUMBERS, THE THIRD ONE CANNOT BE SAVED AS A MOBILE,

Quiet hours certainly hasn't been fix with this build. On the previous build I had inital problems with it. Then it started working OK. This new build quiet hours seems to be fine for calls and txts, but I'm still getting woken up due to email alerts still sounding through...

Oh and I've noticed that the live tiles are really, really slow to update now. The tile shows something like the latest email, then I open outlook, view the email, drop back to the home page and it's still showing, 10-15secs later the tile will flip and the notification is then gone. Previous build was much quicker to update.

No Transparency level settings and No Folders tab in my Lumia 630 Dual Sim running build 10536

Does this build compatible with my phone Lumia 625H (nokia Lumia 625 variant)and in my country(Philippines)? I tried installing this and so far it runs very well on my device. I'm almost satisfied with the performance only to find out that I can't send/receive sms but I can make phone calls. I tried soft/hard reset, checking my message settings and even installing third party app(messaging skype preview) but all didn't help. I look in cellular+sim setting but my sim application is nowhere to be found. It looks like I'm the only one having this problem. Please help!

Does this build compatible with my phone Lumia 625H (nokia Lumia 625 variant)and in my country(Philippines)? I tried installing this and so far it runs very well on my device. I'm almost satisfied with the performance only to find out that I can't send/receive sms but I can make phone calls. I tried soft/hard reset, checking my message settings and even installing third party app(messaging skype preview) but all didn't help. I look in cellular sim setting but my sim application is nowhere to be found. It looks like I'm the only one having this problem. Please help!
Windows Central Newsletter
Thank you for signing up to Windows Central. You will receive a verification email shortly.
There was a problem. Please refresh the page and try again.