Windows 10 Mobile preview build 10536 now available for Fast Ring Windows Insiders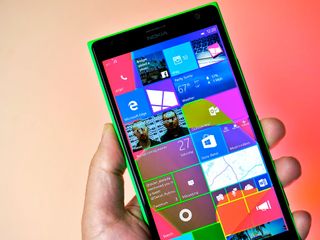 Microsoft has released a preview version of Windows 10, with the build number 10536 to members of the Windows Insider Program who have signed up to get updates in the Fast ring. This is the first update from the previous build of 10512 from weeks ago and it has been a long time in the making.
From earlier news, we know that this build has one semi-major bug, which is that the Store may occasionally fail "under heavy memory load" for purchases and in-app purchases. The workaround is to either reboot the phone and try again or do the purchase through the web version of the Store.
Other fixes from the earlier 10512 build include:
Insider Hub is now included again!
Mobile hotspot functionality has been fixed.
Voice input has been updated to add support for Japanese and English (India) speech recognition.
Single hop updates are again available from Windows Phone 8.1 to Windows 10 Mobile Insider Preview for all devices.
Two-factor authentication is fixed when setting up a device for both text and phone authentication.
Start screen will successfully load instead of failing with "Loading …" displayed in a loop until device was rebooted. (We are still tracking down an issue were it may show "Loading …" for a few seconds.)
Quite Hours\Do Not Disturb has been fixed.
Delay in showing date and time on Lock screen has been improved.
Pinch and zoom in Maps now works as expected.
The OS is supposed to have general performance improvements and decreased loading for apps and native behaviors.
For those who wish to skip this build, you are advised to launch the Windows Insider app on your phone and choose Slow Ring ASAP before the OS checks for an update. We'll have a hands-on video soon discussing what is new and improved, so stay tuned.
More info forthcoming
Windows Central Newsletter
Get the best of Windows Central in in your inbox, every day!
Early is always better, but does it seem faster?

WOOT! Let the complaining begin! ;)

Finally I can feel the power!!!

Nice! Going to get it now

Preparing to install now.

How long did it take, I heard its twice updates

I'm also downloading :3 Fine!! :D

WOW. Those are the best news. Going to download on my sister's phone

It's showed up on my ATIV S. although they seem to have a history of bugging out after downloads so might just give this a miss, or at least wait a few days for any issues.

I'm on slow ring build :s update to fast ring or no? Waiting for the video

What do you think guys should I install it on Lumia 820

I'm installing it on mine, but then again it is just a testing device and has ran pretty rough with prior builds..

I've had it on my Lumia 820 since the beginning. It started out horrid, but it's gotten a lot better since. If you don't mind doing a sofftware recovery (if things do go wrong), go for it. I love it, and have no regrets.

Has two updates for me 10514 and 10536

Glory glory hallelujah. Glory glory halleluuuuuujaaah

Can anybody confirm that this build plays well with the Microsoft Band?

Dude, no one has had time to finish the install yet. I'd wait a few hours, and ask in the forums.

Understandable... I just wanted to pose the question in case anybody had time to try it out when they are done downloading it.

The build we have all been running for the last month worked pretty well with my Band actually. The only issue I had was when you opened the Messaging app to view texts, your Band would get duplicates of the text notifications, which wasnt a major problem really, minor annoyance.

I'm seeing TWO builds. 10514 and 10536. Anyone else seeing this in windows update?

I'm showing two updates 514 and 536

I have two updates available 10514 and 10536. Normal?

Available for HTC 8S. Now if i can get the space for it.

Downloading in my Lumia 730..
But it's Showing Two Build Numbers..
10514 & 10536
What's this anyone know...???

You have to download both.

Ya saw Gabe's tweet regarding that now..
Thanks..

I'm getting a new 640xl tomorrow, so I don't mind tinkering with my ageing lumia 1520!

why get a 640XL tomorrow? Honestly, if you wait a month or so, the price will most likely drop when the new phones are announced (or released) or you can get one of the new ones, which is better all around!

Curious why you feel the 640xl is an upgrade from the 1520. I recently broke my 1520 screen and took a look at the 640xl but decided to pass on it and use one of my old 920s until the new flagships are released.

lol at the downgrade. The 1520 smokes the 640.

Please if you're going to test it on your 1520, tell me how is it

The 640 XL is a superb choice. It's a great, GREAT phone, and for the price you pay you can't do a lot better. Anyone attempting to question your choice and decision or trying to put you off buying one, VERY likely has never even been within 10 feet of a 640 XL, let alone used one for more than an hour. I've had mine since May, and it is SO useful and the screen is TREMENDOUS! You don't even think about this whole nonsense of "It's only 720p" (seriously? Only spec nerds rattle off specs). Amazing phone. You'd never get it out of my hands, it's better than the Moto G by FAR.

Is there a way to directly install this version from Windows Phone 8.1 or i have to install all subsequent updates? Reason i am asking is i tried few months back and my phone stopped responding in one of the updates and stayed on rolling bar....Lumia 1520...please let me know..

It will go directly to 10536.1004 from 8.1. No problem. Have fun!

Strange that my phone is downloading another build, which is build 10514, as well.

Here is why you will see multiple builds during the update process: http://blogs.windows.com/bloggingwindows/2015/09/14/announcing-windows-10-mobile-insider-preview-build-10536/?linkId=17033778

Damn, rolling back may actually "seem faster" x_x

Waiting for the "bugs in this build" and "what's fixed in this build" articles, along with a few people in the forums giving reports. Then I'll make my final decision on whether or not to put it on my daily driver 640. I've got a backupu 635, so shouldn't be an issue, but resets are a pain, so I'm going to try to be patient until possibly tomorrow. Surely if I wait one more day it won't kill me, and I may have a better idea, right?

My 1530 was rolled back to 8.1. Going for this latest build on it right now. I don't expect much joy but nothing ventured, nothing gained as the saying goes. My HTC One M8 ( my daily driver) will get the tap a bit later tonight.

Everybody getting two updates READ GABE'S BLOG on Windows Blogs!!

Is this stable enough for daily use?

Depends, please use the forums for details.

How can I get Skype messaging/video Preview Apps back?

Exactly what I like. A pleasant surprise rather than it's coming....maybe not yet. Downloading on my 920 as soon as I get in the house. Posted via the Windows Central App for Android

How well is it working on your 920? I've tried every build so far and have had a very unpleasant time of it each time. I especially didn't care for the camera app last build.

I'm getting two builds. 10.0.10514.0 & 10.0.10536.1000

Yep. And after you get those, then you'll have to upgrade to 10536.1004. That's only for those upgrading from 10512. WP8.1 gets a straight shot to 10536.1004.

Then it's time to connect the charger. The current known bugs are harmless.

Thought it was for Mobile!

Yeah! Jaja, I didn't read well!

Still at 0% after 15 minutes...

Stuck on 0% for 45mins :(

Same here, can't get past 1%, even after a few restarts

Same as well... Let's be patient ;)

did waiting work? last time i have to go back to 8.1 first, it sucked, dont want to go through that again.... wtf microsoft, this should be the first bug to fix

Searched for updates 2 hours ago, found both, says "loading updates", but still 0%...

I am not sure about time but I am waiting from morning and still %0

I seeing 2 updates... 10514 and 10536

Oh, cool! It gives one handed mode to ALL phones! Yay! My small hands need it at times for my 5" 640. Sad, but true.

I got one hand on 101512. Didn't need it on my HTC One but it was there just the same.

Same here but my Wifi icon show some little internet action... Then, i wait Edit: Now at 2%

Please those who are installing it on their Lumia 1520 tell me if it's good and stable

Do you have to hard reset before it will download because when I choose fast ring.... My phone reboots but just comes back to the home screen... Nothing downloads..... The only thing is that in my windows insider... I have two choices for slow ring and one choice for fast ring Does that sound right??

Alarms "Vibrate Only" added ?

This line in particular stuck out to me: "Single hop updates are again available from Windows Phone 8.1 to Windows 10 Mobile Insider Preview for all devices." Based on the comments, it looks like non-Lumias (and non HTC M8) devices are getting in on the action. If that's true, than I wish Microsoft had more "blatantly" and clearly stated this (i.e. in a post from Gabe Aul).

Going from 0%, 2% and now 41% Yeah!

OK after stuck at 0% for over 20mins, I just left it and now see progress, preparing to install 6%. Be very patient.

For everyone concerned due to the lack of download bar progress, keep in mind EVERY build release has been like this. You will see any sort of progress until the downloads are finished and they begin installing.

It's worse for me this time. It stayed on 0% for 2 hours and after that it jumped to 6%. Never been this slow before.

nearly the same here, 0% after more than 2 hours.

Downloaded 100% really fast here, about 15 minutes. Finished instaling just now. Restarting... L930

Migrating data... Step 3 of 24....

Up and running!!!! And yes guys, IT SEEMS FASTER!!!!!!

Let us know how you like it on your L930. What is great? What isn't?

This process is confusing. Download and install TWO updates to Windows 10 Mobile. After those are up and running, download and install a THIRD update? (the .004 update). So you have finished all three stages of the update and your phone is running well?

should i put it on my 635? or not enough ram?..no previous builds installed 1st timer? stable enough to use daily?...Also is messaging the Skype only App?

Preparing to install update seem to take forever! Been on 7% for over 30mins. Edit: Moved to 12%, 16%.......

I am upgarding my lumia 720.It is showing downloading updates as 0% from last 45 minutes.Any one else facing this??

No i decided to take the plunge, it's all been updated installed. just trying it out on the 635 . All up about 30min fairly painless. So far its running great on low end, no lag or freezing fairly snappy going to use it till 10 comes out now. 8.1 looks so outdated, I have that new phone feeling.

I am upgarding my lumia 720.It is showing downloading updates as 0% from last 45 minutes.Any one else facing this??

Yes, on my 1020. Im on the final update which is moving along rather quickly compared to the 1st 2.

How is the experience on 720 any bugs??

very happy that the start screen loading bug is fixed. That was the main bug that had me wanting to go back to 8.1.

Yep, updated my htc 8x, looking good!

After update phone comes up with speech language set to German. Unable to download US English speech language: Download error.

Error downloading speech languages: English US and UK

Now available on HTC 8x! At least for me, anyway.

Any idea what's the size?

First download consumed around 660 MB friend, I'm struck at preparing for installation at 6% for more than 30 minutes

My phone is in 7% preparing to install fo hours. Is it right?

Ne1 installed in lumia 730?? Ne big issue?? Im jus downloading.. Hard reset is required??

Downloading stuck at 0% after 3 hours. What shpuld i do?

Groove music pass issue fixed?

Can i go directly from 10166 to current build???

Is Notification light is working now...On lumia 730..??

I can't even download the bloody thing, it's on 0% for hours now.

My phone took 3.5 hours to get to 3% but now seems to be going fine

Ah, 3.5 hours?:/ we all need some patience then!

I think that also depends on the update speed, some folks are saying 1hrs. Mine is above 1hrs now and still 0%

I just saw 27% now after 2hrs so yea u maybe right at 3.5 hrs here in Nigeria

i have lumia 640 with windows 10 build 10166.. and when i am checking for new update its showing me your phone is up to date .. how can i update to latest build.. plz help !!!

The 0% download showing for such a long time without progress bar indication is really annoying, why can't Microsoft fix this foe once

I just saw 27% now after 2hrs

Does anyone else have problems with Cortana in previous and this build? In all Settings (lang, region, speech) I have only English and US, location is on, but I have only Search tile that leads to creppy Yandex web search as well as Quite hours in Action center. Anyone knows how to fix this?

Installation files downloaded, stuck at 6% of preparing to install and then error 0x800705b4, unable to install on my 1020

Does anyone know why am I not getting the updates (the latest two ones). I am currently using the build 10512 , the region is set for United States and i still do't receive the update . I tried multiple time to check for updates and the message i receive is : You up to date .

Seems like everytime I install an update, including 10536.1000 -> 10536.1004 I have to re-open the windows insider app and choose the fast path. Maybe as they get closer to a RTM build, they aren't automagically setting the download servers to the beta ones and they are set to the carriers servers by default or something.

Article has an error: As per Gabe Aul's twitter, this build has the fix for the Store bug

Every time I try to start the update, it stays at 0% for a while. Then, after a long wait, it jumps to 4%. After a while of waiting again, I get this message:​

There were some problems installing updates, but we'll try again later. If you keep seeing this and want to search the web or contact support for information, this may help: (0x800705b4).

I am using a Nokia Lumia Icon (929), which is currently running Windows 10 Mobile Insider Preview, OS version: 10.0.10166.0. I have tried both shutting down the normal way and performing a soft reset. If anyone has a solution, preferably one where I don't have to go back to 8.1 and then 10 again, please share!

did you find a solution? my 1520 has been stuck at 0% for 8 hours.

guys i wanna know that whether camera features are included or not

Getting error code: 0x800705B4. When I tried to update again it says no updates available on my Lumia 1520. Currently on fast ring.

3 hours and still 0%. what i can do?

did you find a solution? same problem..

its downloading on my sd card, 1,61gb, but just don't show in % in phone update. i hope it will over soon :) and can i delete WUdownloadcache folder on my sd card when update are finish?

Easy step to get New build 10536 in up to 2hrs. Step 1- create a new microsoft account. Step 2-Rollback to Windows phone 8.1 using Windows phone recovery tools. Step 3-Sign in using your new account not the old account. Step 4-Install Windows Insider and regerter your new account not the old and click the Insider FAST and RESTART your phone. Step 4-Goto Phone Update and Click check Update and you're new Update available is Build 10536. GOODLUCK and feedback if working. NOTE: Remove the SIM and Memory card. Im using LUMIA 535 build 10536.

Lumia 735 and so far feels better than the last build. however The ringtone maker is not working in this build, as so as the custom ringtones. Video tuner apps make a comeback =) Picture picker is not working in whatsapp.. probably the old picture picker is removed already.. hope whatsapp to update the app soon, work around is to share to whatsapp by 'share' menu

I find the scrolling of map on my 920 is a bit jerky... not smooth

After upgrading to 10.0.10536.1000 my Messaging Application (SMS) gone. Its not showing on application list. please help me.

Install the skype messaging beta and use that. Go to https://goo.gl/9e2KAm (via the phone's Edge browser) and install from there, there'll be a separate "Messaging Skype Preview" app once it's installed.

update is been done in nokia lumia 520

H guys! I have a 1520 and still unable to download the last builds esp that Fast Ring improvements. I already had my devices restarted and still no good. Always stuck @ 0% even spending almost the whole hooked up to wifi. How long does it really take to download all three updates? Should i revert back to 8.1 since i already restarted my phone 3x. Thanks a bunch!!!
Windows Central Newsletter
Thank you for signing up to Windows Central. You will receive a verification email shortly.
There was a problem. Please refresh the page and try again.