Here's when you can play Titanfall 2's Multiplayer Tech Test on Xbox One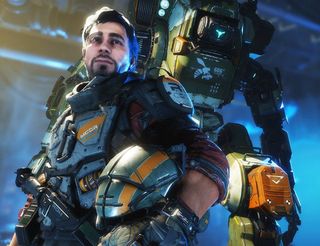 Respawn Entertainment will run an open multiplayer tech test for its upcoming sci-fi shooter sequel from August 19 to 21 and from August 26 to 28 for the Xbox One and PlayStation 4 consoles.
Respawn will run two maps and two modes during the first weekend of the Titanfall 2 Tech Test:
MODES
Bounty Hunt (5v5): A brand new mode that pits Pilots and their teammates against an opposing team as well as the Remnant Fleet. Earn bonuses by killing grunts and enemies, but make sure and deposit all your points at the bank between waves without getting killed.
Pilots vs. Pilots (8v8): Players can be the best Pilot on the Frontier and put their combat and mobility skills to the ultimate test in this classic 8 vs 8 Pilots only mode.
MAPS
Boomtown: A secret underground IMC facility where the latest in R&D is put to the test. In this facility Pilots can use the many peaked roofs to use as cover against combatants below. With tight lanes through the middle, Titans can also be easily ambushed.
Homestead: The IMC have claimed Eminent Domain on a small commune's plot of land. With a series of raised, rocky plateaus and a river running down the middle, Pilots are mostly safe from Titans among the rocks and trees but they also can duck into the caves and building when needed. However, the Titans control the large rolling fields.
The second weekend will add a new map and mode in addition to the previous content:
There's even more stuff to try out during the tech test:
As previously announced Respawn will not be running a tech test for the PC version of the game. Titanfall 2 will be released for all three platforms on October 28.
See at Microsoft Store (opens in new tab)
I thought it was the best game of 2014. Even though there was no campaign, I really liked it. Can't wait for this one.

Ditto. I still play it. Still my favorite FPS so far this generation.

Ugh same time as battlefield 1 test

Nope! Both are EA games so the betas are stacked one after the other. Titanfall beta ends on the 28th and Battlefield starts on the 31st.

Can anyone join or is this pre-order only users ? If anyone, I will get about 4-5 of my frends together this weekend and beat it up a little :)

You do not have to pre-order to be part of the technical preview but, I believe you do have to either follow them on Twitter or Facebook or get the Dispactch (a newsletter) to have access. At least that was the way they were talking about notifying participants a few weeks ago. For more info: http://www.titanfall.com/en_us/newsletter/ Edit: I just signed in to EA Titalfall and it says all you will have to do play is search in either consoles stores for Titanfall 2. Click "Titanfall 2 Multiplayer Tech Test" then install and play on either of the two dates. I don't think it is available in the stores yet.

So, we still have Grunts. Its personally fine with me. Never understood why people hated AI in this game so much. To be honest, I think they have been making them more intelligent behind the curtain. I hope someday we have Forza's drivatar like AI representation of your friend's bot in your team. That would be cool!

If I could, I'd +2 this. I loved the grunts and spectres because I could go around hunting them in a pseudo-single player mode, while still jumping in and helping some friends with an objective. It allowed and rewarded all play levels. As for drivatar style AI to insert players as bots, that is genius. AI pilots and titans could allow for some interesting game modes. I'd love to see it.

Thanks. Yeah. Also, that would solve the problem of people quitting during the match. If someone quits the game in middle, his bot-representative keeps playing on his behalf and finishes the match. You'd never have unbalanced teams.

I think your quitting fix is pretty great. Rather than leaving the slot empty, you can use the bot as a placeholder. If a human shows up, just switch out the bot at that point. Elegant.
Windows Central Newsletter
Get the best of Windows Central in in your inbox, every day!
Thank you for signing up to Windows Central. You will receive a verification email shortly.
There was a problem. Please refresh the page and try again.