Hey, Microsoft, your Silverlight is showing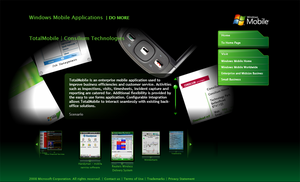 We're still waiting for some real Silverlight-enabled apps for Windows Mobile, but Microsoft is diving in head-first on the desktop side.
And this time they're showing off their Flash competitor on another (opens in new tab) Windows Mobile portal, with a focus on enterprise and getting-things-done applications.
You'll find such goodies as:
SportsDo, a GPS sports tracking platform.
Fizz Traveller (which we've reviewed before).
Resco Sudoku, to relieve "the pressures of the day," "relieve tension and stimulate your mind."
MSCMDM, for when you really have to have control.
And a host of others.
Head on over and check out what's available, and keep your fingers crossed that some Silverlight WinMo apps appear in the near future.
Windows Mobile Applications (opens in new tab) [via MSDN (opens in new tab)]
Windows Central Newsletter
Get the best of Windows Central in your inbox, every day!