High end furniture company takes inspiration from Windows Phone Live tiles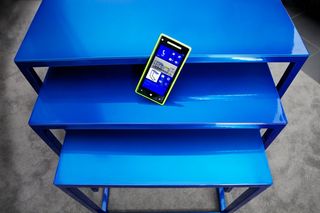 Los Angeles, California based furniture company Stanton True is now offering a series of tables, rugs, and seating options that are inspired by our Windows Phone Live Tiles. Stanton True focuses on the modern market specializing in bold, customizable furniture pieces.
The high end furniture company looked for pieces with a sophisticated, neatly designed layout that is functional as well as attractive. Not only did they draw inspiration from our Windows Phone Live Tiles but also Microsoft's three-screen approach. The style not be for everyone but you can see the Live Tile influence.
The collections are offered in a wide variety of colors, much like the colors choices we have with our Windows Phone themes. The furniture collection ranges in price from $250 to $1,400. The tile inspired rug will run you $110.
You can find the complete Stanton True collection here at StantonTrue.com (opens in new tab). The full presser on the new furniture collection follows.
Thanks, Alan, for the tip!
Windows Central Newsletter
Get the best of Windows Central in in your inbox, every day!
George is the Reviews Editor at Windows Central, concentrating on Windows 10 PC and Mobile apps. He's been a supporter of the platform since the days of Windows CE and uses his current Windows 10 Mobile phone daily to keep up with life and enjoy a game during down time.
IM MAKING MY HOUSE INTO A HUGE LIVE TILE! (When I realize I can't change my theme color with the tap of a button, calling MS should fix it?)

Only if you have a Live Gold account.

I don't get it... Doesn't look like live tiles hmmm...

It's inspired, not a replica ;) Also, the color choices. The focus is on "clean lines and geometrical shapes" as noted in the press release.

How many times haven't we seen staggered clean lined geometrical shaped side tables before?


Your tables look like the ones in the pictures? Mine don't. Furthermore, the company clearly say they took inspiration from Microsoft and their Modern UI...why challenge it?

I've seen tables that look like that long before "metro" was introduced with Zune. Not everything that's square and light blue is automatically metro. In fact, the square live tiles are a smaller part of the metro design language, the use of typography without chrome is a much bigger concept

Well, Microsoft didn't invent Metro, it's based off theories from the Swiss Movement in the 1960′s, so saying you've seen it "long before" means nothing. Even the name "Metro" was taken to mean metro station signage, which is where a lot of MS inspiration comes from (and Metro for MS predates Zune, it goes back to Media Center). Regardless, it is Microsoft that is arguably bringing back principles in design that were popularized 50 years ago. Case in point with this company, who is flat out telling you that is where their inspiration is coming from. There is no new design, just old concepts made popular again. In this case, it's Microsoft and this furniture company is picking up on it.

Then the company should state they are taking influence from the Swiss Movement. Like a gazillion other furniture companies do.

but again, that metro design language, which existed long before (they would always show signs from the 30s as exmamples in talks), is not about tiles, it's about less is more, using typography without chrome or borders.

The paint color is the _only_ thing here that hasn't been seen 1,000 times already. Tables exactly like this are everywhere. To claim they are influenced by Live Tiles is a serious stretch.

Who are you to claim you know what influenced these designers? Sure, there are definitely other similar pieces in existence and the design may not be novel, but it seems astonishingly arrogant to presume you know what served as inspiration in the minds of others.

Voila, consider yourself astonished!

Well as far as furniture goes that does not look very appealing.

Yeah, for what we know they may have been inspired by...colours

Elegance, color, quality are inspired

Yeah, looks like a metro tile to me. That was my first thought, wow, is that a tile or is that a desk. I still don't know.

Pretty cool, would take such furniture if it would be available in my "area".

Do they come in black? They are sexy!

This is innovation. Inspring others with the simple minimalistic design.

I love minimalstic furniture. I'm liking the stuff on display

Pro tip: the images of the rugs on the website is a good source of lock screen wallpaper

They feel expensive for what they are

"Because they are metro inspired". That's how the fashion industry talks and sells you cheap painted faux wood.

I think i saw a red version in the TV show Royal Pains. They were even talking about wireless charging in the car but I think they were using a Nokia Lumia 900 not a 920.

LOL
What makes them live tile inspired, that they're square?

Yes, that's it. It's definitely not the modern looking design, solid colors or the clean, minimalist look. It's because it's square.

I always thought it would be nice to have a squares on the wall like mirrors but colored squares. 8 vertical squares or 7 so it wouldn't be symmetrical. Bright colors though, needs to be uplifting.

I love the color options, amazing, might pick up a geometric rug, the square one looks really nice, if Microsoft was smart they would market the hell out of this

I wonder if they have the cutout precut on the underside so you could easily mount a wireless charger. That would be cool.

Bauhaus rip-off.... Heck, even Ikea made these in the 90's

Spoiler alert: design is never invented, it is merely recycled. Regardless, there are trends and Microsoft has been riding the Swiss/Modern UI one arguably the most in the last few years, meaning they're popularizing a design theory that other companies are now picking up on.

So now anything that's sharp-edged with bold colors is "Windows Phone inspired"?

And to think people were complaining rectangles with rounded edges were not an Apple invention...

Is there a more iconic representation of minimalism in design today? I don't think you quite grasp how trends work in design with certain companies championing ones over others and becoming an iconic representation of it. Microsoft didn't invent "Metro". It's borrowed from principles from the 60's. They've merely re-popularized it.

It's a losing battle, Daniel. Most non-designers aren't going to appreciate it, just like most non-programmers don't appreciate the coding inside their favorite app.

Lol I'm gonna follow this thread to see how many times Dan has to explain design theory and inspired by...**gets popcorn and pulls up armchair**

Lol, get your beer glasses out, might be a drinking game.

"attention to details"...lol, I am trying to find details in this furniture.

BTW, Rubik's cube must also be inspired by metro.

wtf there's nothing minimalist about said cube...

Daniel seems to be defending this one post a TON.. I think the company is inspired by windows tiles (phone & os) and the reason for so much hate in this thread comes from nothing being "live" about the design - basically nothing to see here, carry on.

Do the tabletops flip over when you tap on them? That would be pretty inconvenient.

No, they just do it themselves every few seconds.

I love this thread :), a good laugh you guys.

I know one demo that won't be buying these: parents of small children. Although when rounded rectangles return (after the Apple intellectual property rights expire on rounded rectangles) they'll be all over that.

Nice. And made in the U.S.A.

The thing is, the dining room set I like the most is only available through AT&T.

I've never read a comment section as funny as this one.
Windows Central Newsletter
Thank you for signing up to Windows Central. You will receive a verification email shortly.
There was a problem. Please refresh the page and try again.