Hike Messenger gets a new user interface and more as part of a major Windows Phone update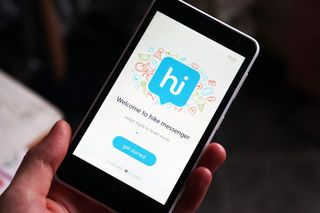 The popular messaging client Hike Messenger has released its revamped version of its Windows Phone app. Hike had been signing up beta testers earlier in December to try out the app before its official release.
Here's just some of what's new in the 3.5 version of Hike Messenger:
Brand New Interface: In addition to literally re-writing hike from scratch (17,378 lines of code), we have changed our design language. The moment you update hike, you'll notice the brand new user interface. We've made it much easier and simpler to navigate your way around hike.
Share Documents and Files: Why email when you can send practically anything and everything on hike! Send unlimited amounts of all kinds of non-media files and documents of any format like PDF, ZIP, Word (.DOC), PowerPoint, (.PPT), Excel (.XLS), MP3s, Audio's and much more.
10 Brand New Chat Themes : We've packed in 10 awesome new chat themes that you'll love
Bigger Attachments: Now you can share large files and videos of 100MB at a time.
500 Member Group Chats: Create groups with up to 500 members you can easily stay in touch with those that matter most!
Multiple Admins: You can now have multiple admins in your group chat.
Better Group Admins Setting: Admins can now restrict the right to add members in the group to themselves.
Mute Individual Chats
Hike has promised to add more features to the app in the future, including adding support for sending files up to 1GB at a time.
Thanks to everyone for the tips!
Download Hike Messenger for Windows Phone (opens in new tab)
Windows Central Newsletter
Get the best of Windows Central in in your inbox, every day!
Thanks got it can't download

Hi Sabbath, Could you please share your device details and let us know what is the exact issue you are facing while downloading the new version. You can email us at Support@hike.in for further assistance.

WoW you guys are here
You guys are awesome
You are doing the great

Not able to update latest version. My device details Lumia 520, Windows 10586.36 build.

Successfully updated after moving app to phone memory. New UI looks good and fast... Nice work. I found one issue, when trying to attach files, it opens photos folders and shows photos only.

got updated... no problem now.... thanks...at first it showed error downloading but today morning it got updated very fine..once again thanks...great work hike team

It's long time still no updates for Hike windows app.
is there hike team is again rewrite entire app for W10M.
Pls make update with some new features. Send from Lumia 535 running on W10M

Uninstall the present app... And then reinstall

I too had the same problem ! Do one thing ! Change the storage of app from SD card to phone ! Restart the phone ! Uninstall Hike ! Wait for some time ! Download the app again ! Posted via the Windows Central App for Android

I used to love this app, it works much better than Whatsapp and already looked gorgeous before the update. Too bad nobody I knew was using it. It doesn't matter anymore though, as I moved to iOS and WhatsApp on iOS is great too.

Error is thrown while updating on my 1520

Hi Abhishek, Could you please follow the steps mentioned in this link http://bit.ly/1Iks36V Let us know if you still face the same issue, please write to us at Support@hike.in with your mobile number.

tried everything..still the same problem..please do something asap

update failed try that again error code 0x803f7000

Hi Prabhu, Please try the steps mentioned in this link bit.ly/1Iks36V and check if you are able to download hike or not. Post that let us know if you still face the same issue.

Hi Vara, Sorry for your experience :( Could you please try following the steps mentioned in this link http://bit.ly/1Iks36V If you still face any issues, then do write to us at Support@hike.in with your device details. Look forward to see you hiking soon :)

Try turning the location on and then try

Hey guys Uninstall the present app... And then reinstall

It really sounds like an interesting app to use, I would have never heard of it if not for Windows Central. I don't know anyone that uses it though. :(

Well in India we use this app n it's **** good

Is it only for windows 10 mobile? Not for windows phone 8.1?

Error downloading in wp 10

Just downloaded in w10 mobile..
First move the hike app to phone memory..
Then change the default storage of apps to phone storage..
Restart ur device..
And that's it.. Go to store to grab the new update.. It worked for me..

Great work by team ,I moving from wats app to hike , loved ui fast....faster.. Feelin like limitless n usin on 8.1

Are you using windows 10 or 8.1

Error on my lumia 950xl while updating.

Same problem in my 640 i uninstalled and try to install again its showing error message

Problem with app compatibility with 10.

Nobody uses it. Everyone is on WhatsApp and no document sharing in that :(

I dont use Whatsapp. I dont support messenger functionality that is based on a mobile phone number which is the dumbest thing the internet ever brought to smartphones in a world where I couldnt care less what mobile phone number I actually use as long as I can use a service

I am going to try to get some friends to install and use this! As soon as the downloading works..

Shows an error message while acquiring the license .EVERY TIME

Am not able to download ...getting error

This update is not meant for windows 10 users. As it was earlier stated that the hike team is still working on a Windows 10 version. This update is only meant for win8.1 mobile. Though I can't figure out why they made this update available for windows 10 user..

working on my win 10. Initially it denied to download due to the same error people here are experiencing but after a while i was able to download, and it really is very good now .

Showing error code while downloading

Error, error, error, error....

It must be downloaded on internal storage and I think you need to register as a beta tester

None of my friends use it.

Poor hike. It isn't getting much attention and popularity so it's trying harder and harder to get users on board with back to back updates. However, WhatsApp has relatively less appealing UI and even lesser frequent updates but still it has managed to hold the grip on its users.

Please Windows Central can you next time upload the screenshot of the app UI so that we get idea how the app looks for those who use other platforms. Posted via the Windows Central App for Android

Why would they need to do that. It's a windows phone site.

Great update, but I miss those fun changelogs

Universal app would have been even better.

It's not universal yet? :S

Finally! But, it's painfully slow on my 730!

Notifications are delayed.

My question is, popular to whom? First I've ever heard of it and I certainly don't know anyone that uses it.

It's massively popular in India. Try it out. The stickers are great, you can share literally anything, its got a timeline for status updates and you get way more privacy controls than WhatsApp.
I hope they bring Hike Direct to WP asap.

I don't know if we'll ever get hole direct, coz we don't seem to have Wi-Fi direct on our phones! And that's why Wi-Fi file sharing is a pain in the *** too!

Yeah ikr. But they did say that its coming to WP and iOS. Maybe they'll make it work the way Shareit does right now.

I am a bit confused. They created that beta program to get feedback on the W10 app that they were building, right? Why re-write the WP app when W10M is around the corner?

Ah ha! Welcome back in my phone! #HIKE

For those who don't know hike is India's answer to WhatsApp... And it does things which WhatsApp can't do

Not opening after updating in Lumia 730

WC app is not showing download apps link for some apps. Its hard to go to store from WC app on such cases

Error in my lumia 640xl such a crap

I'm on their beta testing

Cant download on Lumia 620

Hope to See An update Also for Windows CENTRAL,,OPERA mini,,UC browser,,WHATSAPP THESE ARE THE major Apps So Hope to c n update SOON with redesigned in future...Nd ha Skype Also

Still waiting for hike direct, calling feature and a better timeline feature as good as Android

Need top 10 update we want which already given to android phones

Error in downloading. I am using wp 8.1 Lumia 640xl. It says attention required.

SOLUTION TO HIKE MESSENGER UPDATE ERROR 0X803F7000: Hey Fellas, I too had the error code 0x803F7000 while updating Hike Messenger. I tried a lot, but nothing solved the error. Then I found the solution: 1. Uninstalled hike messenger. 2. Changed the new app storage setting to "This Device" 3.Did a soft reset by simultaneously pressing Vol down + Power key 4. Now installed Hike Messenger 3.5.0.0 sucessfully :) I hope this solves the issue.

Just downloaded in w10 mobile..
First move the hike app to phone memory..
Then change the default storage of apps to phone storage..
Restart ur device..
And that's it.. Go to store to grab the new update.. It worked for me..

Error in downloading the app :(

Any 720 users who able to download the app?

Here me 720 user not able to download hike .. Can you able to download? ( all mention tips do nothing happen )

Pretty good app, only downside is that it's still w8 design..

HIKE just installed,,,,lumia 620 w10m 10586.29 build installed, Pros new ui is more w10ish,circle profile photo presentation. better resuming between adding attachments like photos, videos. Extras section is back( yyiippppeeeeee) with coupon offers, reward for inviting friends settings are the same no change, chat themes added. CONS:::::: clicking 'Send File' option opens photos app, it should open the file manager app or some sort of file access menu we usually see in other apps. Favourites section is gone, Cant see the contacts list(Favourites) so cant add a new favourite. You can still favourite a person by going to each profile. No quick Fav option alongside the name like previously. There was error previously, like an hour ago but it auto dwnlded n installed, make sure new apps download setting is 'This Device' just to make sure it doesnt download due to storage setting. upvote if helpful,,,, thanks in advance ;))) :)))

EDIT: favourites are there but in the timeline section :)

How is the data usage compared to WhatsApp.

Support for Windows 10 and Continuum?

I just downloaded in w10 mobile..
First move the hike app to phone memory..
Then change the default storage of apps to phone storage..
Restart ur device..
And that's it.. Go to store to grab the new update.. It worked for me..

Ok now it's working guys....

My device is Lumia 720 running on Windows 10 Technical Preview Build No.:10586.36. The solution I have provided worked perfectly for me. Try it out and give me your replies.

Can't download on my Windows10Mobile !!
Also why shud v install in Phone Memory !

Why in Phone Memory?!!! The real reason behind it, we don't know. But it worked for many of us. If moving the app from Memory card to Phone memory doesn't work means, try uninstalling the app, change the storage setting for new apps, restart your phone and now try to install. I think this would be the safe bet. Any other views guys?!!!

Not able to download.. L720 8.1

Move the current app too phone storage and try again !!
Worked for me

Done everything and showing me error 80073cf9

Downloaded.. And an awesome app again from hike

Hike is the most underrated messaging app. Don't know why.

Move hike app from SD Card to Phone Storage then try .i will easily updated

Can we share files from sd card in the new updated hike

Thank you hike for not ignoring us windows phone users(moving the app to internal phone memory did the trick for me by the way)

Love this update. Everything used to look magnified in my L1520 , now landscape is better and beautifully used.

WhatsApp is for old people.. Hike is for youngsters! Hike is so much cooler than WhatsApp..

Can we send files from sd card or not

Hie. Its been a year now for an great update. When will u add features like postinh image and to like an image? Provide features like ios n android. Please.
Windows Central Newsletter
Thank you for signing up to Windows Central. You will receive a verification email shortly.
There was a problem. Please refresh the page and try again.