Hike messenger for Windows Phone receives massive update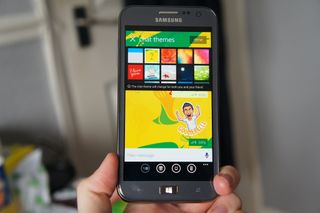 The Hike team behind the popular messaging client for Windows Phone has released a substantial update, completely revamping the user experience with a new interface and features to boot. The app itself boasts improved privacy options and solid messaging functionality (which is a bonus considering this is the app's main selling point), but the best part about Hike is that it's absolutely free.
As noted above, the team hasn't just bumped the app (to version 2.6) with a fresh new design. There are a few new implementations we're sure frequent users will enjoy. Here's a full list of changes from the store listing:
Completely revamped user interface, making it much more easier and simpler to message your close friends. New design for timeline, user profile info page and group info page
Messaging: hike works even better now on 2G. Bunch of under the hood fixes making messaging even faster.
Stickers & Chat Themes: A brand new Sports Sticker category and 4 new awesome chat themes!
Forward to multiple friends: Ever wished to send one particular message, picture or video to many friends at one time? Consider your wish granted :)
Forwarding made easy: We've redesigned how you forward messages & media to your friends. It's faster, smarter and has a whole new look! Easily share what you love with whom you chat!
Turn off sending Nudges: Accidentally keep nudging your friends? Don't worry you can now disable double tapping to send nudges.
Not only do we have the above list making its way into the app, but the development team have also included "many bug fixes, performance and stability enhancements". It's definitely worth checking out, especially if you're in the India region since there's free SMS and other perks available.
Thanks to everyone who tipped us!
Windows Central Newsletter
Get the best of Windows Central in your inbox, every day!
Rich Edmonds was formerly a Senior Editor of PC hardware at Windows Central, covering everything related to PC components and NAS. He's been involved in technology for more than a decade and knows a thing or two about the magic inside a PC chassis. You can follow him on Twitter at @RichEdmonds.
I am not on Hike but damn. Yesterday Viber, now Hike. Sailing to beter places. Love it.

Use this and WhatsApp both. A really nice alternative with some additional features...

Watsapp needs update again too though update came today for us. Performance after some time after updating the app remains the same as it was b4 at least for me.

Guess you not alone... Although they changed a lot in the app and improved it but it crashed yesterday while attaching a picture for no reason... It still crashes if i load chat history 4-5 times

When i try to see my contact details it didnt open and closes the app.This repeated everytime I tried to see my pic.moreover the vibration is still there and it sucks my battery too much

Doesn't crashes with tha load of msgs for me but it becomes slow while opening sometimes. And if not updated again the same thing will happen with us that is delay of updates of watsapp and we will get again the older versions

No crashes for me but zooming picture when inside the app while chatting is pain. Stutter a lot for me.

Not many people are using it here in India... But still will try it out... Looks good... :)

I use it and its worth it.

I also use it...It is definitely worth using and also doesnt have the annoying vibration like whatsapp..

I also wondered if there was an option to turn off that vibration but there isn't any...

The option is there in Android..but not for us :(

Actually you can Arka1412, just go to settings > Notification > Turn off 'Virate on new message'. Ta da! ❤ team hike

hello need more speed for voice messages for the next update

All though its famous in India, I installed it the other day and out of all my contacts I just saw 1 friend in the list and hence uninstalled it. But its great to see hike supporting WP.


I wish kik would do the same.. Glad Hike is supporting us though.

Android got this update many days back :(

They always get (99% times). I can't technically blame hike when companies like Microsoft would release updates / apps to Android before their own system.

Whatsapp got the update after 5 mnths,same for minion rush,Instagram is still on Beta..and i can go on.Atleast on hike we get almost same experience except we cannot send pre recorded audio or video(again thats the limitation of the OS)

I think that this is possible at windowsphone 8.1

you are late , whatsApp is back !! :P

Feature wise Hike eats what's app for lunch... If only people used it...hike should be more famous than What's App... Atleast for WP... Its notifications are bang on time... And indian stickers like bollywood and ipl are jhakaas...

Never heard of hike before. Any good?

You didn't coz its basically used in India other than WhatsApp...
But its a nice messenger

Good for sending SMS in India.(real SMS)

The best messenger, especially if you are in India. Too bad almost all my friends use WhatsApp exclusively.

U remind me the add of karbonn mobiles..this phone of yours..any good :P

I haven't heard of Hike but would give it a look.

It's UI became more like Android's one :(
Faster though :P

No it didnt become like android..I like the WP version more.

Agree. WP version has a more elegant and fresh UI

Hike is 11 MB, WhatsApp 117 MB.

Delete your chat data on whatsapp..

Great Messenger, but Whatsapp is such a monopolist...
Others just can't really compete, everyone's on Whatsapp. :/

Yes, and Viber seems like something everyone wants WhatsApp to be.

I hate the fact that no one can compete against whatsapp, this sucks ass. There are lots of messenger apps better than WA

Skype is cross platform, including PC. Text messaging, video messaging, group messaging. Microsoft should buy them to get a good chance to compete with WhatsApp.
Oh wait, they did buy them! And they're not competing!
Oh well...

Its sucks in full white screen theme friends list on a black phone give us a option for a dark theme as soon as possible ...... :/

Tried changing the background?
There are couple of dark themes i think...

Thats only for chat bro..

Now I got Chris Rock in my head yelling HIKE HIKE stick in my head lol

I really like hike, for me it's one of the best messenger apps available on WP, to bad none of my friends uses though.

I'll use this over WhatsApp ANY day.

Skype - Get your shite together! Even iMessage and Facetime now kicks your butt and now Hike, Viber, Whatsapp, Wechat and Line. Dammit, you've been doing messaging since the beginning of time! I seriously don't understand how can a communication app like Skype suck at everything it does for such a long time when even small developers make really wonderful UX and UIs along with fully functional apps. /rant

I'm already jumping between Viber, Telegram, Skype, WhatsApp.. One more to the list :P

I just love hike. It is the best messenger app I like it more than what's app.

What I can tell you about hike is, the stickers selection is sooo good that i can chat solely on the basis of stickers. Its got memes too goddammit.

Hike messenger..new name new features but still lacks the privacy settings which are there in android

Hey Wael, hike is a messaging app, with the tagline, 'Keep Close Friends Close'. With hike, messaging has never been simpler and you can message friends on hike for free globally. With hike, you can have unmatched privacy, awesome stickers, two way chat themes and loads more.

Features which WA doesnt have but hike has -Stickers (almost for every mood) -chat themes (Including changing the bubble colour) -status updates coloumn (more social networking) - UI (Bubble font size is better, bubble width changes according to message size) - Option to send text in case contact is offline -sent, received and read status

Features WA has but Hike doesn't:
- 500 million users
- That's it
:)

but Hikes' too good and has more marked features share it to people u know

I really like the option of changing the bubble colour. Hope WA does it too..hate the accent colour bubble BG on WA

And "jump to latest" if you scrolled above. Which I find more useful.

I think WhatsApp UI should also be made flat like messenger and hike!

Yes, hike has more features than WhatsApp.

Purely Indian Made!! Show Some Respect Mates !! Hope More people comes to use it

And proud to say hike is a pure Indian messenger

For me the updates don't crop up on the store...i am manually updating each time i see posts here...using wp8 on lumia525...

How do you change the chat bubble color?

The chat bubble color will change according to the chat themes. For different chat themes, you will get different bubble colors :) ❤ team hike

Hike performs better than WhatsApp

Indian & Proud Hike is so much more better than whatsapp....just need to convince more ppl to start joining

This is really nice n much better performance update by hike...really grt n much better than old one...

Hike is awesome... As more you chat on hike , more you get free sms..... ;)

Dont know how to add friends

Hi Ranoej , Its very simple to add friends in hike. All you need to do is to tap on golden star icon in people on hike section and he will be added as your friend. If you dont have that much users on hike invite them for free from inside hike.

Hi guys,
I am curious to find out the location where my voice messages are getting stored. Can anyone advice the location where voice message gets stored on lumia phones (625)
Thanks

where is broadcast option in hike messenger(wp 8.1)

how to like an update n hike....this is available in android.