Hipstamatic's Oggl updated for Windows Phone. Fixes cropping and adds new Live tile features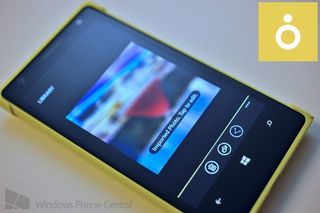 We love updates. Especially apps that make frequent updates a priority. We just saw Facebook Beta updated. Not to be outdone, Hipstamatic Oggl is getting a little action. Oggl and Oggl Pro are two apps that are constantly getting updates. But today, we're only looking at Oggl. Let's check out what's new in the latest update.
A little over a week ago both Oggl and Oggl Pro were updated. That update brought a lot of new features and fixes to both apps. Things like sharing to Tumblr, an image processing engine update, and more were just part of it. Here's what's new for Oggl:
Improved preview performance a lot with new encoder lib.
Added live tile showing pics from followers feed.
Updated order and paging in library to align with WP8 better.
Fixed some bugs in the registration flow.
Further app performance improvements.
Added support for crop and edit during post processing
Earlier this month, Hipstamatic yielded to user requests by adding support to edit and upload images already on your camera roll. It wasn't perfect, but this latest update fixes a lot of it. You can now crop and fine tune your photos alignment in Oggl. Performance was sluggish on our Lumia 925 when trying to reposition the photo from the camera roll, but at least the option is there. Hopefully they address that soon.
The rest of the update are mostly performance boosts and bug killing. Although, your Live tile will now cycle through the photos of those you follow. Which should make a lot of you increase the size of your Oggl Live tile to double wide.
Oggl is free for Windows Phone 8 users. Those with the Lumia 1020 use Oggl Pro, which wasn't updated this round. Grab Oggl in the Windows Phone Store, use the QR codes below, or swipe to the right in our app.
Thanks for the tip Sanjev S!
Has this app gotten better?

Considerably, but it still needs more work. Which is why it's refreshing to see the developers continue to update this app on a regular basis.

Also, 6tag, 6sec and Temple Run: OZ we're updated. Check your twitter guys ;)

+Engadget too, loving these updates to FB, 6tag & Engadget.

Well aware and don't care ;)

Why u dont care u boldly write in the articles "we all love updates"

My notifications about updates been kinda dry lately lol you guys slacking up there???

They just don't care about us anymore..

thank you Daniel, because we really don't care about engadget.

Wow, Daniel Rudeino much?

Yeah . How about the 512mb devices ? How much longer does it takes ?

They still haven't fixed all there is to fix and fine tune on the version for superior devices, imagine the nightmare it would be to run this on cheaper ones.
Believe me, you don't want this on a 512MB device until it's all fixed and fluid ;)

I thought it was stated that this app would not work for people with 512 Mb devices.

When I emailed them about 512mb support I got this back:
"Hey there Brandon, Thanks for your note. We hear your request! :) We'd love to be able to offer Oggl for those devices. However, due to processing requirements, Oggl requires the larger amount of RAM. Sorry about that. Cheers,
Allan"

Do you know if 6tag supports 512mb devices?

Yeah it does. I use 6tag daily on my Lumia 521.

Having another pomegranate Martini Daniel :)

I hate the name of this app so much that I don't even know what it does and never will. Because of that stupid damn name. Yes I am mad.

I don't know if its only me having this issue,I used this twice yesterday in posting to instagram,the first post the hash tags were searchable but the second one was not...

Import from photo gallery still doesn't work properly..
Again, have they tested the update before release?

Why don't we have video filters on WP8 yet? I was hoping Vixl would do it... you guys got my hopes up but we didn't get any updates or news for 2 months... (still no sound and no saving to internal memory)
Windows Central Newsletter
Get the best of Windows Central in in your inbox, every day!
Thank you for signing up to Windows Central. You will receive a verification email shortly.
There was a problem. Please refresh the page and try again.