The Home Depot app for Windows Phone update with voice search and more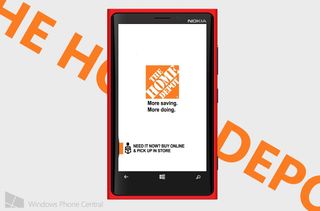 When it rains, it pours. The past few weeks we've been experiencing a higher than average activity with apps and the Windows Phone Store. Whether new apps like Pandora or updates to old ones, it's been busy lately. Add The Home Depot to that list of updated apps, it's just been bumped up to version 3.0 and brings a variety of new features and a refreshed look.
When The Home Depot first dropped an app for Windows Phone we were caught off guard. It isn't every day that you have a store for home improvement and construction supplies release a smartphone app, especially on Windows Phone. That was back in April 2011, so what's changed since then? If you said everything you'd be really close. Let's look at it.
Voice search
Gift cards
Store locator and map
Buy now, pick up in store
So some features have carried over from the original Home Depot app, like the ability to buy on your device and pick up in the store. The two new biggest additions are voice search and the ability to send someone an electronic gift card.
However, the app did take a step back. At first glance from the screenshots you'll think this is a nice looking app. Unfortunately, it's really just the mobile website wrapped in a browser control. You can tell because you can pinch to zoom anywhere within the app. In my book, that's a step backward for an app. While it's functional and does what you'd want, something just feels off. I guess adding voice search is nice and I shouldn't complain with a free app.
You can download The Home Depot for free for both Windows Phone 7 and 8 right here, use the QR code below, or swipe right in our app.
Thanks for the tip Amir H!
Windows Central Newsletter
Get the best of Windows Central in in your inbox, every day!
Need office depot or staples

Staples just released a app for W8. Maybe WP will be next!! And, there seems to be a lot of app support lately.. Does anyone else notice this?

OMG!!!! SO MANY HIGH PROFILE APPS IN ONE DAY!

Like, OMG,, I know tooooooo!!!

I know it is The Home Depot, but I would rather have it listed in the H section of my phone.

I was thinking the same thing.

It is in the h section of my phone.

Useless... Once again an App that ignores Canada.

Canada is America's hat...

Maluuba and twit got updated as well.

Sam, you rock, and no offense, but that picture with the phone and app name thing is getting a bit old, but it doesn't get on my nerves.

Podcatcher also got updated

Is it me or does this app look like a iOS/Droid port now??

Thank you for this post because it is a port of something and is a step back from what we had. I don't care about voice commands, the previous version was better.

Doesn't work for Canada, why? I got like 2 Home Depot near my house

Wish Lowe's would release an app for us!

Yeah l shop at Lowes more.

And the Lowe's mobile app sucks, it doesn't even display their logo correctly. Yet their iOS and Android apps are great. Oh well just won't shop with their app

Now if only IKEA could loosen up I'll be happy.

Still no update in Florida.
Windows Central Newsletter
Thank you for signing up to Windows Central. You will receive a verification email shortly.
There was a problem. Please refresh the page and try again.