How to change the default music player in Windows 10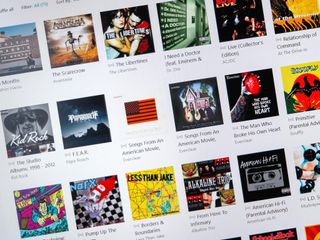 In Windows 10, Microsoft's own Groove Music is the default music player app when you first start using it. But, while it's not a bad app, music players are pretty personal and everyone has their own preferences.
So, if you'd rather Groove wasn't the default player, this beginners guide will show you how to do it.
1. Open "Settings" and click on "System"
2. Select "Default apps" from the left hand pane
3. Scroll down until you see "Music Player"
4. Choose your alternative
You'll see Groove Music is selected currently, and this is what you want to change. Click on the box and you'll be presented with a list of apps you have installed that are suitable for this category. Simply select your favorite and it will now become the default music player whenever you're using Windows 10.
For more Windows 10 tips be sure to drop by our dedicated page here
Windows Central Newsletter
Get the best of Windows Central in in your inbox, every day!
Managing Editor - Tech, Reviews
Richard Devine is a Managing Editor at Windows Central with over a decade of experience. A former Project Manager and long-term tech addict, he joined Mobile Nations in 2011 and has been found on Android Central and iMore as well as Windows Central. Currently, you'll find him steering the site's coverage of all manner of PC hardware and reviews. Find him on Mastodon at mstdn.social/@richdevine
Urgently needed for W10M :)

Not only music player.... We also need default Video player , Maps & Browser to be selected manually

Lets just say the ability to set default apps in general

That's exactly what I had in mind..... :)

Too easy now on Windows 10, I like it :) and yeah Mobile.. That would be worthy feature!

Its easy... Find another platform. If Microsoft is so bad and you want to turn it into something else. Leave Microsoft and use whatever you think is better!
----------------
Damn! Microsoft just can't win. They give an inch, but that seemingly isn't good enough.

Dude, seriously this feature is available on Windows almost since ever, so why wouldn't it be available on the phones too. It's a WINDOWS phone ! Every one here Loves Microsoft and probably some even more than you so. What does this have to do with default programs? Copying other Platforms? Oh please. And whether it is Android, iOS or WINDOWS MOBILE, people will still use their own specific apps for anything. That's how people working behind all those other companies got a job at all too. Easy and simple.

Exactly, please Microsoft don't be blind this time. This is necessary to replicate exactly as W10, default for everything even YouTube, it's painful to choose all the times the app you want to handle YouTube links.

Yeah! Please have that setting too in W10M. We need to set default apps in general in W10M.

i love default groove music - cool design ! will try vlc in future ; when they will ready with Windows 10 universal

Looks like the new VLC is still W8.1 app, with new interface.

Vlc still changing & changing its interface...

Is there a way to download podcasts in Groove?

As far as I know. No, no you can't. Anything that your going to buy music related is in the store. I have not seen any part of the Store having a section selling podcasts. Only games, apps, music and movies/tv shows.

There probably are some third party podcasts apps for Windows 10.

I'm still a Winamp guy, best track sorting options, search and queue functions. But maybe its just because I'm familiar with the shortcuts.

I think I stopped using Winamp in 2007 soon after I heard about VLC

Me too ... happy user of Foobar2000 and BS.Player PRO. Any chances to get them on W 10?

Foobar2000 is generally the first program I download after a new Windows install. ♥ They are working on making the plaform mobile, including WP. It would be awesome to have a Universal Foobar2000!

Yes, it would be.... And I'll also like to see BS.Player PRO on W 10 ... on W 7/ 8 working fine, but not (yet) on W 10.

Yep ... Foobar rocks, and very this moment with Lucky Dube-Feel Irie.

Hey everyone try music bee.you will love it.

Musicbee with musicbee lounge skin ftw ⌒.⌒

Happy to see someone usiing my Skins!!!

ya they are awesome thank you :)

Agreed, I use MusicBee as well. Xbox Music is an utter disaster on a good day, for anyone who listens through a local library. It wrecked the tags on a lot of my music files. MusicBee was easily the best option to fix the matter.

Well I wanted to try it, but when I downloaded it, I got a porn app instead. Tried to report it to MS but I was redirected back to the app. So it's a possibility that the store is messed up. Too bad...sounded promising.

its not a store app its a desktop application you get it from getmusicbee dot com also if you are runing windows 10 you should get the lastest version from site forum and you can download skins from the forums too

Not that bad.. But this groove often skips tracks and even play some tracks only halfway in my computer i have no idea why.
And video app (movies and TV or what) is clunky and the non transparent menu and slide bar is horrible to say the least. Posted via the Windows Central App for Android

This doesn't get all formats. Better off going to "set your default programs" in control panel so you can change all file associations.

VERY VERY Helpful thanks this finally fixed it for me I have a ton of FLAC files you rock!

As much as I want to like/use Groove, it has the same problems as the XBOX music player in 8.1. For whatever reason it fails to find the album art for 75% of my collection (and it is a big collection). These are not mixes or improperly tagged albums/tracks, but ripped CD's from my collection. They are not obscure CD's either. 'Find album info' is slow and still has no album art associated with it, and some of the information on track listings is flat out wrong. Having said that, Zune is still my go to player (and sometimes MediaMonkey). It finds all the album art/info, and the tracks are listed correctly. I love change, but if it is supposedly 'new and improved' I expect it to work better than what I am using currently. So far that is not the case. So Zune it is, I just wish it had a dark theme.

Yea I have the folder.jpg for all my albums, Windows Media player shows the album art when played, Groove does not. I don't know how they can release such tripe. The film + tv app is no better, it doesn't even play DTS Audio rendering it useless for 85% of my collection, LOL what a joke.

Strange I haven't had any issues with my ripped music and album covers

Well for once, im glad groove recognizes all my album art and even loads it in the space above the song and in full screen. The same songs won't have any album art in Xbox music app in 8.1

If album art/tags is your issue, I recommend MusicBee. I used Zune forever, but it still runs off of Microsoft's incompetent servers that don't understand genres well and mislabel things. MusicBee is really good at tagging, plus it can (usually) fetch lyrics in its desktop player, while also being a more-sophisticated option for album art, especially when you have smaller artists in your library.

Do you still have your Zune? Mine was stolen in 09, and I miss it terribly. It hands down beat my old iPod Classic in functionality. The equalizer was second to none. The only issue was the scroll feature.

I didn't like that the Zunz used preset equalizer settings. I like the full(ish-) equalizer on Windows Phone better. I had a Zune 30, it was stolen, so I got a second one. It broke, so I got a Zune HD 32. My friend had broken his Zune HD 16, and I had started using my Lumia 920 for music, so I gave it to him. His Zune wasn't totally broken, so I took it from him, and it sits on a shelf, with a broken screen and the piece on the bottom back of it missing. So, I technically still have a Zune, but I haven't used one in about 2.5 years.

http://www.zuneboards.com/forums/showthread.php?p=619727 Nevermind, I found a dark theme. Easy peasy. Not perfect, but it will do.


Yes, I have to reply to myself since 'edit' timed out. I can't seem to edit anything in Groove, as well as rip directly from Groove (haven't tried burning yet). Is this true or am I missing something? If so, the Zune software (and WMP, MediaMonkey, and others) is still far superior IMHO despite its age.

@Aussiedog61, if you're using the app close it and open it again. If it's the website just refresh the page however if that doesn't work, close the tab and open it in a new tab. Not sure why the edit option disappears in the app or website lol.

you might need to check your mp3 metadata maybe?

Groove shouldn't be messing with your tags at all. That said its strange that it can't match artists that are for sale in the store.

Groove music does not even display my album art in now playing.....

In my case, Album art shows on Now Playing background all the time instead of artist page. I don't know why it doesn't show any artist image at all even though they got more than one. If its a bug, I hope they fix it soon. Still I hope they just have smaller thumbnail of Album Art in Now Playing instead of just in the background, also they better read the high resolution ones. They show very low resolution album art which looks totally horrible and cheap looking. :(

You are the first person I have seen that has made this observation...I have the same problem on both my laptop and PC. Only getting album art in a shoddy rendering and no background art. Consequently nothing shows up in the W10 "Now Playing" live tile that works wonderful in both the old Music Hub tile (Mpatool works with this) and in the 8.1 Xbox music live tile. Everytime MS gets the music app done and working right they change the damn thing and lose functionality

How timely, I just reinstalled Zune from the Microsoft site on my Windows 10 PC. Still freaking awesome. Way ahead of its time.

Groove music os the same xbox music, just with a different (and prettier) color... But if I double click one song while playing other, it still gets stuck

Hmmm, in the photos above, I don't see the "Browse" option to browse to the .exe of your choice. I hope that is still retained in W10.

Like groove alot now that I can import all the iTunes music and playlists as well as stream from my OneDrive Music file. Will stick with Groove! :)

They need to kick it into overdrive and update these core apps fast, at least once a week.

I tried using Groove music for 2 weeks as my defaulf music player, but the inability to drag and drop songs from your pc folders to your ''now playing'' list made me go back to the all time favorite Winamp.

Windows media player and vlc are still my favourite on my laptop.

Or just right click on a song, then select open with then set your default from there.

Groove is great! But I like Bs player too.

I personally did not like Xbox music app. But after I try groove. Everything work the way I wanted it. I stream all my music from one drive with groove. And I get all art cover and create playlist and they play fine on my Lumia 830 with Wm 10512 build.

Groove Music has a nice design and it will probably become a very good music player. But before, Microsoft has to fix these big problems : - Play (cast) music on a DLNA device. This was possible with Xbox Music on Windows 8.1 through the Charm bar > Play to. It is not possible with Groove Music although my DLNA device is recognized by Windows 10 (I can cast my music on my DLNA device with Windows Media Player). According to me, this is the biggest problem since I don't listen music on the poor speakers of my laptop. I used to listen to it on my Pioneer DLNA device. This is the baddest surpirse of #Windows10 - Play gapless : with Groove Music, there is a short break (silence) between each track when playing back an album. This is a problem for live concert alums, for example. - When I remove a track/album from Groove Music, it is also removed from OneDrive. I can not remove it from my local drive WITHOUT removing it from OneDrive... - No "Recently played music" section... - There are two music players on Windows 10 : Groove Music and Windows Media Player. This is confusing... I really hope Microsoft will fix these problems since Groove Music looks really nice and I'm really interested in using it in the future !

Windows Media Player will never die. I love it.

It has the great 'Enhancements' (Crossfading is one of my fav features, Equaliser, etc.). And 'Drag and Drop' is not possible in any of the modern applications. Sound output is better in WMP compared to VLC, IMO. WMP forever.

I've set Windows Media Player as the default app for music, but it doesn't open when clicking a music file. Groove still is the app that opens. Is this a bug?

My Groove Music apparently can't detect my audio files. Even though I've put the folder in watchlist

I love my Jriver player. It's spendy, but I think it's worth it.

Is WMP still there on Windows 10?

Still using Zune and WMP. Groove is okay but feature wise, its too basic for modern music player. The only big thing about it is the streaming feature, remove it then nothing much special about Groove Music anymore. Design-wise, its alright but still needs work especially on some areas. I hope Groove Music will have Now Playing exactly from Zune with some few changes. Current Now Playing is kind of useless, even in terms of design nothing exciting to look at. Also I wished it got Gapless Playback, DLNA, Smart Playlist, Arrangable Now Playing list, Device Syncing, CD support, and better design in general, it would be my default music player immediately.

I hope they remove Windows Media Player from Windows

I hope they won't unless they manage to make Groove Music surpass Windows Media Player in terms of functionality. At the moment, Groove Music is okay but still far from being a replacement for WMP. Groove​ Music lacks so many features from Windows Media Player and even Zune, especially in some areas of design. If they at least update the looks of Windows Media Player in Windows 10, it would be much better. DeviantArt community is able to make skins for WMP, why not Microsoft?

Can you rip a CD in Groove? Plus media player plays video files and does so using hardware acceleration. WMP is far superior to groove.

I ask One simple feature. The possibility to rate a song so that I can play song i like most. Or a song counter, so i can check which song I played mostly (and decide whether to play the less played or the most played) But i have been told this kind of metadata dont have Space in Windows Phone. And about w10? Any app you suggest for both the environments (phone and desktop)?

I love Groove music, but you get no preview in explorer from .mp3 or other audio files. So when I'm looking for music in Premiere CC I can't preview them from expolrer... so I changed it back to windows media player just for that feature. Maybe add that with Groove so I can switch it back.

Soulfly! Mudvayne L.D. 50! Nice

Long live the Zune software. Still using that for better music discovery.

Clementine is my preferred player

I just did exactly that to change the default music to iTunes. However, even after restarting the computer, it never changes, WTF???

This was great! Right to the point. When my computer upgraded itself to Windows 10 I noticed right away that my other audio/media players were not working. And Groove is not my cup of tea but I could not figure out where to change the default player. Thanks for the post!!!
Windows Central Newsletter
Thank you for signing up to Windows Central. You will receive a verification email shortly.
There was a problem. Please refresh the page and try again.