How to dual-boot Windows 10 Technical Preview alongside Windows 8.1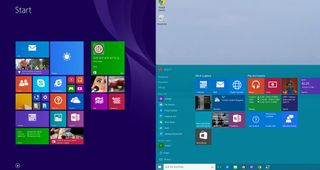 Creating a dual-boot system will let you safely test Windows 10 Technical Preview using the full power of your PC's hardware alongside Windows 8.1. In Windows 10, Microsoft is doing something differently as it's letting customers download and install versions of the operating system early on, so users get a sneak peek of what is to come. But also it helps Microsoft to get more feedbacks and design an operating system that people will actually like.
However, because the operating system remains an unfinished product, it has numbers of bugs, and there are many features that don't work. As such it's not recommended to use it as your primary operating system.
Although, there are many ways to test a preview version of Windows 10 without affecting your current installation, using a dual-boot system is one of the best options. That is because it allows the operating system to take full control of your computer's hardware. That is something you can't achieve using a virtual machine.
In this guide, we're going to focus on creating a dual-boot system on PCs that only have one hard drive. For this reason, we are also going to use the Disk Management utility included in Windows to create a new partition to house Windows 10 Technical Preview.
It's worth pointing out that you could opt to create a dual-boot system using a virtual disk (using Microsoft's VHD or VHDX files), but there is one big issue... You won't be able to update to new releases of Windows 10 Technical Preview. It's not a supported option. Going this route will require you to delete and create a new installation for every new release of the operating system.
Having this information in mind, if you don't have a spare computer, you can install Windows 10 alongside Windows 8.1 using the following instructions:
Things you will need before beginning
A computer running Windows 8.1.
Around 20GB or more of free hard drive space.
A full backup of your PC running Windows 8.1.
Knowledge of using Microsoft's Computer Management console or a secondary hard drive.
A copy of the latest build of Windows 10 Technical Preview.
A USB flash drive.
Minimum system requirements
Processor: 1 gigahertz (GHz) or faster
RAM: 1 gigabyte (GB) (32-bit) or 2 GB (64-bit)
Graphics card: Microsoft DirectX 9 graphics device with WDDM driver
Make a recovery backup
Make sure to create a full system image backup before modifying anything in your system, which you can use to rollback if something goes wrong. For this part, you'll need an external hard drive with enough free space or network share location to save the backup files.
1- Right-click the Start button and go to Control Panel.
2- Go to System and Security, and then click on File History.
3- In the bottom-left corner of the screen you'll see the System Image Backup option.
4- Start the backup utility, connect an external hard drive, follow the on-screen directions, click Start backup, and let the process run.
Once full image backup of Windows 8.1 has completed, disconnect the external hard drive and keep in a safe place.
Getting the installation files
1- Register as a Windows Insider, if you have not done it already. You can use this link to register and you will also need to use your Microsoft account.
2- Once you have registered as an Insider, visit this page (opens in new tab) to download the latest ISO for the Technical Preview of Windows 10.
3- Select the correct language and architecture (32- or 64-bit), and then click the Download.
4- Once you have the ISO file, download and install the Windows USB/DVD Download Tool (opens in new tab), to create a bootable USB or DVD installation media from the ISO file you have just downloaded.
Note: Remember that Microsoft only makes available ISO files for Windows 10 builds release to the Slow ring. If you want to run the bits from the Fast ring, you'll first have to install the bits from the Slow ring. Then go to Windows Update, change the Advanced options to Fast and update your current installation.
Making room for the new operating system
Now in this next part, we're going to adjust the Windows 8.1 partition to make room for Windows 10 Technical Preview.
1- Right-click the Start button and from the menu launch Disk Management.
2- Right-click the drive (C:) and select Shrink Volume.
3- The Disk Management utility will analyze the hard drive. It will show you how much space you can shrink in the hard drive (You can also enter the amount of space to shrink manually). In this step, make sure to allocate at least 20GB for the new partition. (For this example, I'm going to allocate 21000 MB).
4- Click Shrink.
5- Now, you'll see that you have new unallocated space. Right-click in the unallocated space. Select New Simple Volume to launch the utility to create a new partition. Make sure to follow all the on-screen steps, selecting all the default options, and choosing to create a new partition using an NTFS system file.
Changing the BIOS boot order
Before, you can install the new operating system without affecting your Windows 8.1 installation. You need to make sure your computer can boot from a USB flash drive or DVD drive. This process typically requires hitting one of the functions keys (F1, F2, F3, F10, or F12), the ESC, or Delete key.
Once, you have accessed the BIOS look for the Boot section as change it to the Windows 10 installation media.
If you have a computer using a UEFI BIOS, you won't be able to access the BIOS so easily. Go to PC Settings > Update and recovery > Recovery > Advanced Startup and click Restart now.
Windows will go to the boot menu, click Troubleshoot > Advanced options > UEFI Firmware Settings > Restart. Windows 8.1 will then boot into the BIOS, which will give you access to change the boot order of the system.
Installing Windows 10 Technical Preview alongside Windows 8.1
1- Connect the USB flash drive or DVD drive into the computer and reboot your system.
2- Press any key to start the Windows Setup, and then click Next, and Install now.
3- Accept the license terms for the Technical Preview software and click Next.
4- Click the Custom option.
5- Then make sure to select the new partition you have created. If you didn't assign any name, the label should read "New Volume". Also, it should be the partition with only 20GB of free space. Now, click Next to begin the dual-boot installation process.
6- During the installation process, you'll notice a new boot menu at the startup, which will give you the option to boot to the "Windows Technical Preview" or "Windows 8.1". Click on Windows Technical Preview to continue with the installation process.
7- Once the installation process completes, follow the Out-Of-Box-Experience (OOBE) to finish the installation process.
Windows 10 will try to install all the device drivers, but if you're having issues, try to install the latest drivers from your PC manufacturer's' website. Sometimes drivers designed for Windows 8.1 will also work in Windows 10.
Now you have completed the dual-boot system running Windows 8.1 alongside Windows 10 Technical Preview. Whenever, you want to boot into Windows 8.1 again, simple reboot your computer, and during the boot, choose Windows 8.1 from the menu.
Going back to only Windows 8.1
If you had enough of the beta version of Windows 10, and you want to delete the installation from your system, then follow these instructions:
1- Reboot your computer and boot into Windows 8.1.
2- Open the Run command, type MSConfig, hit Enter, and navigate to Boot.
3- Select "Windows Technical Preview" and click the Delete button. This step will remove the boot menu when you reboot your computer, and it will make Windows 8.1 the default operating system. Now, click Apply and OK.
4- Open the Disk Management as shown previously, right-click the volume that has Windows 10 Technical Preview installed and select Delete Volume and click Yes to confirm the deletion.
5- Now, all the unallocated hard drive space can go back to the Windows 8.1 partition. Right-click the Windows 8.1 partition and select Extend Volume. In the wizard use all default settings and complete the process.
Finally, reboot your system, and everything should work like you never installed Windows 10 in the first place.
How are you running Windows 10 Technical Preview? Let us know in the comments below.
Windows Central Newsletter
Get the best of Windows Central in your inbox, every day!
Mauro Huculak is technical writer for WindowsCentral.com. His primary focus is to write comprehensive how-tos to help users get the most out of Windows 10 and its many related technologies. He has an IT background with professional certifications from Microsoft, Cisco, and CompTIA, and he's a recognized member of the Microsoft MVP community.
Nice. It's the better way, I'm using it since January. But I don't actually use Win8.1 anymore. It's just there for emergency :)

It's a better way... and the way I did it since dual booting Ubuntu with Vista (because everyone was pissed with Vista back then... lol). Except ending up with another partition gets annoying when not running another OS, like... what do I use this drive for now?

You can get the partition together again. (I don't know if I expressed myself correctly)

Dont you have "no sound" problem in windows 10 technical preview when you use dual boot with windows 8.1??? if this is already solved problem please tell me what to do.....

Been using it with hyper-v. Here's my dumb question, will it run any....ahem...faster with a dual boot instead of a VM? In all seriousness though, is there a performance difference?

Yes, because isn't "sharing" memory/cpu with your "host" OS.

Thanks. That's what I was wondering. I'll have to try this out.

So much better, imo. Specially with you have some free HD space.

But back in the days of Vista, Ubuntu running on a VM through Vista still ran better than Vista LOL! But not as well as Ubuntu in it's own dual boot partition. Windows 7 / 8 / 10 are so much better than Vista. Excited about Windows 10 (but gave up with it on my phone until it's more stable).

I dual booted Ubuntu with my Windows 7 and Windows 8 laptops and both times Ubuntu caused my cpu to run VERY hot! I had to get rid of Ubuntu before it fried my damn cpu!

Yes. It works as if you only had that OS installed. With a VM, you're using 2 OSs at the same time so there is more impact on memory and cpu usage. If you have a dual boot, your running each OS completely separately, it's like having 2 different PCs

In my experience if you don't plan to use Win10 virtual machine as a gaming PC, you have 8 GB of RAM or more in your host OS and you are not multitasking between both OS with heavy applications on both ends you won't see a dramatic change in the performance by not virtualizing the PC. Intel VT enabled processors should improve the virtual PC performance too. At least that's my experience.

Worlds of difference, VM shares hardware with your current OS, when you dual boot, the OS your running gets full access to the hardware. Major difference, unless your running top of the line hardware (even in the last 2 years or so)

Took you guys this long to come up with a dual boot tutorial?.... Come on

Relax. We can't be everything at all times. We're still growing and comments like this are not very encouraging for our team.

Hopefully, next week gives you guys even more reason to grow.......

I think this is an excellent article and I now feel comfortable trying it with these instructions. Thanks guys!

Touché, first criticism ever given you guys though. Should go without saying that y'all do a good job

It is kinda sad when sites like lifehacker out of the gate cover stuff like this

EXACTLY! I think you guys are doing a FANTASTIC job! I read windowscentral.com articles more than I read my morning paper! Keep up the great work guys!

I read windowscentral.com INSTEAD of a morning paper. Nothing interesting in that ink infested rag. At least not for me. Love this place.

One thing I've learned about articles on Windows Central, though... Sure, I could have gotten this tutorial quicker somewhere else. As a matter of fact, I did because I needed to do this last week, and did it last week. However, it took me 5 different sites of stitching together information to get a complete enough picture for everything. Windows Central covered everything I needed in ONE article, presented in a plain, easy-to-understand way, and even included essential "undo" information that I started thinking about yesterday, since I tried to update audio drivers from the manufacturer website to fix audio issues only to find it killed Win10TP completely, and I can no longer boot to it. Thanks for a complete article that keeps me from having to search multiple places on the web. That is exactly what I've come to expect from Windows Central. Never a half-baked poorly written instructional. Next time, I'll wait for an article to come out on Windows Central first before I try something like this. If I don't see it coming, I'll ask for it to see if it's even planned. Patience could have saved me a lot of aggravation.

WOW what a dickhead comment. Well done jackass

A 50 GB hard drive. Lol xD

Only for testing purposes lol :) Thanks,

Really like such articles. Thanks.

I gonna try .. nice article

Wish we could do this with phone...

May be one day... This is also one of my dreams. Thanks,

That way we could test the TP, and still be able to use our device... Lol.

You can do it but on some android phones at the moment :/

Awesome explanation and instruction. Thank you!

A good tutorial I use windows 10 as my primary os I use to run it in a vm but its a lot better on proper hardware.

Using win7 n tech preview dual boot.. As some old games r nt supported on win8.1 :)

You sure about the 64bit ram requirements? Last I checked you need 3-4GBs(taking into consideration shared ram gpu)

Technically that is correct, but Windows 10 has a much lower hardware requirement. The official minimum requirement is 2GB of RAM for a 64-bit installation according to Microsoft. Thanks,

That's right. The RAM requirements have been the same since Win 7. It's 1gb for 32bit and 2gb for 64 bit. Been the same for win 7, 8, 8.1 and 10 now. I have all the OS's running on a variety of machines. Win 8 32 bit on my net book (1gb ram) , 8.1 and tech preview dual boot 64 bit on my note book (2gb ram) and 8.1 64bit on my PC with 8gb. And that's a great tutorial Mauro. I have been using dual boot for a while now to test new OS's mostly the Linux stuff. But it's fun to have the tech preview.

When dual booting not dual booting? If I were to delete the VHD will I be able to boot the system? WUBI was one simple and smart way to do dual boot! You could uninstall Ubuntu and you will be ready to go.

Yes, you will. When the Windows bootloader (not the best word) fails to find the primary OS (the first on the boot list) it will show you all the entries on the list and you just need to choose the proper one. Later you can clean the list through msconfig or bcdedit. About WUBI, it was very nice but the performance wasn't that good. Still it was a pity they removed it from the front line.

These are basic stuff which everyone should know how to do. Nice tutorial though.

In fact you'd be surprised at how many people aren't tech savvy and don't know a lot to the extent that they call a surface pro 3 an 'ipad thing'. And just like most people will not actually notice the windows 10 update when it comes for free. They'll just see it as "oh that's gone a bit more colourful" and not even care about the rest. Just like new people to windows 10 for phone wont care about hamburgers because it just works, and it looks similar to android and IOS, and they don't know what menu system proceeded hamburgers. Most people wont care about stuff like that. They just need something to do the job. To them, if it works, it works. My mom still asks which version of windows we have (windows 7) and I have win 10 tp installed on the same PC but with a different hard drive, and when I'm using windows 10 she doesn't even notice. And she's not even that old.

But are those people really using a Technical Preview?

True. No they're not. But the guy said 'everyone' so I replied with a contextually accurate response Imo

Yeah right, totally agreed. I mean if you're reading these sites and writing comments about Windows, technology etc. you have to learn those kinda basic stuffs. In fact I have installed three OS's on my PC (XP, 8.1 and W10 THP) and it runs just fine. Just to say I'm a student of agriculture and technology is my hobby XD

Agreed. But I guess there's always a first time for someone

Thanks to the Internet and these "Step-by-Step" Tutorials, people get to experiment with a much lower difficult curve and much more learning curve. Back in the days, we needed to really try and fail to get things right, because this kind of tutos were so scarse like water in a desert.

Now make a guide on how to install it on a GPT partitoned harddrive.

or wait for a realase for that type of device.... I am not installing it on my hp stream 7 untill it is working for it.

im dum i just got the gpt error lol

http://answers.microsoft.com/en-us/insider/forum/insider_wintp-insider_install/install-windows-10-on-a-gpt-disk/a4d6f621-821b-43c8-8692-9ae7df3a0770 try this ...

I had the same problem and after some research, used Rufas to write the .ISO to the usb drive. That worked for me after trying it several different ways.

if people don't know this basic stuff, why should they install a Technical Preview anyway? I am sure they would be the first complaining and cursing Microsoft for losing files or something. well... if stupid super Mouse and keyboard users who think they are super techgeek guys, complain about retarded things. I am sure I can't expect nothing good from someone who needs to read a tutorial how to dual boot. Nice tutorial, but it's like... advicing idiots to install Technical Preview like if it was meant to be used. better learn them how to use a VM, that would be more efficent, and comparing in your experience what VM should be more suited for 10TP. ^_________^

Don't be harsh. It's an awesome tutorial, I faced quite a lot of problems during Win10 preview installation. This guide helps in each and every stuff easily

She's right, yes, it's a good tutorial but, if your a noob, and get confused on one part, or miss a step, you could be SOL. All bios's are not easy to go through and some are very complex as others a child could use, This varies greatly accross brands of motherboards. This COULD make your computer not boot at all.

I advise allocating more than 20GB. The space you create will be for Windows 10 and all apps and games you download. I ran into the issue of running out of space when I dual booted Windows 7 and 8. If you have the space, allocated 100s of GBs so that if you do want to take advantage of software and games in Windows 10, you will have the room to do so. Think of it this way, would you buy a computer with a 20GB harddrive? You will have less than 20GB to work with and after installing Asphalt 8, Dungeon Hunter 5, Hydro Thunder or any Win32/x86/64 apps, you will be out of storage before you know it.

That is up to the user, If you have a extra blank drive in your system you can use that too. When I dual boot, I always have 2-3 blank partitions @ 100gb each. So Primary OS gets the most but, others get 100gb... 20gb does not allow a lot of flexabilty if your going to install a ton of apps.

I'm actually using Windows 10 Technical Preview on a Desktop with no Internet Connection, and is also my Secondary PC (And only use it for some light gaming, creatind/editing Docs, Presentationts, some light CAD work and as a very expensive music player, No Internet for that!). My main PC is an ASUS X550E Laptop with Windows 8.1 Update 1; Thinking in install Windows 10 in this way, with dual boot and another partition, but actually doesn't feel like doing that because I have already installed in another PC Jajaja But an amazing tutorial Mauro =)

love the cup picture ;) makes sence... I test on so manythings do i want to on my main pc? I just was a vm but i think i will do a dual untill i dont load windows 8 for a month....

Jajajajaja thanks! Yeah, I believe that is better that way; I've been thinking of using a VM in my main PC just to see how much better works W10 with some Internetz, but better I will wait a little longer for that. After all, there is no hurry; We all are going to check it when in cames out :)

I'm running it in HyperV from a Surface Pro 3. I did not know the limitation of not being able to update if running directly from VHD. I tried but it failed, so I continue using the 10 with Hyper-V. I'm not sure if you can switch from hyper-v and boot VHD directly, because this way I could avoid the limitation... By the way thanks for the article, I may try later with these steps.

The limitation only applies to Native boot installs. You can load the VHDX on Hyper-V and update all fine.

VHD... always VHD http://www.neowin.net/news/guide-how-to-install-windows-10-using-vhds

You could do that, but you can't install new builds with this method. Thanks,

You can use Win2USB or Rufus and put Windows 10 on a USB drive as a Windows To Go. Run Windows 10 from USB drive and can stick it to pretty much any computer and run Windows10. Recommend USB 3.0 drives.
http://www.easyuefi.com/wintousb/

If I have a hybrid drive (25 GB for the OS, 1 TB for storage) will I need to do a backup?

No matter what, I always recommend to make a backup before modifying anything on a computer. You should at least backup the drive with the operating system, if you're planning to do a dual-boot system. Regardless, you should also keep regular backup of that 1TB drive. Thanks,

Only problem with it is if your already dual booting w7/8.x you may have pagefile errors going tri-boot

Nah, as long as you dont move the page file to another drive, you should never have a problem. I do this stuff for a living...

Does anybody know what will be the minimum requirements for Windows 10 on PC's. Will Baytrail devices with 1GB of RAM like the HP Stream 7 will be able to be upgraded?

It's worth pointing out that you could opt to create a dual-boot system using a virtual disk (using Microsoft's VHD or VHDX files), but there is one big issue... You won't be able to update to new releases of Windows 10 Technical Preview. It's not a supported option. Going this route will require you to delete and create a new installation for every new release of the operating system.

​You don't need to delete and reinstall. Just create a virtual machine and assign the VHD to it. Load and update without any problems and still keep the Native boot.

Bingo. It's the safest way...and if you don't want it installed anymore (or you get to release and want to update your day to day installation). Then you just delete the boot record and VHD and, "poof", it's gone. I like windows central...but I wouldn't take their technical advice. It's funny, because you or I would be able to run a true native boot with the no issue and take all the proper precautions. But we're the ones to go the safe route and install to VHD. Meanwhile, the folks who don't have the technical knowledge to really mess around with this stuff, follow the web guides for an easy install and then make a living in the forums trying to have folks help them "fix" their pc.

Nice guide :) I've had the tech preview as a secondary operating system for quite some time and it's so cool to get to use the new features as they're working on them.

And if you're comfortable dual booting, I'd definitely recommend it over a VM

Can you dual boot to an SD card instead?

You can but, most SD card do not have the performance to handle it. I would warn against it. A hard drive is faster than most SD cards. A external USB 3.0 SDD or Harddrive into a USB 3.0 port, sure, I have done it and it works good for the most part, I would not even think about it if your using USB 2.0...

Excellent article. Personally I would still prefer a virtual machine because it's easier and faster to switch between the 2 systems, where I only want to see what new features the new OS brings and how it's compatible with other software, and not care about hardware comparability until a later stage in the development. Maybe there should be an article about the best VMs?

I'll keep that in mind. Thank you for the feedback.

Hahaha I am using windows 10 under slow ring directly without any dual boot or virtual machine, it runs perfectly... :)

I'd recommend using Native Boot over actually partitioning your drive. It might seem daunting, but it's a little safer, not any slower, completely portable, and generally just better. https://technet.microsoft.com/en-us/library/gg318048(v=ws.10).aspx If you have HyperV, simply install 10 in a virtual machine and add the associated VHD or VHDX to the boot menu by following this guide: http://social.technet.microsoft.com/wiki/contents/articles/516.how-to-bo... If you don't have HyperV, it is still possible to create a VHD and extract the Windows iso file to it. Then you can proceed installing 10 once you boot into the VHD as detailed in the guide above. Repartitioning your drive isn't always straightforward, and if you screw it up, it can be very hard to restore your files. Furthermore the built in windows partition editor won't always work in certain scenarios, so you might have to download a 3rd party program. Native Boot is just the act of creating a virtual hard drive file, and tricking your computer into thinking it's a real hard drive. No partitions, no fuss. You can of course, use that same virtual hard drive in a virtual machine. On my PC, I boot up 10 in HyperV every once and a while to just download updates. I don't use 10 as my daily driver yet, too buggy, too unpolished.

Good, dual boot is better option. Work great, and I delete 8.1

I may be completely wrong but isn't there some limitation on dual boot in systems with UEFI enabled BIOS? Remember reading something about it. That I'd need to disable UEFI before I can successfully dual boot. Anyone? Posted via the Windows Central App for Android

im getting errors too with uefi and gdp but hey try this http://answers.microsoft.com/en-us/insider/forum/insider_wintp-insider_install/install-windows-10-on-a-gpt-disk/a4d6f621-821b-43c8-8692-9ae7df3a0770 im about to try rufus.

Thanks for the link. The only problem is when I disable UEFI and switch to legacy boot, it doesn't even recognise the windows 8 currently installed. I get an error "no OS found" on startup. Reverting back to UEFI, windows 8 boots up normally.
I used VHD to dual boot, but apparently you can't currently update windows 10 on VHD. So that's a bummer.
Thanks anyways. Posted via the Windows Central App for Android

Meh I wouldn't recommend people dual-booting if they don't know how to look in the BIOS settings, one wrong move and you can totally brick your PC. So for those who cannot understand a single thing in a BIOS, just run a virtual machine like Hyper-V or VMware Player.

step one was what? back up your computer... Im sure people will only learn how to do things if they try. Why force users to not try something new?

It doesn't matter if you back it up. If your computer doesn't even boot then what are you going to do? I'm all for people trying things out but BIOS must be touched with delicate care and an understand on what each function means. I've seen to many people mess up their motherboards because they touched the BIOS, which they shouldn't of in the first place.

Best bet, if your worried about this, Go into the BIOS, find the boot order, write down the order(DO NOT TOUCH OR CHANGE ANYTHING ELSE HERE). If your already set to boot from DVD then your hard drive, then just burn a disc and go. If you want to do a USB drive, change the first item to be Removable devices/USB and MAKE sure the 2nd item is your hard drive. After you make this change, BOOT with NO drive in the USB slot or DVD in the drive, CONFIRM that you can boot into WIndows now.. If good, then move on to the next step. If you do it right, with no drive/DVD in, you should be able to boot into windows with no problems.

I am not able to install it on my Samsung RV 411, since I tried this method as well

Ive been planning a dual boot for a while. my goal was a few weeks back but now i might just do it. great article!

btw. I couldn't extract my iso via the usb tool thing.... I acutualy allways have gotten errors with those apps. I used win rar to extract the iso to the usb device.

I came across an error. some gdp thing in legacy boot. so i tried eufi but wouldn't see my usb device so i am trying rufus? came across an article here http://answers.microsoft.com/en-us/insider/forum/insider_wintp-insider_install/install-windows-10-on-a-gpt-disk/a4d6f621-821b-43c8-8692-9ae7df3a0770 hope i can dual boot it tonight.

Cool.. useful.. I am using dual boot already..

I've been running Win 10 TP on its own since it came out. It's a little bit more scary, but it for the most part it works fine for me. I can browse, watch 1080p MKV files and play games no problem. Good guide to dual booting though for sure. Someone earlier mentioned wanting to get rid of second partitions (or at least to merge them back to the first partition). Whilst this isn't really recommended (back up your critical data first), I recommend GParted Live CD as a way of doing this.

This is exactly how I installed Windows 10 Tech Preview on my HP laptop. I've been dual-booting for months and it works great! Its also very comforting to know that if anything goes wrong, I can alway boot to Windows 8.1 and just delete the partition for Windows 10 and my PC is fine! Thanks for this article though!

It works until it gets messed up, prior to build 10041; my laptop would go through another reboot cycle after choosing the o/s. Then boot into selected o/s. Not a big deal, just a major inconvenience as it would sit there with a blank screen sometimes 1 to 7 minutes with no visible hdd activity (via LED). Fortunately it is fixed now.

Excellent write up! Pretty much fool proof. However, When I installed Windows 10, I had issues with the hard drive partition type. (GPT/MBR) After a bunch of messing around, I finally got it installed. My point is, if people make it too easy to install Windows 10, they'll be more people with issues like that, that might not be able to solve it. But, if they have Bing & time, they should be able to make progress.

I'm a firm believer in - if a person doesn't understand what "dual boot" means they shouldn't be touching the technical preview, also it is not for people who get frustrated easily :P. It is ridiculously buggy, the feedback app just... Does nothing for me. It loads when I do a fresh install but I can't see what I'm typing and the jumping cursor doesn't help lol.

There is one big gotcha with the technical preview and that is not being able to remove buggy driver updates that get forced onto you via windows update. So when a new build is released, you get it thru windows update. That there is the problem, sometimes it may be the first thing on the download schedule or not. If not, the buggy drivers will either crap out your install or you will end up with blank screen ad infinitum untill your reboot lol. Even then you have to cross your toes, fingers, ears and eyes hoping you don't get stuck a perpetual reboot / bsod cycle. Granted this not frequent but it does occur so if your a IT novice - stay well away from insider program :). Anyway, decent article should help some people. However if people need help dual booting... They shouldn't be using the preview via dual boot imo :).

Noobs, read this 3-4 times before attempting, If you miss a step or are lost, you could make your computer stop booting. If your stuck at the bios area, You need to find the boot order, Then MAKE SURE you set your USB/DVD drive first, THEN your hard drive. Note what the current order is and make sure you are booting from the correct drive. If you did it correctly, with no DVD or USB in the drive, you should be able to boot to Windows 8.1 fine(then your ready to move to the next step). If not, make sure you go back and double check your order. If you have a few hard drives and are lost, Watch the menu when you boot up, a lot of Motherboards have a Boot option on it (by hitting a "F" key), bring up the menu, select a hard drive, if it does not boot, reboot, do it again, once you find the right drive, make a note of it and change it in the bios. You can do the same process to tripple boot, Like I did at one point, i was already booting from WIndows 7 and 8.1, so I made a new partition, booted from the Windows 10 USB and followed the same process, then you will have 3 OS's.... I moved to a SSD, so I needed to remove one OS, so right now WIndows 7 and 10, moved my 8.1 to a VM as I never use it..

Now, I know it might work with 21000 MB. But in the Windows 10 custom setup it is adviced to have at least 24644 MB available.

I've followed the instructions for putting the iso onto a USB stick, but every time I reboot I just get taken stright back to the Windows 8.1 login and not to the installer. Any ideas? I'm using a Surface Pro 3 and have set the UEFI settings to boot from USB then HD. I even tried disabling secure boot. Still no joy.

Can u also make the tutorial if ur laptop crashes how to get it back from the image we created in the first step . Thanks :)

Thank you! It's smooth on Pentium 4 with 2 GB ram. (Before I tried to install on a Virtual Machine but the processor not supports)

Is anyone else having any problems using torrent clients after dual boot ? I know it should not affect it but torrent clients are not downloading anything in both 8.1&10 even having seeds and other stuff none of the torrent client seems to work any solution for this??

My pc doesn't allow me to boot another OS in other drive. It allows only in my C-DRIVE. But I don't want to format my windows 8.1. How to boot windows 10 in other than c-drive? Please give me a solution.

I've been using this Dual-boot metthod for about two weeks with Windows 10/8.1. Up until today, the only issues I had were as follows: 1. Windows 10 changes the drive partition it's running on to c:, instead of the F: that I assigned to it before installation; and tries to assign my Windows 8.1 C: drive the F:. When I run W10, it will let me access some stuff on that drive, but others it will say I need permission(already running as Admin). 2. I tried to map programs installed on Windows 8 to my Windows 10 environment, and only about 1/3 of the programs worked. I have since re-installed any games/programs that I wanted to use, so that I essentially have 2 separate installs of each. Is this required for programs to work in a dual-boot cenario? Today However: When I turned on my PC, it did not recognize my Windows 8.1 drive at all. at first, it just didn't show up in my File Explorer in Win10; but then it would stop during boot up, saying there were drive errors and either ask me to control alt delete, or suggest I insert a boot/recovery disk. At this point it would not even get to the choose OS screen. I would notice that only one of my two 500gb hard drives was being detected. After messing with boot order/BIOS settings/etc, I unplugged the drive that had Windows 10. At first, it still did not detect it, So I changed which SATA port it was plugged into on my motherboard and it finally detected it again. When I chose Windows 8.1(still have Win10 hdd disconnected) it almost acted like a fresh install, saying it was "getting things started and installing apps." However, it did boot normally into Windows 8.1, although a little slower, as I presume it was recovering everything. Anyway, in general I am looking for any suggestions as to why it might be doing this, and/or if the community thinks Windows 10 TP is stable enough to do a clean install rather than dual boot. I will re-connect and try to boot to Windows 10 tomorrow, and update this post. BTW, I DID really like this tutorial, and still recommend it to friends. :-)

Damn, every time I'm trying to create a new partition below message coming, also after creating new partition when I'm trying to install windows 10 on it the installation is not starting. http://i.imgur.com/1LXyPnn.png

My 'C' drive is 60 GB size. Free space as shown in the Computer is 30 GB. When I check for Shrink Space, it is showing only 5466 MB. Where the other free space has gone and how to recover the space for installing Windows 10 in dual boot mode.

This is useful. Thanks! Already running Win 10 preview as my only OS. Right now I have an 64GB SSD just for an OS but it's starting to not be enough. I think I will buy a bigger one and install Linux also (with dual boot), out of sheer curiosity. Never used a Linux machine for more than 5 minutes. I hope this will work the same way as in your article.

Terimakasih atas informasinya gan, sangat bagus dan sangat bermanfaat.
kami berbisnis electric home, bila berkenan silahkan kunjungi kami di : http://www.rajalistrik.com/