How to get your 2018 Xbox Year In Review statistics
It's that time of year again.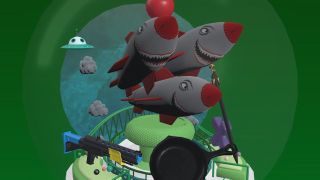 Every year, Microsoft releases a new tool to track your gaming habits during the previous year. As expected, 2018 is no different. A few hours ago, Xbox Live's Director of Programming Larry Hryb posted about a new website available to Xbox One and Xbox 360 gamers. Not only does it allow you to see how you compare to the rest of the Xbox Live community, but it also allows you to make a custom 3D sculpture of your most memorable moments.
You can simply head over to the website provided in Hryb's tweet and begin the process of selecting various aspects of your sculpture. There's are skulls, maps, guns, frying pans, sharks, and much more to choose from. However, the options you're given depend on the types of games you played until October 2018. For example, since I love Destiny 2 and action-adventure games, I was shown the skull. Hryb, on the other hand, seems to have gotten a slew of shark missiles.
This is definitely an interesting way to compare your statistics. Hopefully, Microsoft will keep up this tradition going forward because it's a lot of fun. How do you compare to the rest of the Xbox Live community? Let us know.
Microsoft is going all in on gaming and it's great to see the company scoop up numerous amazing teams like inXile Entertainment and Obsidian Entertainment. The future is definitely looking bright for the gaming division right now.
Keep an eye on WindowsCentral.com/Gaming for all the latest in Xbox and Windows 10 gaming, accessories, news, and reviews!
Asher Madan handles gaming news for Windows Central. Before joining Windows Central in 2017, Asher worked for a number of different gaming outlets. He has a background in medical science and is passionate about all forms of entertainment, cooking, and antiquing.
Wish they included Nov so I can see how Red Dead stacked up

@Asher Madan
Can you share your stats here? How many games did you beat this year? Achievements, trophies?

I got some stats for you. people have been reverse engineering player counts and percentages to calculate the total number of players for each PS4 game available. Gamstat pointed out that My PS4 Life videos – which show personalized highlights for users of their in-game trophies – discloses the exact number of players who receive said trophy. That number, combined with the percentage of people who obtained the trophy (shown on the PlayStation website) can give an estimation of the amount of people playing that specific game. Gamstat has posted nearly 100 game estimates so far on a website, and clarified that the actual estimation dates are most likely somewhere between Nov. 20 and Dec. 4, 2018, which does skew the proper estimated number of both older games and newer titles. he following shows total global estimations of a handful of PS4 games: Grand Theft Auto 5 - 51.7 million
FIFA 18 - 32.5 million
Call of Duty: World War 2 - 24.6 million
Call of Duty: Black Ops 4 - 9.23 million
Call of Duty: Ghosts - 12.6 million
Battlefield 4 - 13.9 million
Minecraft - 25.6 million
The Last of Us: Remastered - 15.9 million
Overwatch - 10.2 million
Red Dead Redemption 2 - 6.1 million
Resident Evil 7 - 5.97 million
No Man's Sky - 3.95 million hmm mostly multiplats..... interesting and what GTA, Fifa and COD at the top of the list??

Cool story... I'm not sure what's your point though.
When people choose between two products they look at the differences between the two. What one has over the other. Not the similarities... I've already told you the importance of exclusives by looking at history and logic, you will keep ignoring it because you are promoting XB/MS who lack exclusives.
I don't really care to debate more with you about this tbh...

Oh and jams_11, Can you post your stats here? How many games did you beat this year?

It's weird how they always confuse my favorite game with the one I've been grinding at for the longest.
I've put in over 200 hours into Forza 2, not because I like the game (ok I do a bit) but because I'm trying to get the achievements, and I'd be playing my favorite game otherwise. k.thanks

Lol I got 280 hours of fortnite and got top 7% of hours put into Xbox

So with 18 billion hours played and 234 hours on average per gamer, that leaves us with around 77 million active Xbox gamers. Not bad!

@Primehunter
What are you talking about?
Windows Central Newsletter
Thank you for signing up to Windows Central. You will receive a verification email shortly.
There was a problem. Please refresh the page and try again.