How great would Pokémon Go be on HoloLens?
I want to catch a Geodude with my face. Wait, maybe not.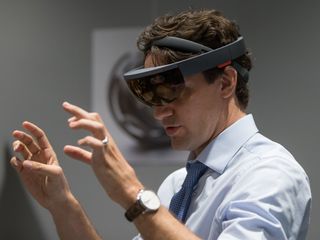 You may have noticed several places that aren't Windows Phones have been enjoying a new Augmented Reality game, Pokémon Go. If you've taken the time to look at it on an Android phone or iPhone, it's neat. You use your real location to find creature to capture, and then use those creatures to fight with other players in the real world. Even if you have never paid any mind to the 20 years of Pokémon culture around the world, it's a fun idea.
The only real limitation to the experience is having to look at this digital world through the little screen on your phone. How great would it be if you could just use your head to see the Pokémon hiding in the cabinets or under your kitchen table? What we really need is Pokémon Go for HoloLens!
This is exactly the sort of thing HoloLens and Google Glass need in order to show off what the big deal is about AR. As much fun as it is to play Minecraft on your end table or stream Xbox One games to the wall in your living room, the real magic of Augmented Reality is walking around in your physical space and seeing something new as you turn the corner. A digital world overlay on your physical world, is that really so much to ask?!
A HoloLens version of Pokémon Go would obviously be very different from what people are currently doing on their phones. For starters, no one is going to go walking around town with HoloLens on. After all, there's no cellular connection (although you could tether to your smartphone)! It's also a little on the bulky side, and no amount of Team Rocket insignia stickers will convince other Pokémon Go players that you're not doing something weird under that visor. Contained to your house, or even your front and back yard? This game would be an incredible amount of fun on HoloLens.
It's doubtful we'll ever see an official release of Pokémon Go on HoloLens, no mater what was hinted at during an interview, but the current craze makes it clear there's room in the world for something like this to really take off. Augmented Reality isn't the thing that makes people flock to this game, but Pokémon Go is exposing a huge number of people to the technology. That's good for everyone interested in things like HoloLens, as it paves the way for further adoption when users see there are practical examples AR in action, not just catching Pokémon.
Get the Windows Central Newsletter
All the latest news, reviews, and guides for Windows and Xbox diehards.
Russell is a tech nerd who chases the best of everything, from phones to game consoles to laptops and everything glowing or beeping. He's the Managing Editor of gaming content for Mobile Nations and can be found contributing to all of the Mobile Nations sites. Reach out on Twitter!