How I used NZXT LED lighting to bring my PC to life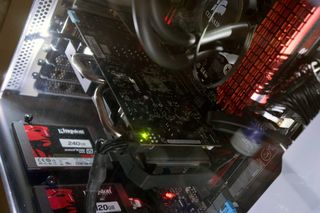 Adding LED lighting to your PC is a great and affordable way to visually bring your PC to life, especially when you want to show off, er, display your PC case for friends to witness your work. I opted to invest in some lighting from NZXT since I purchased the S340 case from the company and decided that their LED solution would work around the components I have installed inside the chassis.
The specific model of lighting I chose to go for is the NZXT CB-LED20 (opens in new tab), which is available in blue, green, white and red. Depending on the components you have, the design of cooling solutions and the colors used in manufacturing your case, it's worth carefully considering just how you wish to illuminate the insides of your PC.
My case is a mix between white and black, thus the white LED package was the ideal selection, especially since I wanted to achieve a more neutral ambiance. The kit I selected and shall cover in this piece is sleeved and is designed to take up minimum amounts of space in a well laid out case, all whilst adequately protecting wires contained within.
The 2 meter cable provides ample room to feed it throughout your case, allowing light to be shone on all components. NZXT packs in black sticky pads that can be used to keep the cable in place with some adhesive, which work well with the S340 case (opens in new tab) I own due to the inner coating being black as well. You can of course use your own pads or means of attaching the cable to the metal.
To power and control the lighting effects, a card needs to be installed into one of the PCI slots of the case itself. Note that the NZXT LED lighting kit does not draw power from your motherboard, so it can be placed in a position that doesn't interfere with a GPU and other PCI cards. You will need a free molex connection, however, and be sure to consider just how short this power connector is before installing to ensure you have ample length.
Once everything has been put together and connected, three light brightness levels can be selected using the toggle on the rear of the card — low, medium and high. There's also an on/off button to quickly and conveniently turn the lighting on and off. Pairing the clear white glow of the LED lighting with the red illumination effects on the ASUS Z170 PRO GAMER motherboard creates a neat visual experience that puts the side panel window to good use.
Interested in buying the kit and adding some right to your PC internals? Be sure to hit the link the shop button below to get started. Let us know in the comments if you've deployed lighting inside your PC case and how you go about choosing a kit to purchase.
See at Amazon (opens in new tab)
Rich Edmonds is Senior Editor of PC hardware at Windows Central, covering everything related to PC components and NAS. He's been involved in technology for more than a decade and knows a thing or two about the magic inside a PC chassis. You can follow him over on Twitter at @RichEdmonds.
It would be nice if we could get UK Amazon links to products in articles too.

Yup, you'd think they would want the referral also.

Really, it seems like most links on here (probably an equal amount really) are for UK Amazon. I guess that's what happens when your looking for the other, you notice that. You are right though, it would be nice to post links to both the UK and US version. At the same time, no one on here should be so lazy as to not copy and paste the item on the site of their choice. Especially when amazon has a unique item number you can copy for everything.

Nice idea. We try where theres a match to direct visitors to their local store. Unfortunately, whilst items have unique numbers those numbers are no always the same across territories. Thats not because Amazon tries to make them different, it's becuase the underlying sku might be different (although still called the same). It might contain different plugs, manuals, packaging and accessories for different markets. Point is we try to put people on the right page for the product we link to unless it's some sort of geographic special offer.... as many in the UK will no doubt be aware we rarely get the same deep discounting that people in the US get. If we get it wrong feel free to post the link you feel is better...we're not precious!

Ah, I stand corrected then, I thought the amazon numbers didn't change by region. It makes perfect sense that they do, such as devices with different voltage requirements.

The first version we tried would sometimes land us on a valid page with a 'out of stock' or 'not available in your region'... I think for the very reasons you mentioned... We've also noticed for some products have ever so slightly different skus (with a free hdmi cable for example) which, like the mattress business, make it hard to price compare. Cunning indeed. Nowdays we use a service which tries to map products across territories like the UK and other euro Amazons but also the far east...

The link at the bottom of the post goes to the correct item in the UK Amazon store?

not for me (as per tweet earlier - just thought I'd reply with the same so others knew it wasn't working for me)

Weird. Have fed back because it goes to the right listing for me, as it should. We do have a regional tool to redirect whenever possible. Which browser are you using?

It's the link in the WC app that I'm clicking... is that region aware?

Sadly the app is not region aware. It something we're working towards though.. will probably be a change in the link format altogether so it's 'channel' agnostic.

Thats weird... for me it lands on: Amazon.co.uk Which looks like the right product.

Hmm, odd.
My default browser is Edge

Ah wait, I'm talking about the link from the WC app which goes to the US.
The website points correctly to the UK.

I'm also talking about the WC app - that's how I generally consume the content.

Got it... we're working on something for the apps...

Those close up shots are nice but make for no reference whatsoever. Would be nice to see the whole case and best to see it before and after
Windows Central Newsletter
Get the best of Windows Central in in your inbox, every day!
Thank you for signing up to Windows Central. You will receive a verification email shortly.
There was a problem. Please refresh the page and try again.