How many Orbi mesh points do you need?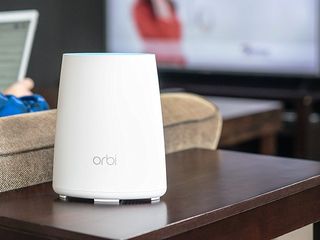 How many Orbi mesh points do you need?
Best answer: For most homeowners, the Orbi router and a satellite are more than enough to cover your house with a single network. Each point has a fantastic range, so you may not need as many as you expect.Amazon: Netgear Orbi Mesh Wi-Fi System ($287)Amazon: Netgear Orbi Wi-Fi Satellite (RBS50) ($248)
More coverage means less points required
The Netgear Orbi routers and satellites look and work similar to each other. They each create a sphere of Wi-Fi that goes beyond the floor and room they're sitting in, keeping a strong, steady connection to your devices and within the mesh system. One Orbi router and Orbi satellite can cover up to 5,000 square feet (about 465 square meters). Should you need more space covered, you can connect up to three satellites to your router and cover nearly 10,000 square feet (or around 929 square meters).
Orbi also offers different systems for different situations, including wall plug satellites and outdoor satellites, which connect just as easily as the desktop satellites. The best satellites for you depend on the size of your home – different satellites offer different ranges.
If you have a small area that isn't quite covered by your router, a wall plug satellite is a quick and easy fix. These smaller points connect to your walls without taking up a lot of space and can extend coverage by up to 1,500 square feet. To add coverage to an area that isn't covered by a wall plug satellite, you can go for the Orbi Wi-Fi Satellite (RBS40). These are the common points that can come bundled with the router and each cover up to 2,000 square feet. If you need further reach than what's possible with the RBS40, the Orbi RBS50 and Orbi RBS50Y (for outdoor use) can reach up to 2,500 square feet each, more than other Orbi satellites.
No two homes are the same
Not every house needs a mesh Wi-Fi system, and not every house is fully covered inside and out with just a router and satellite. Both the Orbi router and Orbi satellite offer four Ethernet ports each in case you need a wired connection through your home.
If you're interested in creating a wired backhaul connection within your system instead of the wireless backhaul which connects automatically, you can do so using star topology or daisy chain topology. You must have Orbi Router RBR50 and Orbi Satellites RBS50 with the latest firmware to create the Ethernet backhaul. For daisy chain topology, you must also check Enable Daisy-Chain Topology in your settings if it isn't already turned on. However, the dedicated band used for backhaul won't be freed when using Ethernet backhaul but is still something some people may be interested in.
Our pick
Netgear Orbi Mesh Wi-Fi System
Easy to set up and keep your home connected

With the router and one satellite included in this system, you have a large coverage area to keep your devices connected at high speed. For larger homes or outdoor connections, you can add more satellites to extend your reach further without sacrificing performance.
Recommended
Netgear Orbi Wi-Fi Satellite (RBS50)
Extend your Wi-Fi range without sacrificing performance

With Orbi's RBS50 Satellite, you can add up to 2,500 square feet of high-speed Wi-Fi coverage and have the benefit of adding this satellite to your wired backhaul connection with the latest firmware.
Get the Windows Central Newsletter
All the latest news, reviews, and guides for Windows and Xbox diehards.