HP reveals new models of its detachable and convertible Windows 8.1 notebooks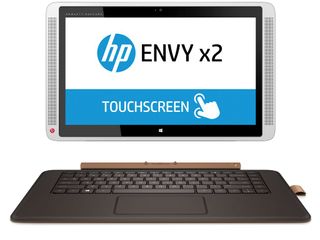 HP has some new models of its Windows 8.1 notebook-tablet hybrid devices coming out this fall, including two detachables and one that converts from a laptop to a tablet with a flip screen.
HP has this to say about its two new ENVY x2 notebooks, which feature displays that detach from their keyboard and can be used separately as touchscreen tablets:
The new HP Pavilion x2 has a 10-inch touchscreen that can flip around so that the screen can be used by as a tablet, with the keyboard turning into either a stand or a cover. HP says:
The 13.3-inch HP ENVY x2 will go on sale October 29 starting at $1,049.99 and the 15.6-inch version follows on November 5 starting at $949.99. The HP Pavilion x2 will also go on sale October 29 for a starting price of $329.99. What do you think of these new HP Windows 8.1 hybrids?
Source: HP (opens in new tab)
Windows Central Newsletter
Get the best of Windows Central in in your inbox, every day!
I think it's odd, again, that the bigger screen is a lower price.

was just thinking the same...maybe to promote it?

I dunno, historically that's been the case for laptops in general. Larger screen means larger frame to house more regular sized items. Smaller screen, smaller body, evokes the idea that they have to use smaller, more specialized things (say a slot disc drive vs one with a tray, back in the day the former used to be more expensive). Now, I fully understand people thinking the opposite should be true, but finer electronics usually have more over head for creation. So, traditionally, smaller screen, smaller frame, more expensive item (factor in resolution too, a 17'' 4k lappy may indeed cost ore than a 1366 11'')

You are correct. Why do you think smartphones have the specs of 5 year old computers but cost twice as much? Not only are you having to make things smaller, but you have to use some smart engineering to organize all the parts in a way that everything fits without anything overheating or messing up.

Agreed. Smaller devices require more creative engineering to make it all work (physical space, cooling) while trying to retain the performance and battery life of larger devices. Also requires more precise assembly. All that and people value thinner and lighter devices more. Larger screens usually don't have as high density either...

yeah, an my wife will insist on the smaller screen for portability

I'm liking the design a lot, huge fan of the high end HP stuff

Yes, I feel like recently Windows 8 is finally getting the hardware that it was made for. It has kind of been ahead of its time and maligned for that, I think.

You are correct, W8 was for or is for touch screens just like our phones

The envy x2 looks like a much better NVIDIA shield! :D

Am I the only one kind of waiting for a rt tablet 64gb for around £250 to be shown?

Nope. Me to. Well maybe a 128gb. But I'm afraid we will be waiting a very long time. :'(

yeah, i'd happy buy one right now

TBH, the 64gb Surface 2 is only around 320 quid. Why are you waiting, thats only 70 quid difference. Spoil yerself. You deserve it.

surface rt gen one 64 gb is only 250 usd now

HP needs to reveal the screen resolution on the HP Pavilion x2 but otherwise it does look like a solid device and nice competitor to the Surface 2.

I'm waiting for that other shoe to drop as well. HP has been historically awful with screen quality on tablets.

That thing is just ugly. Thanks Microsoft for the surface pro 3.

thanks microsoft. i hope wp will improve strong than android :)) http://dongtam.info/forum.php mu moi ra thanh lap cong ty cho thue phong tro diễn đàn rao vặt dịch vụ seo từ khóa máy xông hơi đồ chơi ô tô nội thất ô tô thiết bị mầm non phụ tùng ô tô

Hmm that detachable keyboard looks so familiar with the loop and attaching mechanism :P.


Envy looks quite nice ...like a big HTC One M8. Wish the keyboard was silver too.

Doesnt HP have a LONGGGG history of making tablets that arent very good at all? My max is around $600.

Why would anyone get these over any of the surface pro family?

These are more like laptops, surface pro is more akin to a tablet

The rest of the world who doesn't live in the... 5? countries where the Surface is offered.

Wonder if the Surface Pro 3 will get the Core M chip, or if this is for the Pro 4. Because with all of these new Core M devices coming out... Surface Pro 3 kinda feels last gen, while its build quiality and unique and stylish look are matched by no other (but maybe Apple's iMac line), but batterylife and fanless would sure make a big difference.

Damn it! The x2 devices were perfect the way they were, why are they messing them up like this? None of these fit my needs at all. I want a laptop hinge with a 11-12" tablet display at Full-HD. I loved the x2 series, but these things are nothing like what x2 used to be. Hopefully Dell will come out with something good as Venue Pro 11 was close to perfect as well. Unless you need a monster sized screen why would you buy these instead of Surface Pro 3 (which frankly isn't as good as old X2 devices either).

Hi guys any info from HP about new all-in-one models? :/

So, this will be the Surface for those who don't live in the US then.
Windows Central Newsletter
Thank you for signing up to Windows Central. You will receive a verification email shortly.
There was a problem. Please refresh the page and try again.