HP Spectre x360 Ultrabook – Our first impressions and video tour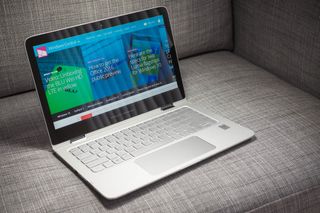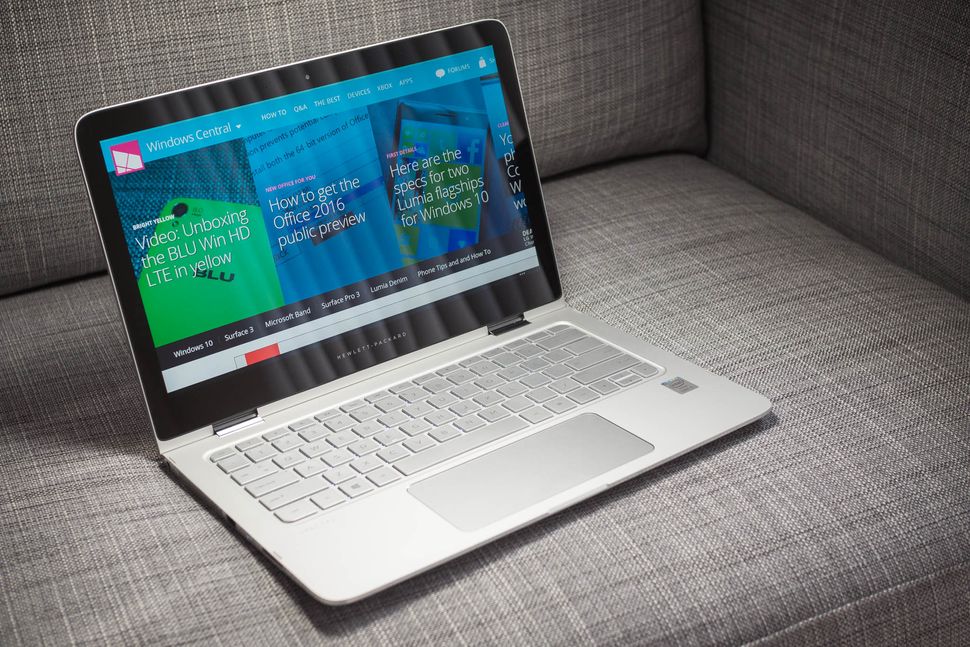 (Image credit: Windows Central)
During Microsoft's annual Build conference last week, the company gave out thousands of HP Spectre x360 Ultrabooks to attendees. Granted, the more than $2k price tag that it takes to attend Build subsidizes the 'give away', but the tradition is always one of the fondest moments of the day one keynote.
Mark Guim and I have been using the Spectre for a few days now. His laptop is loaded with the default Windows 8.1, while mine is sporting Windows 10 build 10074.
Truth be told, neither of us are fans of HP's laptops. However, the Spectre is different. It is built with some assistance from Microsoft's engineers, and it shows. In fact, I find it hard to put down as you will find out in our detailed, 13-minute video review.
HP Spectre x360 Specs
Swipe to scroll horizontally
| Category | Specification |
| --- | --- |
| Operating System | Windows 8.1.1 |
| CPU | 5th gen Intel Core i5 or Core i7 |
| Graphics | Intel HD Graphics 5500 |
| Display size | 13.3-inches |
| Display resolution | Full HD (1920x1080) or QHD (2560x1440) IPS Touch |
| Internal storage | 128, 256, or 512 GB mSATA SSD |
| RAM | 4 or 8 GB |
| Ports | 3 USB 3.0; 1 HDMI; 1 Mini DisplayPort; 1 headphone/microphone combo |
| SD card slot | Yes (microSDXC compatible) |
| Dimensions | 12.79 x 8.6 x 0.63 in |
| Weight | 3.2-pounds (1.45kg) |
| Battery | 56 Wh Li-On (10.5 to 12.5 hours, depending on config) |
| Front camera | HP TrueVision Full HD WVA Webcam w/ integrated dual digital microphones |
| Wireless | 802.11ac (2x2) and Bluetooth® 4.0 combo |
In terms of specifications, the Spectre x360 runs the gamut and it often depends on where you buy it. The Microsoft Store is selling the Intel Core i7 version with 512 GB of storage, 8 GB of RAM and an HD display. The one given out at Build is a custom Core i5 version with just 128 GB of storage, 8 GB of RAM and an HD display.
Head to the HP website they offer more configurations. Smart move. Maxed out, you can grab the Spectre x360 with a fifth-generation Intel Core i7, 512 GB SSD, 8 GB of RAM, and a jaw-dropping QHD Display with adaptive pixels. That setup sets you back $1,399, but, to be honest, that is a fair price for a maxed out Ultrabook in 2015.
Don't like the four pre-fab configurations? HP lets you put together a custom version. Here you can get the Build variant with a lower-clocked Core i5 and 8 GB of RAM. You can also upgrade the display from a 1920x1080 WLED backlit IPS display to a 2560x1440 one for just an extra hundred bucks. Both are touchscreens.
Heavy but substantial
The HP Spectre x360 comes in at 3.2 pounds (1.45 kg). Make no mistakes, by comparison to current Ultrabooks it is not light. However, it is not heavy either. Just heavier. That is an important distinction.
Moreover, that weight is worth it.
For one, you get a considerable 56 Wh Li-on battery. HP rates the device between ten and a half and twelve and a half hours, depending on configuration. By all accounts (and other reviews), HP is actually not lying here as the Spectre is well optimised for extended battery life.
You also have a single machine cut CNC aluminium body. Translation: entirely metal, with no creeks.
Yes, folks, this is the Lumia 920 of laptops.
2-in-1 too
Finally, the big selling point for the Spectre x360 is the fact that the display can flip to convert into a tablet. Granted, it is a 3.2-pound tablet. Personally, I find this mode less compelling than the tent one, however, if you think of the Spectre x360 as a laptop that can also flip around, then it is not so bad.
Lenovo has been doing this flipping thing with its Yoga Pro laptops for quite some time already. HP brings some unique stuff to the table like the hinge with "three spiral gears for synchronized and precise movement". This design lets the Spectre x360 stay as thin in tablet mode as it is when closed.
Takeaway
We'll focus more on the HP Spectre x360 in the coming days. For now, colour us surprised – and impressed – with what we have seen so far. Dell and Lenovo are not the only kids on the block with significant laptops on the market now, as the HP Spectre x360 is certainly worth more coverage.
The Spectre x360 was announced at the beginning of March. It is now available from HP Direct (opens in new tab), the Microsoft Store (opens in new tab) and Best Buy (opens in new tab) in the US and other retailers across the pond.
Do you have a Spectre x360? Share your thoughts about it in comments!
Windows Central Newsletter
Get the best of Windows Central in in your inbox, every day!
Daniel Rubino is the Editor-in-chief of Windows Central, head reviewer, podcast co-host, and analyst. He has been covering Microsoft since 2007 when this site was called WMExperts (and later Windows Phone Central). His interests include Windows, laptops, next-gen computing, and for some reason, watches. Before all this tech stuff, he worked on a Ph.D. in linguistics, watched people sleep (for medical purposes!), and ran the projectors at movie theaters because it was fun.
I saw this at Best Buy. This is a really nice laptop. It's seems better built than the xps13, but that xps13 looks absolutely spectacular. I've got a yoga now, so I would naturally gravitate to the x360...but that xps13 though.

Tough choices this year. Surface Pro 4 or XPS13 or Spectre360... I wish they'd just make a Surface with a real keyboard. That would break the tie.

I love... love... love.... my XPS 13. Once you go bezelless you never go back.

The XPS is awfully pretty... and I like its small footprint. But I like the shape-shifting of the Spectre 360. Like I said, I wish Microsoft would create a Surface tablet with a real keyboard. The flimsy keyboards are brilliant... but they are also limited.

I guess you'd have to ask yourself how often you'd be using it in tent/tablet mode. As the review points out, for a tablet, it's a hefty 3+ pounds, so you're not going to be toting that thing around like an iPad or anything. I'd probably lean towards the XPS.

Waiting for the XPS15 to join the bezel less club. Once it does I'm jumping in.

I am typing this from my XPS 13 QHD+ which has had none of the problems that people often complain of, it's an absolutely stunning laptop and extremely functional as a college student's device.

a mac replacement for new windows user

tell that to those millions of iSheeps who buy a mac only to spend few hours setting up dual boot and then go around with their dbag hats.

Looks really nice. Never been a fan of HP laptops but this has me interested. Need to get a hands on first though.

Yeah even I'm fascinated by it's looks. I like the fact how they wrote "hewlett packard" below the screen and not the silly short form HP. The Spectre logo on aluminium also looks cool

I've got the previous model Spectre, and while I'd love to upgrade to this one as there's a lot of improvements I'd love to have, I'd say HP has been building good machines for a while now. It's not just this collab with Microsoft that has made them worthy of interest.

Overlooking the Lumia 920 reference, I actually sort of like it. I am not an htc fan usually tbh. But it looks good.

Yeah I what realm is this anywhere close to as innovative as the l920? Insulted my phone a little there

The L920 reference actually makes a lot of sense. Its "heavy" in relation to its peers, but it packs in awesome hardware. I wont argue its as innovative as L920 (glove touch, clear black, wireless charging, sunlight readability), but the hinge does put it above some other models.

Honestly. The hardware is beautiful Posted via the Windows Central App for Android

Looking forward to how Windows 10 is working out for you. On the last build I had nothing but problems with it.

I've got 10074 on my Spectre (previous one, not 360), pretty solid and much easier to use than earlier builds; I'd say definitely worth another try.

I put Windows 10 on mine (that I also got from Build). At first, right click wouldnt work anymore. But somehow that fixed itself. I've used it to play a lot of Civ 5. I had a strange crashing issue at one point in the game until I changed a certain setting. Also everytime I run Civ 5, the start menu pops up over it. Otherwise, Windows 10 has been working pretty good.

Honestly, the body is really nice, but all I can see is that enormous bezel. :/ If I get a laptop, it'll be an xps13. Otherwise, I'll be (hopefully, assuming the specs are good) getting a Surface Pro 4.

How is the keyboard? I have had silver keyboards before and I do NOT like them at all. Too hard to see in anything but a dark room (assuming backlit as most silver keyboards are) I would rather have black keys with white/backlit lettering.

Keyboard is excellent for typing, but as noted in the video review, yes the backlit keys are rather difficult to discern. Depends on how you type. If you're a real typist, no issue, really. If you hunt and peck, you may have some frustration.

I don't know how to pronunciate SPECTRE.
Is it [spec t rae] or [spec ter]?

If you are familiar with the pronunciation of 'inspector', just remove the 'in'. Another nuance of the English language.

Perfect excuse to watch some Bond movies then. Next one should make it clear for sure ... ;-)

It's pronounced "sfink-ter." So when you're talking to your friends about it, be sure to say, "I love my sfink-ter." lol

A Non-touch matte display as an option would make me more interested, otherwise it seems impressive. An x180 maybe?

Its a good competetior for surface pro 3 too. A tablet that can replace laptop vs a laptop that can replace your tablet. NIcely done by HP. Thanks for the review.

I am actually quite impressed with the Spectre x360 so far too. I was a bit disappointed when I found out we were getting a laptop considering that I already have my ASUS Zenbook that I really like but the ability to flip the screen into a tablet form factor is quite nice and I think these types of laptops will be a much more compelling buy once Windows 10 releases.

Now imagine this one with a Sharp (Dell) Infinity display. Also USB C Charging, which means only one connector for both charging and docking.
Both features will be available later this year...

Since you've had the back off, can you see how difficult it will be to upgrade the SSD drive? I've got one and the 128 Mb drive is just not big enough.

Weird. Both this review and the one over at notebookreview shows an empty M.2 slot, I wonder why...

They haven't had the back off. That image was from our first hands on back at MWC.

I opened mine up last night to inspect it for that same purpose. The empty slot in the middle of the top is where the SSD goes, so upgrading should be relatively easy. I just need to find a way to convert the 128gb one into a large flash drive and I will swap it out for 256 or 512.

I'm assuming that this, along with most modern ultrabooks, are not very user upgradeable. Due to the thinness, a lot of the components tend to be soldered together. For a prospective buyer, I'd recommend getting the model with the highest memory you can get with it.

Daniel you forgot to test the speakers?

wasnt the 920 plastic? Oh it was about the weight.. .DOH!

Very nice and beautiful laptop. I'm actually curious if Continuum is already working with this laptop, I was looking forward showing that in the video.

It does work with no issues :)

Thanks! Glad to know that. :D

Very happy with my i7 model. It has retired my surface pro 3.

should i get this or the xps 13 or wait for ultrabooks announced with windows 10?

There's always improvements, and you can delay forever. Most manufacturers announced their wares at CES in January, I don't expect that many Windows 10 machines this summer, mostly the Surface Pro 4, maybe Samsung and Lenovo will have something but it's more "back to school" machines than flagship devices like these Ultrabooks. You could be waiting another 9 months for new hardware - even if it's announced when 10 is released it could be a couple of months before devices are in stores. So depending on how desperate you are for a new machine I'd say buy now as most machines have been refreshed of late and will all upgrade to Windows 10.

Got it 4 days ago and love it. It is a fantastic laptop, I was thinking for a long time to buy the xps 13 but when this came out I preferred the sturdy and premium aluminum uninody and the versatility of the convertible. I watch my movies in tablet or tent mode and it is great.

I've been using this x360 for over a month now and I can't say enough good things about it. If HP can take the build quality and lessons learned with the x360 push these improvements into more of their laptop, PC, and device lines they will be very successful. If this isn't a one hit wonder its renaissance time for HP. I've never bought a HP laptop before. This device changed that. I was using it pretty early on with Windows 10 builds. It was a little rough there for awhile. I was regretting not staying with 8.1 longer. However the last couple of builds have included much improved drivers. I would not hesitate recommending it with the latest Windows 10 builds now. The WiFi has been phenomenal. I unplugged and watched the last 3 episodes of Daredevil on Netflix last night and it was still rocking 70% battery life when I folded it up at the end. Highly recommended.

How about the series ? xD

It's fantastic. Daredevil is my favorite new show. The downside is, there are now way too many hour long serialized TV shows in my life, gonna have to start winnowing things down.

The previous Spectre (which I have) is a lovely machine as well and before that their Envy devices were pretty decent. HP for all their bad rep has actually had a good line of flagship laptops for a while. It's just their mid-range consummer devices that were a bit drab that made people over-look their high end offerings. Hopefully all those Spectre 360's MS gave away will get the tech press to help improve HPs rep (though why I care I don't know, maybe I should buy some HP shares since I'm bigging them up!). I've got a couple of driver issues with W10 (touchpad isn't wonderful), I hope they are resolved and HP don't just move onto the 360 and forget about the last model.

FYI, after a month of dealing with mouse lag I uninstalled the Synaptic drivers today.. and all is perfect now.

Mouse lag? Where the cursor disappears? Cause that's been happening on mine every once in a while... Posted via the Windows Central App for Android

No, it wouldn't disappear it would just stutter or not move for a few seconds nor would it allow you to click anything (using the touch screen, mouse or trackpad).

The touchpad is my main peeve about this laptop. I find the tap horribly irresponsive. I'll try your trick, maybe it'll get better. Thanks.

I like the trackpad, actually.. although I find my finger normally in the middle so then a right click is nearly impossible. Most of my time is spent using a wireless mouse or the touchscreen anyway so I'm ok with the trackpad.

I installed HP advisor (or something like that on my Spectre - previous model) this morning after I read your post and was informed there's a new driver - might be worth checking that as well.

I had all of the Windows Updates plus all of the updates from the HP Advisor tool, didn't help.

I am writing this on my Spectre right now. I have the i7 HD with 256gb ssd. This machine is one of the best computers I have ever used. I really appreciate the inking I can do with the Synaptics digitizer and the Dell Active pen. With the pen, I can take notes with OneNote as well as I can with my Surface Pro3 (yes, I have both devices). I don't know why HP does not advertize the inking capability! I wish there were a pen option that would let me click into OneNote the way the SP3 pen does... I love the keyboard and trackpad, and the HD display is beauiful enough for me. QHD did not offer enough improvement in the display quality to justify the greater battery drain from the higher pixel count. All in all, I am very pleased with the job HP has done with this.

If you had to choose one between the spectre and the surface, which would you choose? I've basically reduced my list to one of these two, would love some insight. Thank you!

Surface Pro 3 vs HP Spectre x360; If I had to make a choice between them... wow, that would be tough! The keyboard on the Spectre is easier for me to use, but I like the 3:2 aspect ratio and the lighter weight of the Surface. I use them both. So if I had to give up one, it would probably be the SP3, since I do a lot of typing. When I am creating PowerPoint presentations, however, the Surface works better for me. I do love casual surfing and research on the SP3 So much would depend on your particular needs; what a wonderful dilemma to have!

I've wanted one since they were first released! This will serve as a very nice birthday present to myself this fall.

Just bought one about a month ago. So far so good. Can't complain about much. Still getting used to the keyboard for some reason. But build and looks are great. Battery holds up well for the most part. Performance is pretty good. I've had some minor hickups where things either freeze or just don't work properly. Like the pointer disappears at times and I can't close out of windows/apps. Posted via the Windows Central App for Android

Why in the video the display flickers like crazy? I assume it cannot be noticed while actually using it in person, but it is not something I appreciate. Maybe it could cause some eye/brain stress in sensitive people? :-/

All screens flicker like that, but it is generally not visible to the naked eye, as it flickers at a higher rate than we can percieve. The only reason you see the flickering on the video is because of the camera being used to film the review. You don't need to be concerned about that. I agree though, it is a bit unsettling to look at. I have problems with motion blur in videos too.

My initial plans were to get an XPS 13, having used a previous model for several years. However, I was a little miffed that they are charging $300 extra for a touch screen, when Dell sells touch screen laptops for $300. The dealbreaker, though, was that the new XPS hard drive maxes at 256 GB. I got the Spectre x360 configured with the 500 GB drive and am very happy with it. The one caution I would give is that the drivers are a work in progress. I purchased from HP directly with a custom configuration. When it arrived, the touchpad click points were disabled. I found on the HP support site that several updates to the touchpad drivers were released between the time I ordered it and when it arrived. The touchpad works fine now. Today, HP tech support directed me to udpate the BIOS as I was getting crazy battery level indications and never the 12 hour life advertised. After installing the update, I went 12 hours of on and off use without a problem. These things get pushed to WIndows update but I would recommend downloading from HP as soon as you receive the machine.

You sure the XPS 13 maxes at 256GB? I had an option for 512GB when I ordered mine

I swear the configuration tool did not show 500GB option 2 months ago when I checked, but if it does now that is great. The XPS and x360 are both buzz worthy machines.

I got the machine at Build.
I was flying home from San Francisco to Sweden.
The battery life on this laptop is amazing! I was using it for several hours on the trans-Atlantic flight (guess 4-5 hours). Then i sat at Heathrow Airport using it for another 2 hours and charging my Lumia 920 at the same time! Finally. I used it on the last flight home for another hour.
When I got home, it showed that it still had 3.5 hours battery left!
Best laptop for flights that I ever used.

I saw one at best buy today. It looks like a sweet little laptop. they only have the 1080p version, I would love to see the QHD version.

Hey Daniel in video I saw you have installed windows 10 home insider preview so windows 10 will also come in different variant like pro,basic,ultimate one as we have in windows 7?
P.s : How did you got windows 10 home insider preview.
On website there is only pro or enterprise preview of windows 10

amazing netbook.... thank you HP

I find the fawning over this laptop to be a bit bizarre. It's as if the Lenovo Yoga series hasn't existed for the last few years.

Because Yoga 3 Pro kind of sucks and Yoga 2 Pro is kind of old with non-Broadwell?

Another feature I feel worth mentioning is though the "Active digitizer screen". it suports an active pen(synaptics) which many touch ultrobooks dont(such as lenovo yoga lines and dell xps13)

Got mine yesterday from hp as there don't seem to be any other choices in the UK. Spent last night loading up with visual studio and tools. Moving from an Asus G74 as I no longer really need a desktop replacement. From a dev perspective its dual core but supports hyper threading. It simply whizzes along. I have the i7 512GB QHD Version. Very pleased with it but I am not familiar with trackpads as such so I am learning there. Windows 8.1 seems fine but very much looking forward to W10. Amazingly thin everyone makes comments about how it looks like a mcbook or a Lenovo, so what, its neither. Very pleased with it so far.

I'm considering getting this model. How do you find the screen brightness in everyday use with the QHD screen? Any issues when using it in brighter ambient lighting conditions? What kind of battery life are you seeing?

Got mine at //BUILD as well and it's been superb. Definitely a surprise from HP. Running Windows 10 Insider Preview build 10074 with no problems. Love the screen. Love the trackpad. Would like to know if the SSD is upgradable if anyone has been adventurous enough to find out.

Yes the SSD is upgradeable. I replaced the Adata 256GB in mine with a Samsug XP941 512GB. I bought the 256GB version because the QHD display on the 512GB version might have the same problems as the Yoga 3 display in that some applications the type does not scale well and is too small to read. 8 Torx screws to remove the bottom and use plastic card to release a couple of clips.Used a recovery USB to put the factory image back. The display is brighter than an XPS 13 plus it has more USB 3 ports and an HDMI plus mini display port.

Although I've had a few (lame) laptops for work, this is the first laptop I can call my own thanks to the Build conference. Overall, I think it's a great laptop/tablet. Unfortunately, my left pad button sticks a bit, so that's pretty annoying. After about 2 hours of using Windows 8.1, I downloaded and installed the Windows 10 preview. Things run remarkably well, even on a pre-alpha OS. Battery life is excellent and I'd imagine the 10-12 hours is realistic. I'm not a huge fan of the keyboard but it is usable and better than buying a case with a bluetooth keyboard. It is also full-sized and doesn't feel cramped. Flipped inside-out, it doesn't seem like it sits flush to itself, but because the design is angled so the hinge side is a bit thicker than the opposite edge, it actually does sit perfectly even. It looks remarkably like an Apple MacBook Air. The glossy screen shows a ton of fingerprints and smudges in a short period of time. The one piece I wanted to swap out is the 128GB AData M.2 SSD because 128GB fills up VERY quickly even with the swap file disabled. This is much harder than it should be. There are 8 visible Torx screws on the back cover, but there are some internal clips around the edge that further hinder progress, so I stopped my first attempt at removing it to see where the SSD is. Maybe some day, it'll be home to a Samsung 512GB SSD.

Hey, my Fujitsu T904 (last year's model with a 4th gen Core i5, but offers an optional i7) has pretty much the same specs, but it's lighter and includes an active stylus. With QHD, which is what I have, I only get about 8h battery life, but that's still pretty good. The only 2 complaints I have with the T904 are: 1. It doesn't recognize "tent" mode, in that the screen doesn't auto-flip. It's as if the accelerometer is in the keyboard part of the unit instead of the screen part. 2. The volume is really quiet, even on max. It's fine with headphones, but the built-in speakers are really quiet, even for a laptop or tablet. Other than that, it's a great system and for those who want an active stylus, other than the Surface Pro 3, there's not really another decent option. And if you want a full 13.3" screen, then the T904 may the be the perfect choice for you. (To be honest, the T904 came out before the SP3 and had the SP3 been an option when I bought it, I probably would have gone with the SP3).

I saw the HP Extended Warranty pop up while you were reviewing the device. Do you know the cost and duration? Would you recommend getting the extended warranty for this?

After using this for two weeks I have found that the battery life is grossly mistated or I have a lemon. With surfing and email I cannot get more than 6 hours before it tells me to plug in. Either way, it is very disappointing. The service tech told me that anti-virus software will affect batteryperformance, which is rich considering they preinstalled MacAfee bloatware. I now await the shipping box to send it in for repair.

My brother has the x360 after I recommended it to him. Originally was looking at the Surface Pro 3. It is an amazing work laptop, and he has really enjoyed having it as his PC (Replacing an alienware gaming laptop pc with it). I'm also a big fan of 2 in 1's after I've had my Yoga 13 i7 laptop for the last 3.5 years. Though there is one tiny issue he keeps running into that seems annoying: ​If it's plugged in, and you use a pen with the touch screen, the touch response almost freaks out sometimes. Moving the cursor in odd ways when he's trying to write notes in OneNote. Though the issue immediately stops after the charger is unplugged. ​But even with that tiny issue I'd still highly recommend it!
Windows Central Newsletter
Thank you for signing up to Windows Central. You will receive a verification email shortly.
There was a problem. Please refresh the page and try again.