HTC 2nd in J.D. Power customer survey with Nokia and RIM below average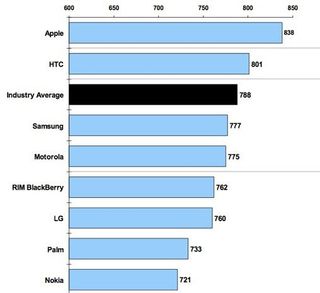 The J.D. Power and Associates' latest US customer satisfaction survey has displayed some interesting findings. Apple is first in the results, which is perfectly understandable as every iOS user has either a household full of Apple products already or are simply satisfied with Apple hardware. No matter what you think of Apple as a company or iOS (and OS X) as operating systems - Apple makes killer hardware.
HTC is second, thanks to the successful injection of handsets running Android. What will be interesting for HTC is the customer satisfaction potentially rising with the Titan and Radar (opens in new tab), which are both beast devices. Unfortunately for RIM, they're well below average and are in between LG and Motorola (now Google (opens in new tab)) and will not help the cause with investors calling RIM to sell itself or patents. Nokia are last, could this be due to Symbian (among other factors) and not the actual hardware? Only time will tell with their launch of Windows Phone handsets.
Source: Engadget (opens in new tab)
Rich Edmonds is Senior Editor of PC hardware at Windows Central, covering everything related to PC components and NAS. He's been involved in technology for more than a decade and knows a thing or two about the magic inside a PC chassis. You can follow him over on Twitter at @RichEdmonds.
@Richard Cut the Apple **** The hardware is no killer hardware like any hardware. You're supposed to bring news and not fanboy talk. Keep talking like that and I'm out of here. Lots of excellent Windows Phone 7 sites to choose from nowadays.By the way: how is this survey news? More questions then aswers.

It may sound like that, but is not intended.Perhaps more dissappointed in a way that I did not expect to read such **** on WPCentral. More a thing to be read on Engadget. And we don't want that, do we?!

I'm sorry but there's no denying Apple hardware is solid or why would it sell? I'm not a fanboy of Apple, far from it actually (I hate iOS with a passion and OS X is Unix in my eyes). I'm a heavy WP7 fanboy and I have enjoyed using Microsoft products for the past 10 or so years. My comment about Apple hardware is from experience and not for the sheer sake of it. Customers love their products and I have also enjoyed a few.The Apple Airport Extreme has outdone every cable router I've previously owned and the MacBook suits my needs just fine until it finally dies and then I'll invest in a colourful Vaio, running Windows 7/8. I'm truly sorry that you took my comments in the article the wrong way, it wasn't meant to stir anything but to reflect as to 'why?' Apple is top of the satisfaction survey.Then again, can we trust this survey? That's also up to you.

Killer is such a strong word assuming it as good as it "kills" other hardware. So now you call it only solid?Thx for the correction in words.And why would you post a survey, without having faith it has some thruth, let alone it would say anything about user satisfaction regarding the Windows Phone OS?I like so many of your posts and appreciate the effort of keeping us up to date, but when I would be a news poster I would have skipped this survey.

Well it does kill the majority of other hardware by being solid. Take (as an example) a base line Acer/HP/ASUS laptop with a Celeron processor or equivalent. Now take the base line Apple laptop which is the MacBook Air. Granted prices are a mile apart but the hardware Apple ships out is generally of quality. What would you prefer? Unibody aluminium or plastic held together with glue and screws?Because it's news. We're a news website (as you rightfully pointed out) that is required to bring as much news to the attention of our readers. While you might not enjoy every article that's posted, other readers may find this survey particularly interesting. It does say something about Windows Phone as it's included in the results chart. Is it accurate? Well, is any survey accurate? Probably not, but it's positive news and that's something we love to publish about the platform.I appreciate your comments and kind words. Criticism is the best feedback, at the end of the day we're just like you - human. We try to be perfect 24/7, but sometimes we must have the hiccup to keep everything in balance. Again, I can only apologise if you found my Apple coverage "fanboyish".

If you look at the original article you will notice the devil is in the detail."Not only is Apple shipping the most smartphones, it's also shipping the best smartphones -- if you believe the stats in J.D. Power and Associates' latest US customer satisfaction survey."Unless they can produce a global survey this information is garbage-in, garbage-out.

Good point, but it's interesting to see Nokia at rock-bottom. It will be good to see their fight with competitors be successful on WP7.

Given that the survey is based on the U.S. only, Nokia at 'rock bottom' is understandable given that they have virtually zero U.S. presence. If they stay on schedule, and release Nokia WP devices every two to three months as planned, hopefully, their scores will be at or above the industry standard.

Good for HTC! Right now, the Arrive on Sprint is like their best rated phone... no surprises there!

I am a little confused. What data is J.D. Power using to calculate the industry average? Averaging the other values yields 771 (after rounding), not 788. Are they using new New Math?

jaja in your face HTC haters!!!!

I love my HTC Surround. Never gave HTC a thought. Until I seen it in action. Fantastic. Love my Windows 7 Surround. I am a HTC guy for life now.
Windows Central Newsletter
Thank you for signing up to Windows Central. You will receive a verification email shortly.
There was a problem. Please refresh the page and try again.