Travel the world? HTC's 8X Windows Phone may be your choice. Here's why.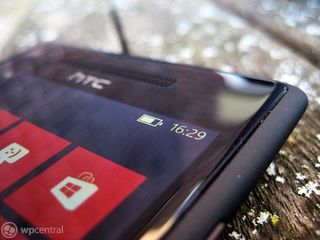 A few days ago we ran a story about Verizon HTC 8X being able to work on both AT&T and T-Mobile networks. Now another test carried out recently has showed the Chinese version of 8X shares the same feature.
The test was performed on a HTC 8X customized for China Telecom (CDMA carrier). The handset worked like a charm when switched to China Unicom (WCDMA carrier) using a different SIM card, on HSPA mode instead of the slow GPRS, as shown in the picture below...
The experiment also revealed that the Windows Phone also works on a GSM network. The screenshot below shows the same 8X working perfectly on China Mobile's EDGE network.
However, China Mobile's absurd TD-SCDMA network wasn't tested for compatibility. Even if that doesn't work (quite likely), being compatible with both WCDMA and CDMA is a great advantage already. I think this could be a global feature for the HTC 8X.
Here is an internal document with detailed network compatibility and frequencies of HTC 8X for all three Chinese carriers:
8X for China Unicom: WCDMA 2100/900 MHz / HSDPA 21Mbps, HSUPA 5.76Mbps, GSM/GRPS/EDGE 850/900/1800/1900 MHz
8X for China Telecom: CDMA2000 800/1900 MHz 1X/EVDO Rev. A DL 3.1Mbps, UL 1.8Mbps, WCDMA 2100/900MHz / HSDPA 14.4 Mbps, HSUPA 5.76 Mbps, GSM/GRPS/EDGE 850/900/1800/1900 MHz
8X for China Mobile: TD-SCDMA 1900/2000 MHz, DL 2.8Mbps, UL 2.2Mbps, GSM/GPRS/EDGE 900/1800/1900MHz
It's not clear why the version for China Telecom is particularly versatile, while the other two versions are restricted. In the background there's another sheet with network details for HTC 8S (Chinese versions). Half of it is covered, but from the length of text, it looks like China Telecom isn't getting the extraordinary network compatibility it has on 8X.
If you have done similar tests the 8X in your country, let us know how it goes in the comment field.
Source: WPDang
Windows Central Newsletter
Get the best of Windows Central in your inbox, every day!
Is the Verizon L822 unlocked as well?? Anyone test it?

From what's posted in the 822 Forums, no it's not.

Why doesn't sprint have the 8X again?

I left sprint....they don't support WP so I won't support them...we are the customers, we hold the power....if u can u should switch

+1. Switched for Lumia 920 from Sprint.

+1 and my other 4 lines left. I actually pay like $8 cheaper a month on at&t since my employer offers a better discount for at&t.

+1. Whole family switched as well. Not looking back.

Someone Confirm that it will work with Sprint and I'LL get one

I just got an AT&T HTC 8X and unlocked it using a code. I took the Softbank SIM from my iphone4S and put it in the HTC. I can make calls, but haven't been able to get the internet to work on it...

i am praying to my homeboy jesus, that Sprint wakes up after the new year and at CES they announce something windows phone related :( im on an Evo LTE so im in no hurry at all this is an amazing device, just recently i got a taste of LTE on this here in miami and WOW 28 mbps down and 12 up. no imagine that on that buttery smooth windows phone OS ... sigh i can only dream

All of Verizon's phones are "world phones" and can be used on GSM networks abroad. My HTC is one all I have to do is change the radio settings to activate GSM mode...Old news guys at least for Verizon phones

False. Lumia 822 on Verizon is not. It's *our* old news as we're the first to confirm the Verizon 8X story This article was mostly focused on the 8X in China on 3 different carriers, which is not "old news"

Not to mention that many of Verizon's "global" phones intentionally lock out certain sim cards. Look up attempts at trying to use the Droid 2 Global on AT&T's network for example...I refuse to support Verizon for things like this, but it is awesome that their 8X is so open.

I love my red Verizon! Not mention it has wireless charge and global ready!

This is true for all Verizon lte phones I think....the iPhone is the same way

I left Sprint for my L920. Worth it, trust me.

Is there anything special I need to do to get SMS and MMS working on the Verizon 8X with another carrier? I tried inputting the MMS APN info and it didn't save! Is there anything I'm missing?

Go to cellular in setting and mess around with the radios??

I wish nokia 920 body design and very light weight like HTC 8x many weak people will not complain too much of nokia weight

Hey Dan, tested my L822 with my T-mobile, Consumer Cellular, and Straight Talk SIM cards. Was able to make and receive calls as well as send and receive SMS messages. Did not try to get MMS working. My L822 was purchased at the local corporate Verizon store on introduction day. (FYI...YMMV) Thank you for all the great articles!