HTC 8X now available at select UK retailers and carriers [update]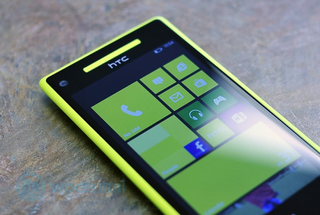 The HTC 8X is now showing up as available to order at Clove, Expansys and O2. We quickly highlighted this availability in the 8X Metro newspaper advertisement, but it's surely worth an announcement of its own with consumers eager to make a purchase.
Clove and Expansys are offering unlocked versions of the blue variant for £399, while O2 have a £379 price tag for a carrier branded HTC 8X. Should you wish to go monthly with an O2 contract, prices start from £16.50 (£149 upfront fee) and £32 (no upfront fee) a month on 24-month plans. We're still waiting on other sources, more details to follow.
Update: We've just received word that Phones4u is actually selling the HTC 8X today, but stores may not receive stock until tomorrow. Be sure to contact your local before popping in to avoid disappointment.
Source: Clove (opens in new tab), Expansys, O2 (opens in new tab)
Rich Edmonds is Senior Editor of PC hardware at Windows Central, covering everything related to PC components and NAS. He's been involved in technology for more than a decade and knows a thing or two about the magic inside a PC chassis. You can follow him over on Twitter at @RichEdmonds.
phones4u say its 100% def in store tomorrow (sat) and even made me an appointment =)

Thanks, we literally just updated the article :-)

I've been phoning them all week.... I bet they'll be glad to hand it over and see the back of me haha

Are you buying it sim free or contract? I called couple of branches around me, they have it already but refused to sell it sim free!!!

Wtf?!?!? And we STILL don't have official word on release or preorder here in 'merica, grrr!

That is annoying the CRAP out of me! Other people have them in their hands but we can't even get a date of availability from ANY carrier??? WTF

Hey dont complain too much - at least you can walk into a microsoft store and buy a surface RT. Nowhere in the UK sells them. All on three week shipment online only.

Wait till Jan/Feb and get the win8 pro version, I've been dogfooding RT and Pro for about 7 weeks now and seriously RT gets useless after the initial excitement wears off, pro actually let's u do anything! (I've had android emulator running on it of all things), u really are limited with RT compared to pro which will be out Jan/Feb

Im getting RT just to play with at home and link to the xbox and phone and want a surface as it looks the business. Going to go for a full on top spec touchscreen pro laptop december when available so i can use it for work.

Well I can recommend the Dell XPS duo 12, its awesome! about £900 and rocks win8 pro! I had to disable the gesture support on the touchpad though for left to right swipe (multitask), as I was always accidentally triggering it, after that it was very functional!

Why the héll would you buy a surface and use it to run android? Its a WINDOWS device.

tmobile already said they would be available the 14th?

Well I don't know about preorder, but T-Mobile (US) did say the 8X will be avialble 14 November.

Wish 3 would pull their finger out and announce what they are going to sell.

They are selling HTC 8X and 8S they have the dummy phones but not display spoke to manager at my local 3 store

I was in phones4u this afternoon and they had the lumia 920 and HTC 8x on display.
As I am o2 I asked for the yellow model, which comes in tomorrow (that's exclusive to phones4u and I assume black and blue where in stock, no red on offer). They are phoning me when it arrives ....

The sim free 920 from phones 4 u is still locked to EE/tmob/orange so if you want to stay with O2 then you'll have to wait for the true sim free ones

I bet red will exclusive to Vodafone as that's their brand colour

I'm annoyed!!! Tried to find out where I could get the yellow one from before I upgraded with o2. I've been told by o2 that I now need to refuse delivery of the phone (in blue) and wait for it to he returned before I can upgrade with P4U so I can have the yellow one - annoyed, gutted and really pi***d off!!!

Oh, I meant yellow for the 8x :)

T-Mobile Germany has the 8X since halloween in stock and sell them.

Phones4U Tottenham court road had some HTC 8X's in this morning. Oh by some I mean 2. Yeah thats right TWO. Not bad for a launch day for a phone. O2 Tottenham court road looked at me like i was an alien when i asked about the phone then when i asked on availablity the woman said not for another week!! Getting seriously annoyed with the staff in O2. Got told last week by a member of staff in my local O2 shop "why would you want a windows phone they're shit" and today get looked at and spoken to like ive not got 3 heads.

I see educating the monkeys in the shops still needs looking at by Microsoft and the OEMs then (shakes head)

Yeah had to call the manager over in the first instance. Point 1 you shouldnt swear in the presence of customers especially when said customer has his 3 year old daughter in his arms. And point 2 the staff should be promoting and advising on the different OS's not claiming that one is Shit - especially when shes rocking an iphone and had never used windows.

I ordered 2 blue/purple HTC 8 x phones this morning as O2 upgrades for me and my wife, delivery will be tomorrow morning! That's the only colour O2 are doing so far, which is annoying as we wanted 2 different colours.. oh well!

I was trying to upgrade my wifes phone as she wants my L800. So I was speaking to a Vodafone UK rep online who informs me that they won't be stocking ANY WP8 until Jan next year. Unbelievable

Yup, VodaFone are hopeless. And Nokias exclusive means for many of us the following: * VodaFone are not an option
* Nokia is not an option.

HTC 8X for me, and probably at Phones 4U

Dying to get a WP8 phone, my trusty HTC Mozart on O2 has served me well, although not up for an upgrade until the summer.
Probably look to Jan / Feb to see about buying out my contract and then decide which handset.
Agree with some of the comments about shop staff, ask them anything about windows phone and their faces blank over, I remember when I picked up my Mozart. I had to show the member of staff how to use it lol!

Got a dispatch e-mail - my 8X will be with me on Monday! Yay :-D

It seems Expansys ships worlwide. I didn't know about them before.

I'm so tempted of ordering an 8X right now, specially because the price is lower that what the US prices (and much lower that they will sell in here in Mexico for sure) are expected to be when they are available.

How is Expansys track record when it comes to pre-orders or stock promises? The black 8X is tempting specially because I can buy a Limelight Yellow (or other colors) case later on. They say it will be in stock in 5 days. Can they be trusted on that?

In my experience they are fairly reliable - however be aware that they sometimes quietly slip in "phone insurance" as unwanted add-on on the checkout page.

Thanks for the reply. I will think about ordering one for myself later today.

Do they support LTE? I've read that the "global" units doesn't come with LTE. Another question, do these units sold by Expansys work with international carriers? I know they are unlocked but I would like some thoughts. Thanks again!

I don't think 8X as sold in UK has LTE. But it should work in Mexico - as long as Mexican carries don't use some weird frequencies for GSM (like T-Mobile US does).

Normally all GSM phones soldon the US work with Telcel (my carrier and the largest in Mexico). I feel like a noob here, but thanks for your answers man.

One final question. Do you have any experience with Clove? The price is the same that Expansys with the exception that I can order the black one right away instead of waiting5 days for Expansys to ship it when they have it on stock. I was thinking on going with a bold color but I think that the colored speaker grill won't match well with the accent colors if I choose others. Getting a black means that I can get a cool colored case (Limelight Yellow looks awesome) and still use other accent colors without the Blue speaker grill getting in the way of looks.

Yes, I know Clove - they are pretty good and I ordered my blue HTC 8X from them this morning :-)

Thanks. I will order the black 8X right away then :D

my blue 8X arrived this morning from Clove Technology. loving it :)

Tell me. Does HTC 8X have a gyroscope? I think there's a lot of confusing information about it.

I'm not sure, how can I check?

Michael

I checked many specs on different sites and none showed a Gyroscope. However, I have an LG Optimus 7 (waiting for my 8X black to arrive) and the accelerometer does a great jog in games. I haven't used a phone with gyroscope but it only seems to improve a little on the motion sensing.

Can you share your thoughts on the 8x? I'm torn between the 920 and the 8x. Love the looks of the 8x but don't wanna let go of the Nokia apps.

Three expect to get them Tuesday next week in Blue & Black. I think the guy said the sim free price was £359 though so I'm holding off getting one from Clove/expansys utill then.

I AM ATTRACTED TO LUMIA 920 FOR THE FOLLOWING REASONS: 1. Live Tiles- unique as it may be but are there any as attractive as this? 2. Mapping - reality-augmenting City Lens my favorite, City transport (seen the comparisons with other mapping & know the mapping base statistics) 3. Pureview camera + pureview motion HD+plus with Optical stabilization system (seen all the review) 4. Ecosystem- Interfacing my phone with my windows desktop For Msft Office. (which is better for the use of MSFT Office) If there are any phone that can beat the above, can you please post it on the board before I buy Lumia 920

I preordered an upgrade from CPWH in store, Nokia 820 - on the web as £33 for 600 mins, unlimited texts and 500mb internet. Told them I didn't like it so they put me on Vodafone Red, £33 unlimited calls and texts, 1GB of internet and £10 (ten pounds) handset upfront fee. I took it before she changed her mind. Its about twice the cost of my current sim only deal, but for a half decent handset I'm happy.

They also offered the same plan for £37 with no upfront fee. I'd rather save £86 thanks.

Picked one up yesterday for 369.99 at phones4u port talbot

Your thoughts on the phone? I'm torn between the 8x and 920.
Windows Central Newsletter
Thank you for signing up to Windows Central. You will receive a verification email shortly.
There was a problem. Please refresh the page and try again.