HTC 8X Windows Phone selling well on Expansys, stock refresh coming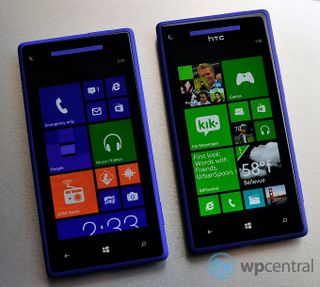 For those of you looking to buy an HTC 8X SIM free in the UK, you'll be pleased to know that the device is coming back into stock with new California Blue devices expected today and Black expected to return in the next 48 hours.
Unfortunately there is no word on a release date for the Red and Limelight yellow versions, which are like rare Pokemon, evidently. As soon as we hear they're in stock we'll let you know.
Expansys passed on to us that HTC's new Windows Phone is commanding high interest, leading to some shortages:
That's good news for HTC and Microsoft as we're starting to get the impression that these next-gen devices, including the coveted Lumia 920, are being well received. We'll have to wait a few more weeks but hopefully we'll begin to see these on the streets in people's hands en masse.
Windows Central Newsletter
Get the best of Windows Central in in your inbox, every day!
Daniel Rubino is the Editor-in-chief of Windows Central, head reviewer, podcast co-host, and analyst. He has been covering Microsoft since 2007 when this site was called WMExperts (and later Windows Phone Central). His interests include Windows, laptops, next-gen computing, and for some reason, watches. Before all this tech stuff, he worked on a Ph.D. in linguistics, watched people sleep (for medical purposes!), and ran the projectors at movie theaters because it was fun.
I'll be very surprised if these WP8 devices don't sell well. They are attractive, powerful and priced aggressively.

Really torn between this and the 920. I've read somewhere that the battery life on the 920 is not that great, anyone else heard the same?

I also heard the battery life was equal to or worse than the 8X. Big bright HD screens probably drain the living daylights out of it.

I find the assertion that the Lumia 920 does not get great battery life or that it is "worse" than the HTC 8X absolutely ludicrous, insane and misguided.

The Lumia according to most reviews I've seen has had better, or nearly the same battery life.

This might give you a hint:
http://www.theverge.com/2012/11/7/3612586/htc-8x-seems-to-have-quality-i...

Those are some rubbish complaints. Doesn't display blacks correctly? Yeah, neither does the Lumia 920 because they are non-AMOLED displays. Light "leaks" from the USB? Yeah, if you tip the phone with the screen on and look up the USB hole you can see light...is that a QC issue? No. And guess what? The Lumia 920's white soft keys are off-white and don't match the screen. The rest I'll leave as anecdotal. Seriously, citing Verge readers though? I am dissapoint.

Lumia 920's blacks are indeed better, due to the next gen ClearBlackDisplay. This I've seen with my own eyes, the blacks are good in 920.
I've heard that in some cases the light leaks from the edge of the screen also, in 8X. But I can't confirm this as I haven't had a chance to test it yet.
But if you are saying that the light leaks from the USB-hole is "normal", I can assure you that it is not. Never seen such behaviour in a Nokia phone. I know that theVerge can be "a little" biased, but there are some WP fans also. I'm not sure why you are so disappointed regarding that, as it is commonly known, but as far as I understand it, the article says as a source:
"Here are a few that have been reported so far from tweakers, wpcental and a few other places" ...

How much light are we talking about? If it's like a beam of light shooting out, then that might be bad... But if you have to tilt the phone vertically to see a faint glow, then that's a non-issue. Even my HD7 does that.

It's not an article it is in fact a forum post. Could in fact be done by the same person that did it in the WPCentral forums.

I'm not trying to diss HTC, but remembering the quality problems they had with One X, I can't help but feel a little uncertain if they have managed to fix everything for WP8-line.

http://www.engadget.com/2012/10/29/htc-8x-review-windows-phone-8s-compac...

Even Engadget mentions these light-leaks in their review. It seems to be device specific, as usual in these cases, but still, I think it is not a healthy attitude to ignore the possibility that you might receive a not-so-perfect device. Nokia has reportedly spent years in developing the manufacturing process of their polycarbonate bodies. There is a possibility, that HTC saw the first Lumias, decided to copy, and you know what happens if you rush things...

Yeah, just like its not a healthy attitude to think you'll get a perfect Nokia too. I've personally had more issues with their devices than others. However, I don't think every device they make will be exactly like the history I've had with them. Look on these very forums and you can see issues for every device, some people having to return a multitude of phones to get a working one. That happens with Nokia too, please stop trying to imply they're flawless, when I know from experience they're not.

Forgot to say, you didn't address the mistaken claim that it was an article. Till the issues have been proven, its just mud slinging in my opinion.

Ok, but honestly: how good is the black on the 8X compared to a Lumia 800/900 Clearblack AMOLED? I am seriously considering upgrading my 800 to an 8X, but I don't want to to downgrade my screen quality. I still have my old HTC Mozart around to remind how shitty LCD screens were back then. And now i'm full of fear, uncertainty and doubt.

Well you aren't gonna get true blacks on a LCD screen. It's more like a very dark grey shade. Think you should check out the 8x in person and take a call.
I myself own an 800 and am upgrading to the 8x in a week. That phone is just drop dead gorgeous.

http://m.gsmarena.com/htc_windows_phone_8x-review-844.php the review..

The review you mean the useless russian review.
Funny pretty much every other review i have read its a 4 or 5 out of 5.


GSMarena does pretty thorough reviews and go into detail unlike most sites.

Ref.: "The review you mean the useless russian review." LOL! I didn't know that Bulgaria is part of Russia! But even if it were, what does the geographical location of a website's server have to do with the quality of its content? :)

I got mine yesterday and i have no qc issues so far. Solid phone built well, cant tell about battery yet as i am hammering it at the moment.
Russ

Can any of you lucky 8X owners confirm what UI languages are available in the UK version of this phone?

Anyone tried it yet? Is it true that the load speaker quality isn't that great?

Be nice! We all make mistakes. :)

I thought that was pretty nice. :P

Daniel, "As soon as we here they're in stock we'll let you know" Isn't suppose to be "hear" instead of "here"?

I still don't know which one to choose... 8x or 820 :(

if you can manage your media with 16 gigs, the 8X is a no brainer dude. The screen + Camera it leaves the 820 behind. oh and if you like to listen to music from your phone the amp speaker on the 8X is also a bonus.

I really want the limelight one. it looks great, but still no sign of it anywhere. Anyone know anything? I asked Phones4u here in the UK, who are supposed to be selling it exclusivley since last Friday, but they don't know when they'll be getting it in stock.

I have a feeling Windows Phones are going to sell a lot better than analysts think. I'm not saying they're going to see 10% marketshare in 3 months but I believe there are more people tired of their static-icon phones and particularly bored with the iPhone that are going to give these phones a shot. In fact, I'm one of them.

Well think about it. Windows Phones is close to 4% in the US with just AT&T and T-Mobile selling them. Add Verizon having good choices and their customer base plus the tens of millions of people picking up Windows 8 upgrades or new devices and alot more acceptance should come to the platform. I'm predicting 10% by end of January.

I really want the red 8x from att, but they're not getting that color. The price of the l920 is a steal, but gray is the color I like on that phone..

Precise tests seem to indicate that the Lumia 920 has a 10% better battery performance than the HTC 8X without LTE (Euro model). That the Euro 8X has 1/2 the peformance of a iPhone 5. I have a 8X, the battery is not a strong point. I need to recharge for about 3hours in the office to make it through the day. The US LTE 8X seems to have a 20% better battery than the Euro 8X. Thus I think the 8X LTE will match or better the Lumia 920. But... Euro 8X has a SAR value of .35, the iPhone5 SAR .91 and the Lumia 920 SAR .95. So health wise the 8X is better. Also my Euro 8X beats my iPhone 4 and Lumia 900 in pure reception. I think... both the 8X and Lumia 920 are good phones, you just pick the one you like and end up with a superbly fast smartphone.

I wonder how fast Amazon runs out of 8Xs once the news spreads that they have the blue one on stock.
Windows Central Newsletter
Thank you for signing up to Windows Central. You will receive a verification email shortly.
There was a problem. Please refresh the page and try again.