HTC rumored to be working on post-Portico Windows Phone?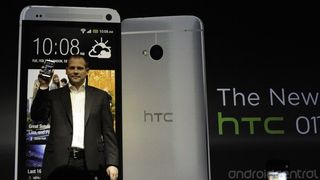 HTC plans to unveil a mid-range Windows Phone, known internally as the HTC Tiara. The news joins our earlier coverage on HTC still committed to the mobile platform and future hardware development. What's more is Unwired View reveals that the Tiara will be launched running the next version of Windows Phone 8.
The website also notes that the device will not adopt the same design language as the HTC One Android handset. Running Windows Phone 8 GDR2, the HTC smartphone is said to sport the following specifications:
1.2GHz dual-core Snapdragon CPU
4.3-inch WVGA Super LCD2 display
1GB RAM
8GB internal storage
8MP rear shooter (with 1.6MP FFC)
1800mAh battery
It's interesting to note that Windows Phone 8 GDR2 is set to be the follow-up update to Portico. Unwired View also confirms that the HTC Tiara shares the exact same specification set as the HTC One SV, excluding the rear Camera. We'll be sure to keep an eye out for further information on the HTC Tania (or rather humorously - the HTC 8T, 8U, 8V, 8W).
Source: Unwired View
Rich Edmonds is Senior Editor of PC hardware at Windows Central, covering everything related to PC components and NAS. He's been involved in technology for more than a decade and knows a thing or two about the magic inside a PC chassis. You can follow him over on Twitter at @RichEdmonds.
From the specs looks like a decent phone. I am worried about the 8 GB though with no external SD slot. Battery size and processor are good and better than the new 720 I believe.

better than the new 720 I believe??????? I don't think so.

The processor yes but the 720 has a 2000 mAh battery plus a load of awesome features.

Don't see why HTC need the tiara when there's the 8s and 8x,

Most of us moved on from Sprint to ATT or Verizon. So now sprint can complain about WP sales as the majority would get the phone are no longer customers. The couple people I know that staid only get 8⬆7⬇ after moving to Verizon I couldn't deal with that slow of a network. Verizon I average 33⬆18⬇

Disappointed in the lack of any annoucements of new high end WP8 devices at MWC. I was holding on to my 8X, which I really like btw, in hopes of getting something with a bigger screen. Oh well, guess I'll just go ahead and give the 8X to my son and get the L920 after all.
BTW, anyone know if I can import the Ativ S and have it work on AT&T?

Answering my own question. Found an unlocked Ativ S but it only supports AT&T 3G bands. /sigh
L920 it is then.

I use one. Imported from Canada though. No lte but you get faux 4g hspa+ which is fast

can you toggle internet sharing without being prompted to buy the tethering data plan?

I agree. With the limited availability of the 920 in Canada (one out of the three major carriers) I was hoping to see some hint of high end alternatives. In Canada, three year contracts mean the difference in price between a high end phone like the L920 and a low end phone like the L620 is $100 dollars. ($100 vs. $0). There's not much point in low end phones here, as far as I'm concerned.

High end devices from HTC don't sell well. That's why they need a cheap model, but not crippled by only 4GB of memory for apps&games like the 8S.

I'm hoping for an 8Y or 8Z then.

I saw comparisons of the one and the 920 in low light and I have to say the one is severely grainy. Hopefully they improve on that tech and bring it to windows phone but I'm not too sure about the tiara. If it follows the 8x 8s design philosophy then I'm cool with that if not ehh.

Yep, sort of disappointing.

Let me guess (as a Sprint customer)... that's the device that will be heading to Sprint. I wouldn't be surprised, unfortunately. Hopefully the Samsung offering is more top-end.
Sprint did confirm both of their coming WP8 devices by HTC and Samsung will have FFCs and microSD storage. That's one thing I didn't see mentioned here...

Sprint also confirmed that the HTC and Samsung devices would have support for expandable memory, which I didn't see in the specs for this device.so for all we know, this might end up on another network

wait what now? HTC tiara or HTC Tania?

I really find the 8x beautiful but always saw it like a mid range phone and the 8s has an entry phone. Where's the titan 3

+1 i wanted a proper high end wp8 from htc but they disappointed :(

They didn't disappoint the took high end to android. Oh wait..

Be careful! Calling the HTC 8X mid range is sure to draw Hit the Lights out from under his bridge!

Hit the Lights already came and got banned I think. Earlier yesterday, there was a guy commenting on a lot of people's opinions/or people themselves.. calling them outrageously stupid. He was most likely trolling...or probably upset at everyone for giving their opinion about HTC.

I don't know that we will really see high end WP devices more than once a year since they really tend to happen in Sept./Oct. along with the launch of the next major version of the OS. Just like the iPhone happens late summer. Android tends to be more spread out due to so many OEMs so Samsung releases there's earlier in the year (Spring) and HTC another, LG another, Moto another, etc...

Umm...The new HTC device JUST got announced, roughly 2 weeks before the next Samsung release party, so I don't really agree with the assessment here.

There's a lot of truth in his/her statement. Over the course of a year multiple high end android devices will be announced since there are so many android OEM's but high end WP devices tend to get announced around the same time of the year, and since there are so few that tends to be it for a while, apart from mid-low end devices popping up here and there.


And it seems again its the OS's lack of capabilities that is preventing WP OEM's from being able to release hardware at the same level as andy OEM's so apart from the 920 coming to Verizon there doesnt seem to be much scope for another high end WP.

That's a pretty pathetic device, IMO. IDK if the newer Snapdragons get clocked as lowly as 1.2GHz, so if this is a mid-2012 release on a 12.GHz S4, it'll be under the capabilities of current budget devices like the Lumia 8xx hardware, leaving me completely lost as to how this is a worthwhile release.

No, putting this potential piece of garbage on Sprint in the summer or fall is not an excuse, as I am guessing we are getting late-2012 internals and a non-Ultrapixel camera here. There's just no excuse for creating this thing.

That's what I was thinking. 1.2GHz S4 sounds underclocked to me. Unless, it is Qualcomms new 400 SoC...which would probably still sound underclocked to me. I've seeing a lot of OEMs underclocking the new Q SoCs. -but they are the higher end SoCs. Wouldn't make sense if they underclocked the 400 Krait.

So google tells me GDR2 stands for General Distribution Release 2, but don't seem to be any rumours on which new features will actually make it in. Anyone have any info about that or release date? About time we got Bluetooth 4.0 - it's the elephant in the room imo.

HTC continues to disappoint

Sounds like a very exciti.....(falls asleep)

If this keeps up pretty soon windows phone will be known as the low-mid range device platform.

true, and that's sad, I want better specs that current high end WP8 offerings... nothing wrong with 920, but want bigger screen, removable battery, SD (like an Ativ S but with Nokia's build quality)
...

Exactly. The US wants to see high end devices...not this mediocre mid range crap like we're seeing with the ATIV Odyssey, 820, 520...and this phone. No offense to users who own these phones...as they are decent phones...especially Nokia's devices as they tend to have higher end feats than most low-mid range phones -AND I would buy them if something ever happened to my main high end devices. But the point is...most devices sold here in the US (Apple, Android, WP...err BB) all are high end. Yes yes, I know that lower end devices sale more, unfortunately that it is in other countries, where carrier subsidies are not that high and/or they are off contract. -aside from carrier exclusion. Anyway...the specs of this phone look like an in-betweener of the 8X and 8S...sad.

At least this isn't as much of a tease as joebelfiore on twitter right now

Lol yeah I saw that. I need to know Joe!

My Other folder is bigger than this phone's entire storage capacity.
Getting a little tired of mid and low range devices being offered by everyone. I hope some new flaghships are offered by fall and on carriers other than ATT.

What a joke, another mid-range device from HTC.
The 8X is already irrelevant due to the Lumia 620, and the coming Lumia 720 overseas. Nokia is doing excellent mid-range and low-end devices, and Nokia still has the 920 for the higher end. Nokia I'm sure will be announcing even more higher end stuff in the coming months.
HTC deserves to fail, and Samsung deserves to struggle for their complete lack of respect and focus for WP.

Not to mention, the 822 on Verizon is a much more appealing phone than the 8X.
Windows Central Newsletter
Thank you for signing up to Windows Central. You will receive a verification email shortly.
There was a problem. Please refresh the page and try again.