HTC Omega and Eternity Mango phones get fully spec'd out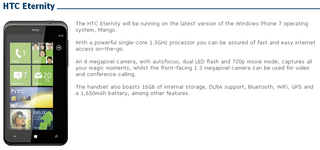 Something big is definitely happening today. We're talking about HTC revealing their two new Windows Phone Mango devices. And to steal their thunder, here are all the specs:
HTC Eternity
Single-core 1.5GHz processor
8 megapixel camera, with autofocus, dual LED flash and 720p movie mode,
Front-facing 1.3 megapixel camera
16GB of internal storage
DLNA support
Bluetooth 2.1
WiFi
GPS
1,650mAh battery
Quad-band
130.6 x 70.6 x 9.9 mm
14.2mbps HSDPA
HTC Omega
3.8 inch LCD display
MSM8255 1.5Ghz processor,
512MB of RAM
8 megapixel camera
Quad Band
FF camera?
BT 2.1
14.2mbps HDSPA
Not too shabby looking at all, especially for the Eternity which is looking like ther "big" device what with DLNA, front-facing camera and more. We're sure we'll be learning more today...stay tuned.
Source: BuyMobilePhones.net 1, 2; Thanks, Alex B., for the tip!
Daniel Rubino is the Editor-in-chief of Windows Central, head reviewer, podcast co-host, and analyst. He has been here covering Microsoft since 2007 when this site was called WMExperts (and later Windows Phone Central). His interests include Windows, Microsoft Surface, laptops, next-gen computing, and for some reason, watches. Before all this tech stuff, he worked on a Ph.D. in linguistics and ran the projectors at movie theaters, which has done absolutely nothing for his career.
Your Welcome :)On the topic of the phones, the Eternity looks really exciting, especially the 16gb storage (i've only got 8gb on my Omnia 7!) and the processor and 4.5 inch screen. I have contacted customer support for buymobilephones.net asking about release date and pricing, yet to receive a response, will contact you as soon as they reply.

Sweet. Yeah, Eternity is looking to the the "it" phone for HTC.

Nice! Two winners. I don't care about FFC or a 1.X Ghz processor. But that 4.5" screen is what I'm looking for and a nice upgraded batter. Pretty awesome!

Anyone know if you kan send ZunePass DRM music over DNLA.Preferably straight from the Zune player.That would be a killer feature for me. :)Can't wait to see all the new handsets coming this autum.

Just looked at the specs on the website again, and On the Eternity it says 16Gb internal + MicroSD card slot up to 32gb! Finally a HTC wp7 with expandable memory

There's no way I'm buying another WP7 with less than 32GB memory so this is good news. Now waiting to see what Samsung has to offer, not sure if I'll have patience to wait for Nokia.

I've just had a big rant on the WPC Facebook page about these specs, directing particular ire at the storage & camera specs. However, if this upgradeable rumour is true, then I think I owe HTC an apology on that issue.I stand by my camera slurs though.

I agree .. without 32GB memory or more and a dual core processor, people are going to pick the competitor which offers better hardware. If MS wants to make an impact, they need a 32GB, Dual-core, 4G phone. That would be a major winner.

Dual core is a thorny issue. I don't think - from a technical standpoint - it needs a DC processor. However, it might need one from a marketing standpoint, or the spec snobs aren't going to give it a second glance.

Better specs, better apps/games. It's quite simple.But well, 640K is enough for everybody...

if it's that simple then why don't u do it eh?

You're not gonna see a dual core on this generation WP. WP8 and Apollo will most likely bring full multi-core SoC. Meaning not just 2 but probably 2 and 4 core so they will support all the latest by then. And in the mean time, it's just not a huge issue performance wise with WP as anyone who uses it will tell you.

32GB's? Is there ANY phones besides the Fujitsu or the iPhone 4 that have that much? That memory is expensive.I boosted my Focus to 24 GBs.

microSD cards are cheap and high end Mango devices should have at least 32GB available. With data caps, HD video, and Zune Pass you can fill up 16GB quite fast on WP.

I still have plenty of GB free on my arrive, just use the cloud storage and be happy.

I think the point is that if you're going to run an OS where you can't (or not easily) upgrade the storage, then - as a manufacturer - surely you're obliged to offer a lot as standard, out of the box.I have a 7 Pro (Arrive) with 8Gb and I hadn't anticipated, just how quickly that would be gobbled up. I have the tiniest sliver of my music collection (just the essential dozen or so albums) and I still can only fit a couple of films on there too.The next phone might be 16Gb if the price is right, otherwise it's 32Gb, all the way.

The 7 pro only has 8 gb? the arrive has 16

Yup, we got gipped here in the UK with just 8Gb. I think the only 16Gb handsets you can get here are the HTC HD7, LG Optimus 7 and optional on Samsung Omnia 7 & Dell Venue Pro. I wanted landscape QWERTY though.

Dell Venue Pro comes in 32GB variants.

HSDPA is for what/ At&t? Quad band possibly for more than one US carrier?

And watch as neither phone comes to Sprint. :(

of course not. Sprint hates us.

Yeah, if the iPhone is coming to Sprint this time, it makes me worried about their enthusiasm for Windows Phone going forward.

What enthusiasm? Sprint has only one WP device!

Nothing here to tempt me away from my Dell Venue Pro. And btw there is a 32GB version available, as usual htc is just being cheap. But I hope it sells well and is on multiple carriers rather than just one.

Custom black tiles are looking sweet.Sprint better get show the love to Windows Phone. You promised us multiple new WP's this year Sprint!

Physical keyboard please.Slap a FF Camera on my Arrive, double the storage, and I will gladly pay full price.Can't stand soft keyboards.

Have you used a WP7 with soft keyboard for a few weeks or so?

Sure, the one on my Arrive.It's a fine on screen board, but it can't compare to physical keys when I'm pounding out multi-paragraph emails for work.I use the on screen for quick texts and the like, and almost always have some typos. Maybe I'm an old **** but I need physical keys.Hopefully Nokia fills the need, though I really love the boar don the Arrive and would love to see HTC incorporate it into a phone with the above features.

dang 4.5" sounds massive. But I need HTC to deliver a screen as good or better then my Samsung Omnia 7. Super amoled is awesome and if rumours of samsungs new WP7 phone with similar specs to galaxy s2 which has Super amoled v2 comes out then I'll prob wait for that.

Anyone noticed that, acrording to this site:http://www.buymobilephones.net/info_phone.php?id=83144&d=1Mango will suport MicroSD memory expansion (at least in HTC Eternity)?Acording to the info on the site, HTC Eternity is huge! Get a rule and draw a rectangle with its dimensions on a paper! It looks more like a Tablet!And there are wrong info about the HTC Omega:http://www.buymobilephones.net/info_phone.php?id=83146&d=1It says that the phone has no Mp3 Player (when WP has Zune) but infortunely has no info about its weight and dimensions.

NICE. I want the eternity. Front facing camera. Nice. I would love to keep the phone I have, Sprints HTC arrive but make the screen 4' and memory 32gb, or 16 with possibility to get a memory card to upgrade. I LOVE the keyboard on the arrive. I had the hd7 but the keyboard is just so faster and is nice.

@DanielRubino and the gang "HTC...Phones get Fully Spec'd Out"Are you kidding with this?Let's not pretend a commerce sitelike BuyMobilePhones is a credible source, okay?If you think about those spec'syou'll see they don't even list the basicWindows Phone 7 specifications correctly.No FM Radio? StandardNo MP3 Player? ZUNEEven if they did have 'em right,there's nothing new here. In fact, I think youposted these same spec's a day or two ago.Sadly, postings like this don't exactly make WPC credible either.

and from the sound of these comments it seems that SOME people will never be satisfied.

I don't think they revealed anything new here!I read all these specifications long time ago and in many different blogs before.I also saw a picture of this phone long time ago with much better quality.For example Windows Phone Network (http://www.windowsphonenetwork) even have a much better picture quality of HTC Eternity back in June 30!I think picture in buymobilephones.net is actually a small and low quality copy of what you see in WPN.And specifications here are also same as what reported back then. So nothing new really and we have to wait for HTC events to get the final official specs.

Both devices have been taken off the buymobilephones.net website. Seems HTC caught wind of what was going on

Engadget has the full specs:Titan (Eternity) has 16GB, Radar (Omega) has 8GB built in. No SD card slot of course.Also both phones only have a low res screen resolution (800x480).Built quality of the Titan could be better:"We saw a device that had been used by an HTC person as their regular phone and the paint had chipped off at the corners to reveal the aluminum glistening underneath."

trust Engadget to always say something negative. 800x480 is NOT low res so GTFO with that.
Windows Central Newsletter
Thank you for signing up to Windows Central. You will receive a verification email shortly.
There was a problem. Please refresh the page and try again.