HTC Patent Shows New Kind of Slider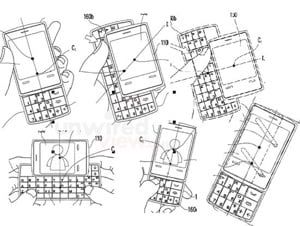 Dig this new HTC patent [via via Unwired View, who also composited the image above from the patent] for a new smartphone design. The basic idea - get a dual slider without having to actually build two keyboards. Looks pretty slick, though I'm not personally a fan -- the whole point of a slider is to be able to completely hide the keyboard behind the screen. With this method, the keyboard is always exposed, you just get to pick the parts that are showing at any given time.
Still and all, it's been awhile since we've seen a genuinely new form factor on a smartphone -- this qualifies.
Thats really interesting. As an owner of the original HTC Universal (with its rotating flip-top) and now the HTC Kaiser, with its tilting screen, I am now convinced that HTC must have a bunch of hinge nerds working for them!
I dont know if I could get on with the design, but its really very interesting nevertheless.
Surur

Heh. I have no problem with hinge nerds. Hinge nerds are my friends.

Now that's cool. I'd love to see it up close and personal.

"Hinge nerds"... that qualifies as my favorite term of the day. :)
Looks like they're definitely earning their keep. I do wonder about the feel-in-hand... as in, wouldn't that be top-heavy? After all, I assume the number-pad area would be thinner than the area covered by the screen, so the overall shape would probably be harder to hold in the hand and dial.
Contrast this with the more curved remote controls that might be in your house, and you'll see that the part closest to your palm is likely to be thicker than the part by your fingertips.
I like the idea, but it looks like troublesome ergonomics.

[quote=Malatesta;1421134]lol "hinge nerds"
Proposed slogan:
Hinge Nerds: Bringing devices together one half at a time
Windows Central Newsletter
Get the best of Windows Central in in your inbox, every day!
Thank you for signing up to Windows Central. You will receive a verification email shortly.
There was a problem. Please refresh the page and try again.