HTC updates Photo Edit app with 'Seasons' effect to bring your photos to life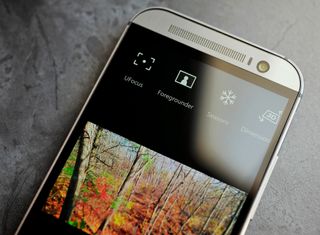 HTC is continuing to refine their HTC One for Windows, which saw its release on AT&T this past weekend (T-Mobile is still in limbo on their release). Today's update brings a nice update to HTC Photo Edit, which not only lets users do some basic photo chopping, but adds neat effects using the One's Duo Camera.
Version 2.0 is now on the Store, and there are numerous refinements to the app, including some subtle UI changes like the slider for the selective U-Focus feature. Additionally, a new effect called 'Seasons' has been added, and it is quite clever.
Using Seasons, users can add Sakura, Dandelion, Maple Leaf or Snow to photos. The effects are live, so that it can simulate dandelion seeds, maple leaves or snow falling and blowing over your subject (see the embedded video in this article).
Photos can then be saved as still images or MP4 video files for an animated effect. There are likely a few other changes and tweaks made to HTC Photo Edit, which we are still sifting through – if you see any others, let us know in comments.
HTC has been pretty decent about updating their system apps for the HTC One, including numerous tweaks to their Dot View case app. Hopefully an update to their Camera app will come down the pike, offering new features and improvements there as well.
Thanks, microhaxo-wp, for the tip!
Windows Central Newsletter
Get the best of Windows Central in your inbox, every day!
Daniel Rubino is the Editor-in-chief of Windows Central, head reviewer, podcast co-host, and analyst. He has been covering Microsoft since 2007 when this site was called WMExperts (and later Windows Phone Central). His interests include Windows, laptops, next-gen computing, and for some reason, watches. Before all this tech stuff, he worked on a Ph.D. in linguistics, watched people sleep (for medical purposes!), and ran the projectors at movie theaters because it was fun.
Well this isa pleasant surprise seeing as you rarely expect to see this from HTC :) I always love photo editing apps.

Excited! My One for Windows is sitting on my stoop right now, waiting for me to get home and upgrade to from my L920!

Great now being Hollywood FX to Windows Phone.

That cast looks like watching them falling!

Why not for HTC 8x too? :/

Because this effect is 100% dependent on the Duo Camera hardware, which the HTC 8X lacks. The effect's depth is well simulated because of the info gathered from using two cameras at once.

Very nice. Nice touch HTC. I used to be strictly an HTC guy, Cingular 2125, 8125, Tilt 2 HTC Titan then I joined the Lumia crew with the 1020 and 1520.
Even before the M8 came to Windows I loved the build. Now it seems that HTC may be showing real signs of renewing thier commitment to quality Windows devices.
It's a good thing for the ecosystem that one must admit that a non-Lumia device is tempting.:-) HTC M8 is looking good.

To this day, I still miss my 8125. I LOVED that thing.

Yeah, great phone! I still have mine. It's a bit beat up though! Actually I still have all the phones I mentioned. Don't think ill ever part with them.:-) Tech geek and pack rat. Bad combination.:-)

They told me via their Twitter account that they are fixing some problems about releasing official 8.1 update and it will be released soon. Also said that the update won't include some apps like HTC camera for current devices which is shame..

Sad that TMO is still delayed. Lady on the phone has no date yet either. Delayed "indefinitely" is what I got from the TMO store.

Is the camera any good on this phone?

Features are rich, but quality isn't.

If you know how to take photos, it's great. If not, they're okay.

^^ What he said. I've gotten some great shots out of my One.

If youre used to a Lumia camera, most would say not to expect Lumia quality. You can't zoom in too much and it is lower quality but it isnt the worst. LMAO the HTC fans will tell you "It's good enough for social networking" but not the best for much of anything else.

"It's good enough for social networking" but not the best for much of anything else.

That's a bit hyperbolic. I have posted photos taken with the HTC One and nothing fancy (e.g. no tripods). The photos are excellent. What the camera can't make up for is people's poor eye for a good image.

I am not 100 percent discrediting the camera but considering you can likely get the same if not better with a Lumia camera(specifically 930 and 1520, not even mentioning the 1020) while having more to work with, I don't see it as hyperbolic. In fact, the camera on both M8 is marketed more as a FUN camera(Social networking, Selfie, etc etc) which is fine. But the cameras on competiting hardware such as Galaxy S5, Sony, the new iphones(which is generally regarded as the phone to beat after Lumias as far as cameras go from reviews I read) and Lumia themselves, HTC doesn't really excel at much but the camera isn't HORRIBLE....just average in most cases.

You can take 5 pictures with the One M8 in the same time you can take one with any Lumia. That matters *a lot.*

And I can take higher res pics and I don't have to worry about losing quality when zooming and cropping

Dan you're debating a dude who doesn't acknowledge your photo comparison article because it doesn't fit his imaginary narrative.

Dan's opinion is just that. His opinion. I am not trying to say he is wrong. Just because I don't agree with his assertion doesn't mean anything lol especially since most reviewers have said that the camera is the weakest part of both models of m8.

I guess Daniel is an HTC fan because he agrees that the camera is good & great pictures can still be taken with it. I never proclaimed to be an HTC fan but I obviously recognize a good phone when I see one. Obviously you couldn't resist commenting on this article because you have a secret crush on the M8... Come on, let's face it.

It's an HTC article where someone MIGHT give the One's camera a complement. You know that dweeb can't let that happen. Not on his watch.

"People's poor eye for a good image" OUCH! Someone is going to need an Ice Pack for that BURN! LMFAO

What burn lmao. I'd rather not settle for a good image :) id rather get the better image which I always get with the the 1020/1520 ;) I guess some have lower/different standards than others and that is okay.

So now its a good camera?? Lol
Thank you. No one was arguing which camera was better but that the HTC has a good camera. Making this phone an excellent buy for those interested in a flagship phone that's not a Lumia. Done... You don't have to say anything else.

Daniel did a whole article on the camera for the HTC. Definitely a must read. I just purchased mine from AT&T and my impression is that the camera quality is above average and the speed is outstanding. Lets be honest, if you are looking to print you pics then your phone if not your best source.

I recently used my Mom's 1020 at my going away party when I moved to California and for my 19th birthday party(She didnt charge the digital camera) and I was able to use those images from that phone to actually print out some great quality pics. My 1520 probably would've done decently but you can definitely use a phone to get some good printed images. As I always say, I'll take the "Slow" Lumia cameras for nearly guaranteed perfection with image quality over a speedy HTC camera.

The HTC camera isn't bad. It has what HTC calls Ufocus which allows you to focus on a specific area of the picture. Picture quality is good and it even has good low light performance. You loose clarity once you start to zoom in but that's it. And it is FAST. Faster than my 925. IMO I don't think it is a deal breaker considering everything else the phone has to offer...

If I am not mistaken the m8 doesn't even have ois which is a big no no to me.

Again. Go away... This article isn't for you Micah

You really only benefit for ois taking video. Still pictures not so much and the camera focuses really fast I've never had an issue. Video wise it still performs very good even lacking ois. But I still stand that it is not a deal breaker.

Maybe because its HTC exclusive?

LOL i am not sure you even need this app for your 920. Between Creative Studio(which I prefer) and a few other apps, you can do the same thing.

Duo effects like UFocus, Seasons, Foregrounder and Dimension cannot be done by Creative Studio. Each suite has their pros and cons.

Htc update the 8x ...crickets...

Today HTC was selling the Android version of this phone for $299 unlocked, which is insane. http://www.htc.com/us/go/htc-hot-deals/

For a minute there, I thought you were talking about the Photo Enhancer app & I was like Daymn ... Gotta get that lol.

What's the cat name?
Is it apple :P

Jack : https://www.flickr.com/photos/dprubino/page9/

Thanks for posting this. Im excited that this could mean an update to the HTC camera app.

Looks like HTC is committed to the One for Windows.

Lets Wait to see how they handle things that matter...os updates....before we make claims like that.

This HTC phone will obviously have a bigger share than their previous windows phones due to the overwhelming positive response by the WP community (except that guy). I believe their commitment to windows phones becomes clear by the release of the M8. .

Considering the m8 forums are dead compared to say the 830 forums, despite it now being on three large carriers that is some optimism there lol

Nobody is expecting it to sell better than the 830, Micah. However it is selling well

Its not for 8x i think plz update it for 8x