HTC updates their Dot View Case with themes, call history, swipe-up gesture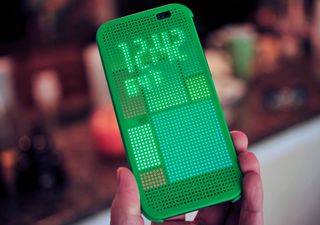 This morning, HTC has pushed out the first update to their Dot View case for their One for Windows on Verizon. The app update refreshes the Dot View configurations under settings and brings with it three new options. The update matches the Android version, which itself was updated in July to deliver the same three new options.
Starting with this update, users can now choose a wallpaper to be displayed when the Dot View case is enabled. As expected, the wallpaper is pixelated to match the Dot View design. Users can choose up to 19 different wallpapers, or they can add their own to the mix.
The new wallpaper alters the design a bit of the information layout, with the time and weather moving to the top of the display, and losing the weather icon. However, if you still prefer the old style, you can just no-wallpaper and use it with a black background.
Another added feature is the ability to display your three most recent calls. Additionally, you can now swipe up to return the most recent call for quick and easy access.
Finally, users can choose which missed notifications can be displayed through Dot View, including missed calls, new email, text, and voicemail. The Cortana integration, detailed previously in another article, is still the same.
Today's update from HTC brings Dot View up to parity with Android and while the new options may not be for everyone, it is still good to see its continued development.
Thanks, Matt W., for the tip and Namflow for the link!
Daniel Rubino is the Editor-in-chief of Windows Central, head reviewer, podcast co-host, and analyst. He has been here covering Microsoft since 2007 when this site was called WMExperts (and later Windows Phone Central). His interests include Windows, Microsoft Surface, laptops, next-gen computing, and for some reason, watches. Before all this tech stuff, he worked on a Ph.D. in linguistics and ran the projectors at movie theaters, which has done absolutely nothing for his career.
Daniel please make a video of the update

Nice! If it only was in my country I would have possibly bought it

Nokia's Glance do the work fine

Still no word on one from T-Mobile?

Yes please. I'm changing to tmobile soon. I'd love this phone.

They have announced that they'll get it eventually but no date yet. You can sign up to be notified here: https://explore.t-mobile.com/htc-one-m8-windows-phone

I'm interested in AT&T. Also, any word on the new HTC phones announced yesterday coming with Windows?

Probably not. Nobody really supports ms anymore. :(

Nope, they only annouced the action camera & the Desire Eye.

But there's no reason the Desire Eye couldn't run with Windows just like the M8.

You're right. I actually think HTC should start releasing Desire devices with Windows to hit the low to mid range markets.

Pffft AT&T. Kidding! :p Both!!!!

Dan, changing the date to 100 years in the future brings up the store page and lets you share the app-id.
Also you can delete it if you are into that kind of thing....
This actually goes for any app on any Windows Phone, including apps hidden inside settings.

You have this phone/case?

Yes, got the One w/ Windows from Amazon for $50, and i also ordered the case from them too. Took a whole month to ship though....

You like it/them? Be honest.

Guess this heals the scars from the 8x...

My 8X was great for a long time. Now I'm repin the 929

Reminds me of something called "Glance background BETA" ;)

Still using it on my 925 haha

And I hate them for not supporting glance background beta anymore!

Why? It does what it intended to do, and perfectly at it. Why hate a perfect app?

You can add your own... Enough said...

I know I can add my own but I mean you can only choose 4 at a time

how much memory do you think those displays have? to my knowledge, all of glance needs to be put into a built in memory chip for the display, which isnt a lot, im sure the backgrounds themselves need to be transfered there aswell..

Glance screen looks better

Agreed. Especially that it not only had background support, but weather as well. Wish I could do a screen shot of my glance screen.

I can send you some photos (from the app in the store)

I actually think the Dot Case looks better. To each his own.

I think they both look great in their own style, I couldnt choose which one was better

Yay my first thank you for a tip!!

May be a bit off topic, but Daniel what do you think about HTC double exposure event? 1) The EYE have a camera button!! Any idea about its comming to windows phone.
2) RE camera not supporting windows phone even not ONE M8, their flagship phone. They are supporting iPhone!!
3) Same about Zoe. Seems like they abandoning their own phone??!!

http://www.windowsphone.com/s?appid=e7367a0d-b861-4e8d-85a7-b690157ba6cb
Store link

would someone explain me whats the purpose of that case ? hmmmmmmmmmmmm

It protects the display. Unlocks the phone when you open it. I mean...it's a case, it does what cases do.

yeah well i got the idea of the case..i get it u still can peek without opening...looked too weird and having a menu dedicated to that nutz!

Its a twist on the smart case ... Instead of the square hole Samsung use or LG's circle to show your notifications, they made this instead.

What's the purpose of all those extra "m"s?

Sweet! Hope they do the same with the HTC Eye camera app.

Not gonna lie, I'm pretty jealous of this accessory.

I'm still waiting on this phone for T-mobile. If no release date soon I may just get the android version of the m8 and update to windows 10 in 2015. I realm want to try the official apps over some of the third party apps that we have on windows phone. Plus I've been having issues with my 925. I'm done with having these issues

The Andorid Version of the phone sucks. It has horrific battery life as well as sub par camera. Id avoid it at ALL costs. I mean its a TRULY horribile camera.

ya right... who said that? The phone has got one of the best reviews from every media and technical outlets.. and it stands it ground against most of the camera..

M8 Android side by side against my old 928 and my Lumia always looked better.
My Icon on the other hand....there's just no competition from HTC.

Good luck updating to Windows 10 with the M8 for Android. Not going to happen unless someone cracks Microsoft's UEFI and either writes a compatible Android bootloader or a way to flash it to the phone. That or it leaks from HTC

If only this phone had a kick ass camera, I would have kept it. It had EVERYTHING else going for it, THIS included. But frankly, Cortana is not as good as Google Now & the Apps still are not at the qulaity of iOS or even Android. I switched back to a GS5, but Im keeping my eye out for new high end Lumia's. Which seem to have all but been vanquished from the land. A YEAR since a flagship launch? :-( PS: I love WP central & all you guys, even though I am an evil Android user for now.

It's ok. Your not evil. You have to do what works for you. Your here, you had a Windows phone, your still family. .....that is the nicest thing I have ever wrote on this website. I give myself a cookie!

Thanks Peg Leg! :-) I really apprecaite it! I have noticed that WP central folks tend to be a bit more..Sane than our friends at Android Central. Ill still be lurking & commenting!

Your welcome. We are a small crowd. If we chop each other up, we'll be done for.

If you run into any trouble with a certain "DCJBS" just shout "Hail Nokia" ;)

I'm going to have to check the net laws...I'm not sure you can legally award yourself a cookie... ... .... oh hell, I'll just give you a cookie, screw the rules!

What Android device would you recommend then? I played with a GS5 and I liked it, very smooth and fast. I just dont want to follow the in crowd, everyone has that device. Thought about the Note 4 but its expensive. Also looked at Lenovos smartphones but it seems I cant purchase them only available in India. Im on Tmobile network.

Get ahold of a OnePlus One, no SD support but for 350$ factory unlocked you can get the 64 GB model, and its got top end flagship specs. On top of that regular updates not carrier dependent, courtesy of the Cyanogen Mod Crew. If I had no choice but to get an android. It would be that.
Just my 2¢

Still a bit gimmicky to me. Wish there was a setting to view this without the case. Like Glance. Still not swayed to switch from my Lumia925 to the M8 when T-Mobile gets it.

I have found one way but it may not be practical: I went to a water park and had my phone in a zip lock. While in the zip lock, the phone thought the case was on and the dot view screen was shown

Every time i see a store update notification, i get hopefull that its an HTC Camera update. It makes me happy to see that other things like blinkfeed and this dotview case are being activly developed. I hope the htc camera app is also being actively developed.

Is this phone ever going to released in the UK?

I downloaded it on my HTC 8x...
For some reason...

Same here XD do you think it would work for us if we had appropriate case?

It should work with WP8.1.1, actually.

Maybe, I have no idea , then phone uses a sensor work with the case, im not sure if the HTC 8x has that

Nice that some support for Windows phones on VZW (I realize this is probably not a firmware update that VZW has to approve). But VZW still has not released Cyan to their Lumia phones..............Where is the love?

I updated, but I don't see an option to change the theme??? Or am I blind? Now I only have the blue one and can't change it :S Greetings from the Netherlands

It's not obvious, TBH, but tap 'Themes' to open the themes page.

I got it now, something went wrong with downloading ;)

That's impressive. I warned Verizon last week if they didn't get Cyan (I was assured by the tech rep he'd get me info on that....nada since), I'd take my four lines elsewhere...this on tmobile could get me.

Cyan doesn't exist on T-Mobile either.

Obviously. But that wouldn't matter if I got an HTC device on tmobile and took my business from Verizon, would it?

Wow, that looks amazing. Would love to test this phone. Great to see there are innovating ideas by manufacturers

is this the back cover ? Why does it look so tacky

How popular is this case anyway? I don't get it. But a good screen protector and unless you have one of Apples shards of glass in your pocket I've not found any need for a phone case.

Awesome ... I wish I could afford this phone

I'm really liking the case, and I know id like the phone. If it hits ATT soon , I'm still considering this. I'm upgrade eligible in less than 2 weeks.