HTC Windows Phone 8S available for £159 from Expansys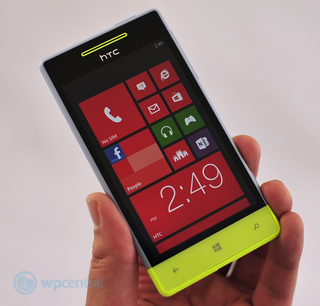 HTC's low-end sibling to the Windows Phone 8X has gone on sale at Expansys UK. The HTC 8S is available for just £159.99, a full £40 knocked off the listed price. Packing Windows Phone 8, a unique two-toned design, MicroSD expansion and a rather impressive build quality for the price, the 8S is a Windows Phone that's full of surprises.
While not the typical high-end Windows Phone, the HTC 8S will cater for those who don't require all the bells and whistles and would rather bag a superb deal for a handset that delivers an optimal smartphone experience. Check out our in-depth review of the HTC 8S for our thoughts on the smartphone and whether or not you should be making the investment.
Currently only the blue variant is listed at the new price point.
Source: Expansys
Rich Edmonds is Senior Editor of PC hardware at Windows Central, covering everything related to PC components and NAS. He's been involved in technology for more than a decade and knows a thing or two about the magic inside a PC chassis. You can follow him over on Twitter at @RichEdmonds.
8x only costs £190 at expansys. They still cant clear them. Doubt this will do much better

Too bad the internal memory is too small to make it a better choice over Lumia 620

Lets whine about something!
Oh, already started...

Lol... It's pretty hard to comment anything here if you can't say anything negative.. I bet you'd love to if here would only be 'ooohh so awesome deal!!' comments... No need to take these so seriously.

There SHOULD be whining. Not every article warrants sunshine and rainbows in the comments. A reasonable amount of whining is healthy.
Would you rather everyone just says "wowsers, awesome deal!!1" the whole time? That, frankly, is boring and does not promote discussion or debate in the slightest.

Agreed. We need some balance here, not just rabid fanboys.

Can someone explain. What is a fanboy?

http://letmebingthatforyou.com/?q=what20a%20fanboy

I think this price is quite high. The 8X has been available for £160 unlocked in the UK for the past few months. The 8S is currently £129.99 from Carphone warehouse on payg including £10 top-up, its fully unlocked for use on all networks too.

And to make it worse, not more than 2gb available for user

NOT including the ever increasing Other folder. Stupid, stupid move packing this phone with such a paltry amount of internal storage. Less than a gig (substantially less,oftentimes) is available to the user

It's a shame, indeed. Such a beautiful hardware. What the hell was HTC thinking when making this phone? Were they on crack or something?

Lol... It's pretty hard to comment anything here if you can't say anything negative.. I bet you'd love to if here would only be 'ooohh so awesome deal!!' comments... No need to take these so seriously.

I don't see why anybody would get this when the ATIV S is just £200.

Or a lumia 920 from Amazon for €300

Id get this for my dad who is still rocking the Nokia from 2000. However I've seen the 8s sell for £144. Might wait till they go to £100

Looks like it was designed in a pre school..

Only 4GB internal memory which is way to small over 620 lumia

It looks like someone colored In the bottom with highlighter......but I sort of like it.

Is that really how the logo should look lol

HTC 8X from Germany. For round about £159.
http://www.idealo.de/preisvergleich/OffersOfProduct/694130_-windows-phone-8x-htc.html

Ativ S
http://www.idealo.de/preisvergleich/OffersOfProduct/3506132_-ativ-s-samsung.html

I got the HTC 8X for £179 from Laptops Direct but has now expired. The HTC 8S can be had on the high street for £149 in UK

I love the HTC clock tile, wish they had it for nokia

U can add storage, I know it's not the best thing however at least you can do it....i wish my 925 had more then 16 gig like apple 64 g......

Anyone else get the impression that WPCentral gets paid by Expansys to advertise their products? That's the only excuse I can think of for this article. 'just' £159.99, a full 20% off the RRP a year ago - does that sound like a good deal to you?

The Lumia 520 has been £59 on upgrade for ages a Carphone Warehouse, everyone i know have been buying them, think the offer ended today tho...

I have a 8S as a spare for guests. As a basic WP8 it is good. Battery is very good.

I'm planning to get one too for the same reason. I like the design

I rock an 8S as my everyday driver. Only thing i can fault is the inbuilt memory and the inability to install apps to SD. Oh and the really slow shutter speed.
Apart from that, I love it. Would love an 8X or a 920, but wouldn't we all?

Let me Ask then. I also have 8s. I'd like to buy an sd card for it. As you mentioned we can't install games to the Sd. So, it is quite worthless than, I,guess? Meaning that no Halo:SA, no Asphalt 7, no Six guns?
I am a,bit disappointed now. Is there any solution to that?

And i bought that piece of shit on day one for €320,00...
Windows Central Newsletter
Thank you for signing up to Windows Central. You will receive a verification email shortly.
There was a problem. Please refresh the page and try again.