Huawei Ascend W2 specs supposedly leaked, on par with other high-end Windows Phones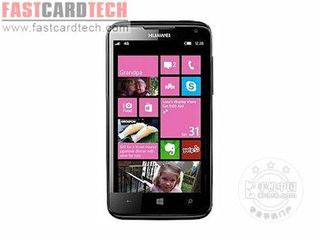 Huawei hasn't exactly set the Windows Phone world on fire with a higher end device. Sure the W1 is a nice budget phone for those just getting into the smartphone game, but most people reading this site would probably prefer something a little more impressive. Today the specs of the Ascend W2 from Huawei leaked online, showing off a device more in line with the Lumia 920s and Ativ S devices of the world.
The last we heard of the Ascend W2 was back January, where we expected to see it at MWC (didn't happen). You're looking at a device with a 4.3 inch display, powering pixels to the resolution of 1280 x 720. Inside you'll find a very familiar processor – the S4 from Qualcomm with a clock speed of 1.5 GHz. You'll also get a 2000mAh battery, 1 GB of RAM, an 8MP shooter on the back that does video at 1080p. Full list of specs below:
Display:
4.3 inch IPS Touchscreen
Display resolution 1280 x 720
Color Support: 16 million colors
Screen technology: Multi-touch screen
Camera:
8MP
Flash: LED fill light
AF: Yes
Aperture: f/2.0
Continuous function: Support
Video recording: 1080p (1920 x 1080, 30fps)
Connectivity:
Connectivity Technology: GSM + WCDMA
Network Band: GSM 850/900/1800/1900 Mhz + WCDMA 850/900/1900/2100MHz
Data Technology: EDGE, GPRS, HSPA+
Bluetooth: Bluetooth 2.1 +EDR
WLan: Wi-Fi IEEE 802.11 b/g
USB: Micro USB v 2.0
GPS: GPS/A-GPS (Built-in GPS chipset)
Interface/Port: 3.5mm earphone jack/Micro USB
Features:
Video Player: MP4/3GP/MOV/MKV/AVI/FLV/MPEG/M2TS/TS
Audio Player: FLAC/APE/MP3/OGG/AMR/AAC
Image Support: JPG/PNG/GIF/BMP
Ringtones: Downloadable
Message: SMS/MMS/Email
Phonebook: 10,000 contacts
Browser: HTML
DLNA Support: YES
Sensors: Gravity, Acceleration, Light, Proximity
Battery:
Battery: Li-on battery (2000mAh)
Standby Time: 150-200 hours
You'll notice that there is no mention of onboard storage or whether or not the device supports expandable storage through microSD cards. What's weird is if you go to the source below you actually then have the option to specify how much storage you want (4,8,16, and 32 GB) via 'card'. Overall it's fairly on par with the Lumia 920, Ativ S, and 8X. But could be a little too late without a known release date. The leak says this device will be available starting 11/15/2012. Obviously that date has come and gone, was this device meant for an earlier release and stalled for unknown reasons?
The starting price is $289, which isn't bad for specs listed. But this is a site we've never heard of and would advise you not to order the Ascend W2 until we know for sure what's going on here. I mean would you honestly order from a site with the logo below?
Source: FastCardTech Via: PhoneSeven.de
Thanks for the tip MBaumi!
Windows Central Newsletter
Get the best of Windows Central in your inbox, every day!
lol... I would say 0/0 for Rum'o'meter.

Well, to the price: even the other devices are listed that low on their page, the 8X also costs 299$ on their page.
It is an chinese page, so its normal that the graphics are that "scary" to us ;)

maybe because they sell CLONES?...

Cone Wars?!?!!???eleven!!!!???!

No, you genious... Smartphone Clones.

You know when you end an article preview with "most people reading this sit..." it usually gets a second look lol. If that was the strategy then well done, you got my attention.

LOL!!! Aww c'mon Guys, Who wouldn't trust a panda??

...just youuu know whyyyyy... Never say no to panda!:D

Ask someone who's been attacked by one...LOL

Watch out for the kung fu panda :D

Now that's a panda that I can trust!

Only the people who would trust the cake. The cake is a lie!!!

Would be nice if this came to a regional carrier.

Not bad for 289, make it 250 for the lateness and it should sale good.

Hrmm. Could it be a bootleg? The Chinese are pretty renowned for that.

Says who? Now, where'd I put that DVD of "Man of Steel".

This supports flac -__- ..yet the 920 doesn't unless I download a 3rd party app

Uh, how can a WP8 device support MKV, FLV, OGG, APE, FLAC? We all should know that support will come when VLC is done for Win8/WP8. But the built-in player does not support those file types.

Are you telling me that Panda lied?!

Yeah, but I've seen Amazon.com list some non-features on Windows Phones too...they had the 900 specs wrong for months, so that doesn't really mean much.

do you remember when wp8 launched all 920,820 and ativ S had Wi-Fi direct listed on their respective official spec pages, whatever happened to that feature?

Did you check that Shop? They sell smartphone clones...

I don't know why, but I've noticed that most electronic sites that start with LUCKY, HAPPY, PANDA, etc are located in China. Alot of them that I found were scams, and I agree, I would never give my financial information or email address to a site that isn't credible.

I remember that FastCardTech sold chinese clones but I am not sure if they only sell these or if they stopped doing this. Maybe someone knows this??? But anyway this site doesn't look trustworthy imo.

At first, I thought that panda logo at the bottom was just an unrelated ad. LOL

Yea Daniel when wil wp8 support WiFi direct

Nice, hope they sell plenty!

It will be great news if they do release it and i am sure it looks like it could be a winner nice one Huawei

wifi b/g only? how would a flagship not have wifi n

oh, I forgot, it's a chinese company

#screenShotsWp8 use this hash tag on twitter along with your screen shot. Microsoft won't show off the features of this great device then I think we should.