Huawei equipment found to have 'significant' security flaws, says U.K. report
A new report from a U.K. oversight committee has found "significant" security flaws in Huawei equipment, and the company hasn't moved to fix them.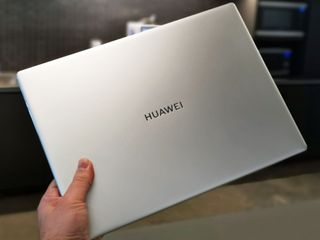 Chinese tech company Huawei has been under fire recently in the U.S. over security concerns, but it's the U.K. that is now raising the alarm of "significant" security flaws in the company's products. In a new report published this week by the U.K.'s Huawei Cyber Security Evaluation Center (HCSEC) (via CNBC), the group found "significant technical issues have been identified in Huawei's engineering processes, leading to new risks in the UK telecommunications networks"
Further, the report states that Huawei has made "no material progress" in addressing issues raised in its previous 2018 report.
"The Oversight Board advises that it will be difficult to appropriately risk-manage future products in the context of UK deployments, until the underlying defects in Huawei's software engineering and cyber security processes are remediated" the 47-page report said in a summary of its findings. "Overall, the Oversight Board can only provide limited assurance that all risks to UK national security from Huawei's involvement in the UK's critical networks can be sufficiently mitigated long-term."
The HCSEC doesn't recommend a ban on Huawei's telecommunications equipment, which may be pivotal as the infrastructure for 5G begins to roll out across the globe. Further, the U.K.'s National Cyber Security Centre (NCSC) stated that it "does not believe that the defects identified are a result of Chinese state interference."
In a statement to CNBC, Huawei said it takes the findings "very seriously" and that "the issues identified in the OB (oversight board) report provide vital input for the ongoing transformation of our software engineering capabilities."
The report comes as Huawei is facing increased scrutiny from governments around the globe. The U.S. government enacted a ban on Huawei on Huawei networking equipment last year, naming it as a potential national security threat. Huawei has since responded by suing the U.S. government to overturn the ban. Huawei executive Meng Wanzhou was also arrested in Canada late last year (opens in new tab) as the U.S. seeks to extradite her under charges of fraud.
Australia has also enforced a ban on Huawei networking equipment over concerns that the Chinese government could use it to hack the country's power grid.
Dan Thorp-Lancaster is the former Editor-in-Chief of Windows Central. He began working with Windows Central, Android Central, and iMore as a news writer in 2014 and is obsessed with tech of all sorts. You can follow Dan on Twitter @DthorpL and Instagram @heyitsdtl.
Another prominent Windows site has essentially said this is "fake news". The namesake of that site holds the opinion that great tech comes before everything else. Sort of a "it's the way of the world" approach to commentary. How daring of them.

Maybe I'm the only person on the planet that has had to deal with "data leak" consequences. But, The Huffington Post did put up an entry titled "The 9 Biggest Data Leaks". Not everyone can afford to take this stuff with a smirk. Minus Paul Thurrott, I guess.

Yeah, and Thurrott smirked his way through an article and video about all the complaints people made about defective Surface Pro (5th gen) screens. Arrogance aside, the thing about Paul Thurrott is that his website isn't all that useful. WC is a much better read.

Nah Huawei just made a stupid/lazy mistake with their software, that should rightly so be criticized. And Huawei is certainly not the only company that is recently criticized, e.g. Asus was criticized too for their crappy live update bloatware that got hacked apparently and created backdoors for Asus laptops released in 2017/2018.

I really don't think this is about Trump or the West vs. a Chinese company, crushing the competition. Note how Lenovo, a Chinese PC giant, is not treated the same way. This is about Huawei. By the way, the US banned Huawei networking tech in 2012, under Obama. It's not just the xenophobes and protectionists. But Daniel Rubino's point is well taken: this isn't about the company's laptops, which seem great from all the reviews I've seen.

Agreed. Sad because their laptops (and phones) are incredibly well designed/built in my opinion.

What about smaller, more under the radar Chinese tech companies, like Chuwi, Onda, and Xiaomi (I know they're not a small company)? They make loads of PCs, tablets, and phones too that are equally capable of doing the things Huawei is accused of doing.

Folks China's style of Communism is similar to Russia Stalin era Their Leader and Proletariat
body is Antagonistic to America. they have Put Chinese citizens on a social rating system
and is a Chinese citizens rating is not rated good enough they can be imprisoned or at least severely
restricted in many ways. they want to & do spy on their Citizens so expect some Chinese
Companies to make equipment that does so and even sell it other countries to allow
Chinese Communists intelligence to spy on People in lands they do not control. they have
been caught selling devices that could allow them do this. That is why high tech Devices
made in China & in Factories in other countries making stuff for Chinese businesses must
be checked. Smart Chinese Businesses could make devices outside china that do not
enable anyone to spy on the Persons who buy their devices
Windows Central Newsletter
Thank you for signing up to Windows Central. You will receive a verification email shortly.
There was a problem. Please refresh the page and try again.