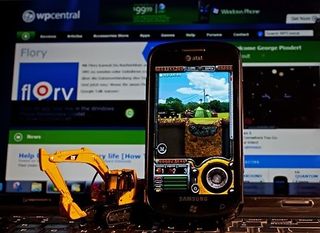 Your Windows Phone is about to go underground. Microsoft Studios and InMotion Software has released I Dig It for Windows Phone 7 that will have you digging to the center of the Earth in search of treasure.
You pilot a modified bulldozer that is fitted with a heavy-duty drill bit. As you dig, you gain points and you can cash in by selling your buried treasures. Cash that can be used to upgrade your digger, buy specialty items, repair your digger and most importantly buy gas.
I Dig It has fantastic graphics, challenging game play and there's no telling what buried treasure you will find. To find out more on this Xbox Live game for your Windows Phone, dig on past the break.
Lay of the land
I Dig It's screen is laid out nicely. If you need help trying to determine what's what, a Help Section is available from the Main Menu. Controlling your digger is done with a virtual joystick. Lefties, fear not, you can change the orientation of the joystick in the settings.
The joystick works but at times the more precise movements were a little challenging. Another drawback with the joystick is if you pull it downwards, if you're not careful you will accidentally press the search buttons on the Windows Phone. It really needs to be about a 1/4 inch higher on the screen. Left hand orientation doesn't have this problem because if you accidentally hit the back button, the game pauses.
Your digger's vitals are displayed next to the joystick. The top row indicates your cash on hand, the three boxes are where specialty items are displayed and then you see gauges for your gas, engine heat, damage, and cargo space. The "O" button between your gauges and joystick will pull up your game objective.
To the top of the screen you'll find your points total and your current depth. Just below your point totals you'll find your game timer. Some game objects have to be met under a certain time limit.
Surface Features
Not all of your activity will be underground. Each location will have the same surface features (they just may be illustrated a little different). Moving from left to right you will find a garage, fuel tanks, store, and specialty items.
Garage: This is where you go to have your digger repaired and upgraded. Just drive into the garage and stop to have the game transition to the garage screen. You can increase your gas capacity, hull strength, cargo space, engine cooler, drill bit, and other features of your digger. As the need arises, here is where you repair any damage done to your digger. When you're done fine tuning your digger just tap the back button to return to the game.
Gas Pumps: The digger gets some of the worst mileage I've seen. You will receive low fuel warnings and when you run out of fuel, game over. You will have the option to return to your last saved point but any progress since will be lost. Simply stop in front of the gas pumps and your digger is refilled automatically.
General Store: For the lack of a better term, the General Store is where you can save your progress and sell items you've collected underground. Save often so should your digger meet its fate, you won't loose too much progress.
Specialty Items Store: Pull into the store and stop to access the store. Here you can buy everything from dynamite to emergency fuel. Just as with the Garage, tap the back button to return to the game.
Campaign, Free Play or Mini Game
I Dig It has three game modes (four if you count the tutorial):
Campaign: Tackle various mining challenges across the globe. Locations range from the Midwest in the U.S. to the frozen tundra of the Antarctic.
Free Play: See how well you can do when there's no timers or goals to meet.
Mini-Games: Don't care to mess with long, drawn out campaigns? Want a shorter mission to tackle? Choose from twelve different Mini-Games that have you compete in the various locations.
Game Play
I Dig It's game play was simple, yet challenging. You can drill downwards or sideways but not upwards. The digger is equipped with rockets to lift you out of the mines your create.
There is a wide range of treasures beneath the surface that include rare gems, buried soda cans, rare coins and other trinkets that vary in value. Items collected during a dig can yield you points, cash and sometimes both. From the main menu, you can access a museum that will highlight all the types of treasure you've run across.
Along with treasures, there are also dangers associated with I Dig It. Underground gas pockets will explode, destroying your digger and then there's the giant ants.
The deeper you dig, the shorter your field of vision becomes (it gets dark down there). While you can dig in patterns that will accommodate easy escapes to the surface, if you get lost tap the "M" button above your cash display to see a map of your mining.
Another issue with drilling deep, is that the deeper you go the harder the earth becomes. You'll need to upgrade your drill bit to be effective in drilling the deeper depths.
Game Performance
No complaints on stability with no bugs, crashes or glitches experienced. Graphics were simply fantastic. From the animated joystick to the spinning of the drill bit, InMotion did a great job of presenting I Dig It.
Asides from the joystick issues, I Dig It played really well. Load times were respectable and there are plenty of game choices to keep things from getting stagnant. There is a mild addictive quality to the game and while there are time limits to many of the gaming modes, the timer doesn't present a sense of urgency. If anything it lets you play the game at your pace. You just need to remember to save often and make sure you don't run out of gas.
Speaking of saving the game, I Dig It lets you save one game. It would have been nice to have had three or four memory slots to save multiple games in. If your working on a mini-game, feel like a change of pace and want to work on a campaign you'll lose any progress saved in the mini-game. It's not a deal breaker but it would be a nice item for a future update.
Xbox Live
I Dig It is an Xbox Live game and your achievements are reflected on your Xbox Live Gamer profile. I Dig It also has the customary leader boards found in most (if not all) Windows Phone Xbox Live games. This will let you share and brag about your progress with your Xbox Live friends.
Overall Impression
It sounds corny but I really dug I Dig It. At first I expected something along the line of the classic game Dig Dug but digging is the only thing these two games have in common.
Asides from the quality graphics and challenging game play, what I really liked about I Dig It is that you can play at your own pace. You have timed missions but you can play for a while, save your progress and pick things up later. The game is addictive and a great way to pass the time but not many will have two hours to complete missions from start to finish.
The only major dig I have against I Dig It is the position of the joystick. While the game is saved when you accidentally hit the search button (when the joystick's on the right), it's a pain to have to reload the game.
It would be nice if you earned money faster or the upgrades to your digger weren't so expensive but as is, it adds a bit of challenge to the game.
There is a trial version available for I Dig It with the full version running $2.99. I Dig It is one of the strongest Xbox Live games for your Windows Phone and could easily be a Xbox 360 console game.
You can find your copy of I Dig It here (opens Zune) at the Marketplace.
Get the Windows Central Newsletter
All the latest news, reviews, and guides for Windows and Xbox diehards.
George is the Reviews Editor at Windows Central, concentrating on Windows 10 PC and Mobile apps. He's been a supporter of the platform since the days of Windows CE and uses his current Windows 10 Mobile phone daily to keep up with life and enjoy a game during down time.