Surface Book vs. Razer Blade 14: Why I don't regret switching to Team Razer
Since the Surface RT, I've been a huge fan of the brand, build quality and usability of Microsoft's PC device line.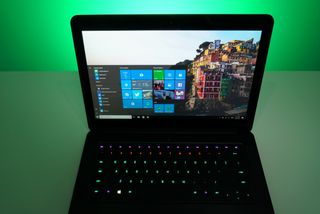 From the ashes of Windows RT rose a generation of convertible PCs, from HP, Dell, and Microsoft itself, with its increasingly popular Surface line.
I've written about my Surface usage before, journeying from light vector design and web development on my Surface Pro 1 and 2, up to light video editing and blogging on my Surface Pro 3. After seeing Daniel Rubino's Surface Book at a meeting once, I instantly fell in love, and switched over to that form factor, my first real foray with a "real" laptop device.
However, as my aspirations and responsibilities grew, it increasingly became apparent that the Surface Book simply wasn't powerful enough for large video editing projects, live broadcasting, and even high-intensity multi-tasking. I've now switched to a Razer Blade, and haven't once looked back.
Who is the Surface Book really for?
You might think it's a bit of an odd comparison to make, between the Surface Book and the Razer Blade, and you'd be right. Both devices are fundamentally different in their form factor, features, and target markets. It's also important to note that the Razer Blade I'm using has updated internals, sporting Intel's 7th generation Kaby Lake chipset, versus the Surface Book's 6th-gen Skylake chip. Even when you consider the recently refreshed Surface Book with Performance Base, the 'Book is due for a deeper update.
Naturally, Razer is a gaming brand through and through, but increasingly, professionals of all walks of life are looking into the Razer line, for their build quality, mobility, and their high-concentration of powerful internals. In the Surface Book's reveal, Microsoft also stressed these features, showing off Adobe CC, and even Gears of War Ultimate Edition to demonstrate its graphical chops. I feel at least, superficially (and financially), the Surface Book and Razer Blade have some overlap.
The biggest point of divergence between my Razer Blade and Surface Book is the touch screen. My FHD Razer Blade doesn't have one, but even the touch-screen sporting QHD model lacks the Surface Book's capability to split into a tablet, flip into tent mode, and function as a drawing platform.
The Surface Book's physical versatility naturally trounces the Razer Blade, which uses a standard, non-detachable clamshell form factor. It has been fun flipping the Surface Book into tent mode to watch a movie on a plane, or laying it out flat to make use of that gorgeous, pressure-sensitive inking display, but I simply don't do these things often enough.
Image 1 of 2
Given the Razer Blade and Surface Book's comparable price point, I think it's safe to say that the only real benefit you will get from choosing the Surface Book over the 'Blade is the inking capabilities. I love drawing, but I simply don't have as much time to commit to it as I'd like, which neuters one of the Surface Book's core differentiators for me.
If you're not a digital artist, either professionally or as a hobby, the Surface Book simply isn't worth the price of admission. There are plenty of more powerful, and often cheaper, options out there that will offer way more bang for your buck. And even then, I could purchase a USB drawing tablet to hook in to the Razer Blade if I did want to retrieve that functionality.
The Surface Book is second to none when it comes to build quality, but the gap is nowhere near as big as it used to be, and unless you're an artist, you're sacrificing a lot of power for modest gains. The Surface Book does beat the Razer Blade in other areas, however.
My Razer Blade vs. my Surface Book
There are various models of both Surface Book and Razer Blade. Both go up to 1TB storage, the Razer Blade also comes with a QHD option with a touch screen, and the Surface Book also has a Performance Base option with a beefier GPU and battery. But for the sake of this comparison, here are the specs I'm working with.
More: Razer Blade (2016) vs. Razer Blade (2017) in depth
Swipe to scroll horizontally
| Category | Razer Blade (2017) | Surface Book (2015) |
| --- | --- | --- |
| OS | Windows 10 | Windows 10 |
| Display size | 14-inches | 13.5-inches |
| Display resolution | 1920 x 1080 (non-touch) | 3000 x 2000 (touch) |
| Processor | Intel Core i7 (Kaby Lake) | Intel Core i7 (Skylake) |
| CPU Cores | Four | Two |
| Graphics | NVIDIA GTX 1060 | NVIDIA GTX 940MX |
| RAM | 16GB | 16GB |
| Storage | 512 GB | 512 GB |
| Battery | 70 Wh | 18 Wh + 51 Wh |
| Dimensions | 345mm x 235mm x 17.9mm (13.6in x 9.3in x 0.7in) | 232.1 mm x 312.3 mm x 22.8 mm (9.14 in x 12.30 in x 0.9 in) |
| Weight | 4.16lbs (1.89kg non-touch) | 3.4lbs (1.54kg) |
| Ports | 3x USB 3.0, USB-C Thunderbolt 3, HDMI | 1x USB 3.0, Mini Display Port, SD card slot |
| Price | From $2,099 | From $2,699 |
On displays
The Surface Book beats the Razer Blade for display, even though I do like the Razer Blade's anti-glare matte screen. Higher resolution and pixel density on the Surface Book will naturally beat out the Razer Blade, but I also feel like the peak brightness and colors are better on the Surface Book as well.
Daniel Rubino is a big fan of the Surface Book's 3:2 aspect ratio, but I find myself preferring the Razer Blade's 16:9. It's not often you can find games that support the Surface Book's aspect ratio naturally, and it's far nicer when videos fill up the entire display, I find. It's subjective, but it all matters when you're choosing a device.
I've seen a lot of criticism leveraged against the Razer Blade's bezels, which are quite a bit thicker than similar contemporary devices out there. Honestly, though, they don't really bother me. There's clearly work to be done here, but when you're immersed in work or play, you're not really looking at the edge of the screen. And I'll take a top-mounted webcam over the Dell XPS's low-angle solution any day.
I do miss the ability to ink, though. Even though I didn't do it very often, I used to be a passionate sketcher. Hopefully, some kind of Surface Mini or Phone will arrive to scratch that itch in the future, but until then, I've put my pen in a drawer.
On power
This is just no contest. The Razer Blade obliterates the Surface Book into dust, owing to a beefy GTX 1060 GPU and a quad-core processor configuration. On paper, the Kaby Lake CPU only offers modest gains over the Surface Book's Skylake, but the delta between quad-core and dual-core cannot possibly be understated.
Even simple tasks like web browsing, launching programs, running several apps side-by-side, and general OS smoothness, the Razer Blade provides a far superior Windows experience than the Surface Book.
Editing and exporting 1080p video for our YouTube channel is a far more pleasant experience on the cheaper Razer Blade than it is on the Surface Book. Adobe Premier CC runs far smoother, and I can still multi-task across other programs without worrying about how it will impact my project. Timeline playback was often very laggy on my Surface Book, but it's not the case on my Razer Blade, which makes work tasks far more efficient and speedy. All those extra minutes add up fast.
The Surface Book was never marketed as a gaming device, but it should be obvious which device is better for play. The GTX 1060 not only puts the Razer Blade far ahead of the Surface Book's 940MX, but it's also VR and Windows Mixed Reality ready, giving it a degree of future-proofing. You can play all modern games on the Razer Blade, and if the games are well optimized, they'll also look and run better than on the PS4 and Xbox One as well.
Despite the Razer Blade being listed with a higher capacity battery, I have found the Surface Book generally outlasts it. This is with both Windows' battery saver turned on, and with Razer Synaptics software set to power saving mode. The Surface Book in low-power mode will generally give me around 8-10 hours of battery life, which is amazing if you tend to move around a lot. The Blade on the other hand gives me around 5-6, which represents the biggest trade-off for those beefy internals.
On features
The Surface Book holds its own in a few areas, of course. I've already talked about inking, and the Surface Book's 2-in-1 versatility, but both of these (at least for me) are infrequent situational benefits that don't edge the Razer Blade's more traditional clamshell format. However, the Surface Book and Razer Blade both have trade offs and different design choices worth highlighting.
Even if you went for the touch-screen option with the QHD Razer Blade model, if you wanted inking, you'd need to buy an external USB tablet. Professional artists often seem to prefer this input method anyway, but I prefer the experience of putting pen to screen, instantly seeing my pencil strokes.
Additionally, the Surface Book has a full SD card slot, while the Razer Blade doesn't. This is where I wish the Razer Blade had figured out a way to add one in, as someone who takes a lot of photographs, but it's easily solved with a USB adapter.
Speaking of adapters, this is one aspect that truly shines on the Razer Blade. The Razer Blade comes with a USB-C + Thunderbolt 3 port, another wonderful forward-facing design choice that opens up versatility we might not get in the Surface line until the next generation.
In theory, I could strap in a Razer Core and a GTX 1080ti GPU to transform this laptop into a beastly gaming PC, leveraging the 40GB of data transfer provided by the Thunderbolt port. You have to expect that the Surface Book 2 or Surface Pro 5 will also sport this functionality, but as of writing, none of them do.
On quality and design
When it comes to build quality, design, and materials, there are some important considerations to make. The Surface Book sports a metallic VaporMg chassis, while Razer opts for black machined aluminum. While I appreciate a black laptop aesthetically, in practice, the Blade is a fingerprint and dust magnet. You will be wiping this thing far, far more than the Surface Book, which is a tad annoying.
Both device feels incredibly solid, dense, and high-quality, sporting premium materials and design conventions that easily earn their place in this price bracket.
When it comes to dimensions and weight, the Blade is a little bulkier, but it's barely noticeable in practical terms. I also appreciate the fact I can open the Razer Blade with one hand, which beats the Surface Book's fulcrum hinge and notoriously wobbly 2-in-1 connector. Also the Razer Blade has far louder, far clearer speakers than the Surface Book, which is a boost for casual media consumption on the go.
One area that the Surface Book has the Razer Blade firmly trounced is the trackpad. The Surface Book's precision pointer is just superior in every respect. I find myself accidentally palming the Razer Blade's trackpad far too frequently while typing, and the way the pointer accelerates and decelerates just feels awkward compared to the Surface Book's, even after several attempts at tweaking. Still, the Razer Blade's trackpad does the job, it simply isn't as good as Microsoft's own solution.
Final thoughts
Ultimately, the final decision will rest upon what you need these devices for, but I don't think anyone should be picking up at Surface Book at that price point unless they want the inking features.
I still love the Surface Book, but there are tons of devices out there that beat it on power and price point, and with the Razer Blade, even build quality is getting matched.
Image 1 of 2
I feel as though the Surface line was always intended to be an example to be led, rather than the de-facto best solution for any Windows user. I can imagine Dell, HP, and other powerful OEMs wouldn't be particularly happy if the Surface Book could beat all of these devices on price, power, quality and price. The Surface Book's price point just makes it prohibitive for all but a small subset of users.
Still, there's something to be said for the Surface Book's gorgeous design, display, and unique versatility, but when it comes to pretty much every Windows feature outside of inking, you're better off picking up a Razer Blade HD or QHD.
Windows Central Newsletter
Get the best of Windows Central in in your inbox, every day!
Jez Corden a Managing Editor at Windows Central, focusing primarily on all things Xbox and gaming. Jez is known for breaking exclusive news and analysis as relates to the Microsoft ecosystem while being powered by caffeine. Follow on Twitter @JezCorden and listen to his Xbox Two podcast, all about, you guessed it, Xbox!
I want aRazer Blade with a detachable keyboard and a touch screen. I can't live without those anymore 😁

The bezels of the Razer blade are too big. The ideal will be display like Dell XPS infinity one, detachable like surface in a razors laptop would be great!!

Touch is a must anymore. When im on a non touch windows device im always touching the screen and nothiong happens. First i thought it was stupid but ive gotten faster mixing touch and keyboard.

Thanks - very insightful. For me, I use my Surface Book to take written notes almost every day so a device with no touchscreen that can't easily be turned in to tablet format wouldn't work. It strikes me that we often don't think through exactly what we want a device for when we purchase. We often just go for specs but that isn't always the right approach. I chose a Surface Book over a Surface Pro 4 having seen so many people reaching for power supplies in situations that I would want to rely on battery and this has proven a good choice for me as I am often using the device all day away from home and at times can't easily charge the device while I am using it.

I agree, and further to that I think we can get caught up in wanting specific features/implementations when we should be thinking about use cases. If you look at your workflows at a high level and think about what you need to do, rather than how you currently do it, I think the pen and touchscreen make a lot more sense.

Hah, I read the title and didn't even have to read the article. OF COURSE, DUH! These are two different devices aimed at different users.

Very true... It's not a fair comparison

Can you explain why? Money is money.

Microsoft's is more professional/enterprise focused. Razor has always been more gaming/home consumer focused.

Exactly and that's what I thought. He basically stated as such buried in his 5th paragraph. Click bait article designed to irritate people and generate lots of comments...

I feel like this might be a better article under a different title and teaser. As you pointed out, these are completely different devices for different target markets. The story is that this one better fit your needs, rather than implying that the other is bad, which you make clear in the piece. Thanks for the review, though.

I didn't imply the Surface Book was bad, not at all, I emphasized that it's just not for me. But don't you think it's a little pricey for the tech it has?

By MS plan a "Surface" will always be a little prricey for its tech. Given the pen and touch screen, what alternate deice would you compare it with? How do the prices compare with a comperable device?

I agree. The price comes from some of the conveniences for a set of people. If I need that pen/detachable experience that badly, it will be worth the money--apparently it is to many.

I'm sorry, I think I worded that wrong. I meant that inside the article you clearly do not think the Surface is bad.

Ah...yeah, it's not my title tbh. Haha.

The Surface Book is pricey if you don't want to use it as a 2-in-1. I use it as a tablet every day in class as I teach Physics. I love using the pen to draw diagrams and work problems for all the class to see with my Surface Book connected wirelessly to the main screen. I also use the Surface Book every day as a laptop when I prepare my instructional materials. If I did not have the Surface Book or Surface Pro, I would have to purchase a laptop AND a tablet that includes a digitized stylus and can wirelessly connect to a video projector. Eventhough the Surface Book costs a pretty penney it is cheap compared to purchasing a laptop AND a digitising tablet. It's also a lot more convenient to have one device that does both than to have to carry aroun both. Once you get used to the pen, there is no going back! Sure, you could, but why would you want to?

Grammar in the title: Why *I* don't regret... ;)

I had bad experience with my Razer Blade. System was slow, IGZO QHD+ display had horrible viewing angles and colors always seemed to be washed out. I replaced it with a new one as I thought that mine was defective but sadly thats just the nautre of the screen. Trackpad also cannot compare to Apple trackpads or Windows Precision, which takes away a lot of funcionality. I decided to replace it with SurfaceBook and I'm so happy that I did. Screen seems MUCH bigger thanks to the ratio, and the overall difference in the quality of the screen is massive. Other than that Razer Blade is an amazing device, hopefully they fix all those things in the next generation and then maybe I'll give it another shot!

I just had my first go with a surface book....I NEED 2. one performance base for me and a regular version for my wife. Plus we are getting a studio for my home office, and work designing custom motorcycles, snowmobiles and ATVs etc for my clients

Well. Comparing Surface Book and Razer Blade 14 is unfair. Because if you need performance sure Razer will beat it hands down, Razer should rather be compared with other performance based products. And if you need verstality and you are on the go professional, I don't think any laptop can beat Surface Book. Although, I completely agree that SB still is overpriced for what it does. In a way, I understand why MS keeps the prize high but its still a deal breaker for a lot of people who would enjoy Surface Book at a lower price point.

I wrote that in the article, though. The search traffic on this piece suggests that people are comparing these devices.

Yes. You did mention it. And I can understand search traffic shows people comparing them because both are pretty high end devices and at times with SB's that high price tag, one might expect superior performance. But I think anyone who will start comparing them will realize pretty quick that they cater two completely different target audiences.

So, is this number two in a series of articles "Why I Switched"?

The first article was by Bruce Jenner?

This article makes me wish Razer would produce a tablet PC / 2-in-1. If the Blade had support for a pressure pen then I'd consider it an option. Those performance specs are strong. Unfortunately, most machines that let you draw on the screen come equipped with average or poor performance parts.

I get far too much use out of the pen with my Surface Book to consider anything else. Still... love the Razer Blade.

I have seen sooo many amazing reviews for the Razer Blade Kaby Lake. All reviews give every thing on it great review except the mediocre display. I really want to get the UHD display Razer when it's out, but I just have a really hard time justifying $2,400 for a laptop. Even with those great specs. I probably will end up going for lenovo yoga 720 15" or hp spectre x360 15". Still waiting on review for the 720 before fully deciding.

Me, too!
Maybe there's soon a comparison here?

Since you switched. May I please have your Surface Book?

Hey - let's have a drawing for a surface book. TheProfTron and i get to be the basis selection.

Different strokes for different folks. If gaming is your main concern the Surface Book is not your ideal machine. This isn't to say it can't game, but you won't be on the bleeding edge (heck I play plenty of recent titles on an Atom powered Surface 3), especially in any FPS. Plus, the lower pixel count of the Razor will translate to better battery life and better frame rates at native. However, the touch/pen capabilities and the detachable screen of the Surface Book is why you buy it, for the features a traditional laptop can't give you.

Quite pointless comparison.kinda insulting for both the devices and readers.get your game straight windows central.you have been loosing your focus lately...

I had the same internal reaction at first; but for those who are looking for the same thing Jez was, this could be a helpful guidepost. So now for me it seems that the title is still a bit sensational, but hey, he's excited to have found the device that works better for him.

No wonder you do. You are a gamer :). The Razer Blade was made for gamers. The surface book, while excellent, was not. :)

I'd really like a second generation Surface Book to come with the 4 core Kaby Lake CPU and support for the Razor Core (or similar Thunderbolt external dock). The GTX 1060 would be nice too, but with a Razor Core type dock I'd be ok with a lower spec GPU in the Surface Book. If Microsoft can do that, and keep a similar form factor with the detachable tablet, then I will buy one.

Well intels coffelake will bring quad cores to the U series, also the battery life on my blade 14 is 8 hours at moderate use and 4 and a half hours gaming. I undervolted my CPU and put my own thermal paste in. Try it, it really helps. Dave2D has a fantastic video on youtube explaining this.
https://youtu.be/QBNP5I2y668

Nonsensical review and you basically stated why in your 5th paragraph...work device vs gaming laptop...

What a bizarre article. It's like comparing a Range Rover with it's multiple uses (Surface Book) and a Porsche 911 which is built for performance/power and has a little practicality thrown in (Razer Blade) and trying to decide which is best. Well, obiously you would pick what is suitable for your needs and budget.

What a completely stupid article. I thought this would be about why the Razer Blade is better than the Surface Book. I was wrong. It's about how the author's personal needs have changed, and therefore he prefers a different computer. Author: nobody cares about your changing needs. We only care if you've found a computer that does what the Surface Book does, but better. THAT would be a proper article. Please don't post such blatant click-bait. Good grief, I expect you got paid for that nonsense, as well. This would be like me posting to a motoring group that I've switched from my motorcycle to a Ford Fiesta because I need to carry my kids around. Nobody gives a f***. If I'd found a motorcycle that could carry me and my two kids, well, THAT would be worth writing about.

Totally agree with you and upvoted Just remember that this was written by someone who readily admitts that he dropped out of school to play video games. So anything that will play games better than a Surface Book IN HIS MIND is a better product. Then to take a product that is 2 years old and compare it to a modern product is absolutlely ridiculous buy any means (unless you are comparing a upgraded product from the same comapny). Everyone knows how quickly computers change in 2 years, except the auther of this retched piece of garbage- Jez Corden. And besides, one product is a tablet PC and the other is a laptop - it is like comparing apples to tofu, they are both food, but nothing like each other. Once you take that into account, this article really falls apart and looks more like a Aprils fools joke (like one other comment mentioned) that failed miserably.

Totally agree, just got around to reading this article. I had to stop at the part about the sb has an SD card slot and the razor doesn't, pop in a USB adapter problem solved. You might as well have said the sb gets 10hr battery life, the razor gets 5, throw a portable 10lb UPS in your bag, problem solved...

At first I thought touch screen on a PC was gimmick, after two years of use, I tried using a non touch screen PC it was really terrible, then I realised the relevance of a touch screen on a PC.

Razer offers a touch screen for the Blade, but it's 4k, so it will eat into your battery more.

Reading through the article - I know this was written on April Fools Day (or the Author was concieved that day??). I, utterly, fail to see the comparison - I mean, the only improvement is the processor, everything else is a downgrade. Why would someone purchase a complete downgrade for more processor speed. I'm embarrased that I followed the headline - and read the complete article.

Fully agree with you and upvoted your comment. It nust have been written as a April's fools joke (I did not think of that until I read your comment) as there is no way a reasonable, sensible person could write write this pile of stink. I saw the headline and couldn't believe it, so I did read through this drivel and was not impressed at all. What a waste of time and space this article is. He even went so far as to includ a mention of the razer core in this trashy article - another majot cause for razer to fall into disrepute in my country. - offering a totally useless discount voucher in a attempt to sell their laptops and then to continue the con by lying to everyone by refusing to impot it here. Since it was first released overseas last year, they have been saying it will be availabele soon and to wait - all in the hope that all the suckers with a voucher will eventually forget and give up! This is a company devoid of any morals and ethics. My advice is to stay well away from any razer products.

Is windows central Australia based? I'm from the US and have had nothing but good expiriences from my RBS and Core.

There's many benefits; more IO such as HDMI and USB C plus thunderbolt, not to mention 3 USB 3's. GTX 1060, this might seem like a small just just from the number side of things, but the 10 series NVIDIA GPU's are far superior to their previous generation. Great for CUDA heavy apps like the CC suite.

Further - to compare an 18+ month old device to the latest/greatest of competition (sort of competition), is rather bazarre. I have difficulty wrapping my head around the comparison. Like comparing a Jeep to a Motorcycle? They both get you to the top of the trail - only the jeep is a 2002 with 240K miles on it, and the M-Cycle is fresh out of the store. Convertable vs Laptop and New vs Moore's Law dinosaur (Tech Doubles every 18 months)... Maybe I just need a "Mute This Writer" button - so I don't accidentally read anymore disformities? So, was this an April Fool's article?

JES CORDON (THE AUTHER OF THIS PILE OF RUBBISH) NEEDS TO LEARN ALL THE FACTS BEFORE MAKING SUCH SPURIOUS AND MISLEADING STATEMENTS. - "WHY I DON'T REGRET SWITCHING TO TEAM razer" AFTER EXPERIENCES WITH THIS COMPANY IN AUSTRALIA, ANYONE WOULD HAVE TO BE A MORON TO SAY ANYTHING LIKE THAT. AND AUSTRALIA IS NOT ALONE, AFTER READING THROUGH OVERSEAS FORUMS AND REVIEW SITES, IT DOES NOT TAKE LONG BEFORE DISSENTING COMMENTS ABOUT razer ARE FOUND. THERE ARE A LOT OF PEOPLE WHO WILL NOT BUY THEIR RUBBISH. HOW CAN YOU RECOMMEND razer PRODUCTS WHEN THEY HAVE A NON EXISTANT CUSTOMER SERVICE DEPARTMENT AND NO REGARD OR RESPECT FOR BOTH POTENTIAL AND EXISTING CUSTOMERS They have not replied to any of well over 50 messages I have sent. AND YOU HAD TO MENTION THE CORE IN THIS ARTICLE - BIG MISTAKE They refuse to sell or import the core into Australia, so they have a army of fedup, frustrated, and furious people who recieved a useless discount voucher after buying a blade. If you look at our forums, you will find that ever since the core was released last year and they began the discount voucher for it, razer has just kept telling people to wait, and wait and wait and wait. jUST ASK ANY OF THEM WHETHER THEY AGREE WITH YOU iF YOU HAVE A LOOK AT THE AUSTRALIAN razer WEBSITE, THE CORE IS NOT THERE BECAUSE THEY WILL NOT IMPORT IT INTO AUSTRALIA (it only makes a brief appearance as a mention in the description for the blade as a accessory) . BUT IT IS EASY TO FIND FOR SALE SINCE LAST YEAR ON OVERSEAS SITES. Because it is not imported here, they will not give any international warranty on a core bought from overseas (it has to be returned to the place of origin) and they will only allow the discount voucher to be used in Australia. SO IT IS TOTALLY USELESS AND A CON. AND HERE YOU ARE SPRUIKING THEM. hOW DARE YOU SAY THAT WITHOUT UNDERSTAQNDING HOW BAD THEY ARE. HOW COULD ANYONE RELY ON THEM FOR AFTERSALES SERVICE WHEN THEY ARE PREPARED TO IGNORE BOTH POTENTIAL AS WELL AS EXISTING CUSTOMERS AND TO LIE TO THEM. razer IS A COMPANY TO AVOID AT ALL COST .

Just because he's had a better expirience than you doesn't mean you have to type, with all caps, HOW DARE YOU...

How dare I. I needed to add to my comment sufficient tone to convey the correct sentiment behind it. Obviously I have succeded AND IF YOU HAS BOTHERED TO READ MY COMMENBT< YOU WOULD HAVE NOTICED THAT THERE ARE FAR MORE PEOPLE THAN JUST MYSELF WHO ARE UPSET WITH razer - THERE ARE A ARMY OF THEM IN AUSTRALIA!! AND HOW DARE YOUI PASS JUDGEMENT IN SUCH A MANNER - I AM CAN AND WILL USE CAPS WHERE I FEEL IT NECESSARY!!!!!!!!!

Short version: "I made a better choice for my work daily driver." GOOD FOR YOU. I work on the go with a DELL XPS 11 2-in-1 that I bought almost 4 years ago. I don't have 2000 bucks to "make a better choice" even with two salaries. SCREW your shenanigans!

Razor has no pen, no pen , no deal. Carry a usb tablet around too? haha don't think so.

Well, if you don't want your Surface Book anymore, I'll gladly take it. Just send it as a gift to me.

When i had to add up an ultrabook to my set last summer i checked basically all machines that could fit my needs multiple times. Went to try some, including MSFT devices, MSI, Razer, Acer, Asus and a few other brands. The two that best fit my needs were, eventually, HP X360 and Lenovo X1 Yoga, which also had a full set of security functions and other things (mil specs) others didn't have. I ended up with one of those with most options maxed up except the SSD which is a 512 instead of 1TB. I have never been happier (and i used to be skeptical about Lenovo devices). It's not that i din't like Razer and other devices. They simply seemed to be energy hogs in some cases, others had other shortcomings. Bottom line, i understand the narrative about the Razer machines but i wouldn't buy one if i needed a device in that range. Additionally, once you go 2 in 1 with rotating display that can turn the device into a huge tablet with a Wacom pen you can't go back.

All of your arguments will be for naught in a year and a half or less when Razor's notoriously terrible reliability catches up to you. Their "save a penny" engineering is well known and inevitable. Oh and FYI don't expect a warranty repair, they are well known for not taking resonsibility for thier cut-rate materials and tend to deny more than they fix.

I can attest to this. I loved my Razer Blade Stealth, for a time. It crashes all the time now and it has taken over a month waiting for their damn "support" to help me figure out the issue (doesn't help that it takes them 48 hours to respond). Turns out other people have been having similar issues with their Stealth and all struggle with Razer support. If the laptop didn't crash and if their support was better, then sure... But those are two very important things for me. It's sad because their laptops LOOK awesome.

To each his own as you defer to and I agree that Microsoft created the Surface more as a model, though it sells well, rather than to compete with anyone. The OEMs will take what Microsoft has created and then create products from that which appeal to a broad spectrum of users. As you say, you like to do things quickly and the Razor does that for you and that is great and you would certainly expect a gaming system to do just that for the consumers to get the best experience out of their games. The average consumer out here would like to have the Surface or Razor line of devices but many can not afford either one with those higher prices when they really don't get into that much stuff that demands that level of performance. Great comparison between the two and it certainly will help those who are looking to invest in a new device.

I don't want this to sound offensive to the author or any other "tech guy" as I understand we all have our applications (and the author said that at the end of the article) but this article is another "tech guy" article/review writing the pen off as merely a "creative" tool that they don't really use because they don't do art... so why waste your money on a Surface or other product that offers pen and touch input. Addressing a broader group that just this author, It appears that many "tech guys" don't do anything on their computers but type and game, so they like a high end mechanical keyboard and mouse and that's it. "Tech guys", please stop commenting in these reviews on features you don't use because your limited application for computers doesn't allow you to be helpful for many, and even counterproductive for many. I watched an Apple user who had never used Windows before doing a review of the Surface Studio - it was totally retarded. She was complaining about things merely because she didn't know what she was doing. The pen has massive utility in areas that have nothing to do with artistic stuff, like presentations, team meetings, editing/marking up things like webpages, documents, powerpoints, business cards, marketing material, signage, pictures, sketching illustrations, diagrams, etc, on a computer instead of a napkin or piece of loose paper, editing any text, code, content (editing in the editorial sense that you are reviewing and someone else is making and changing the actual content), signing documents without having to print-sign-scan; making notes in meetings, especially client meetings where you might be reviewing materials together or just taking notes and you want them on a computer but you don't want to look like you are playing battleship and clacking away on a keyboard. Have you ever had a client meeting around something that wasn't computer/tech content - in a context that it would be counter productive to have laptop open? The applciations are really limitless and using a PC with touch and pen input have allowed me to be completely paperless and has also provided me the ability to be much more responsive to the context of communications and interactions and also to have many more options for expediting things than keyboard and mouse alone wouldn't offer. No disrespect to the way you use a computer, but for me, being able to complete tasks a fraction of a second quicker is not near as important as having all the functionality and form factor I want. A higher framerate for gaming doesn't help me do my work better. That said, I really don't want lag but I am an intensive computer user using numerous applications all day doing everything from heavy spreadsheeting to presentations to marketing design work and I have never found myself complaining about the performance of my Surface Pro 3, let along an SP4 or Surface Book.

Good Article, b .. . Can I have have the Surface Book for 2nd hand price?

I hate shaving. That's why my gonads smell like Gorgonzola. They kinda look like it, too.
Windows Central Newsletter
Thank you for signing up to Windows Central. You will receive a verification email shortly.
There was a problem. Please refresh the page and try again.