Proof that Microsoft's Windows eye-tracking tech works: This article was written with it
Microsoft's new eye-tracking technology is incredible. In fact, this entire article was written with it.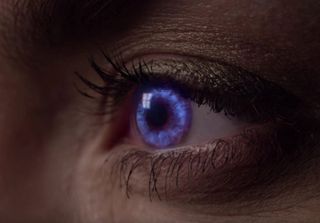 With the latest Windows 10 Insider Preview, Microsoft is beta testing a new technology that allows users to control their PCs with just their eyes, using third party hardware from Tobii. This technology is being built to help those who may not be able to move as freely as others, and as such find it hard to use everyday PC peripherals such as mice and keyboards.
The new eye-tracking technology, which should launch with the Fall Creators Update later this year, gives users the ability to interact with their PCs using just their eyeballs.
Microsoft has built a new virtual keyboard that's designed specifically for eyes, that when glanced at, will activate the letters you choose. Microsoft also built its Shape Writing feature into the eye-tracking keyboard, which means users just have to glance over all the words they wish to type, and the keyboard, using autocorrect, should be able to determine what it is you are saying, just like on a smartphone.
A keyboard for your eyeballs
And that's exactly what I used to type this article. I'm putting the eyeball keyboard through its paces, and so far it appears to be holding up pretty well, minus a few hiccups.
The keyboard is really big, meaning your eyes have a lot of room to move around and accurately look at an element on-screen. Sometimes the eye tracker itself may mistake my eyes for looking slightly to the left or right, but outside of that, the keyboard appears to be rock solid.
I'm currently using the keyboard with Shape Writing on, which is a lot faster than using it without. When Shape Writing is off, you have to stare at the letter you wish to insert for a couple of seconds before the letter is inserted. With Shape Writing on, you just have to glance your way through all the letters of a word, and the keyboard will form that word for you. It's much faster overall, but it's still pretty slow in comparison to a normal keyboard experience.
Up to this point, I've written 423 words, and it's taken me about 13 minutes. That's after a bit of practice. On a normal keyboard, I can spew out 423 words in about 3 minutes, so it takes a bit longer, but that's not much of a surprise. I imagine someone that uses this all the time will be able to type much faster. It's still an amazing piece of technology.
It's also worth noting that since this is still in beta, there is room for improvement. I noticed the keyboard will sometimes not insert a word after spelling it out, and a lot of the time the Shape Writing will incorrectly guess a word. But for a first beta, this technology is impressive.
This new feature is going to help so many people who are unable to use PCs in a conventional way. People who may be paralyzed from the neck down, amputees, and those who suffer from Parkinson's Disease will benefit greatly from this new technology.
If you're interested in trying it out for yourself, make sure you're a part of the Windows Insider Program and running the latest build, and grab yourself the Tobii Eye Tracker 4C ($150) to get the eye tracking function to work.
Get the Windows Central Newsletter
All the latest news, reviews, and guides for Windows and Xbox diehards.