IDC's Five-year smartphone forecast: Windows Phone up 43% by 2014?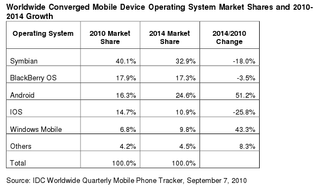 IDC, who you may remember from the Microsoft-used-the-wrong-slide media fiasco earlier this year, has gone ahead and released their forecast for smartphone adoption over the next five years in their Worldwide Quarterly Mobile Phone Tracker report.
Personally, we can't even imagine what a smartphone will look like in 2014, nor what the market landscape, but assuming the current state of things, lets see what IDC says:
For the first half of 2010, vendors shipped a total of 119.4 million units or 55.5% more than the 76.8 million units shipped during the first half of 2009
"Android is the wild card, deserving close observation for the rest of this year and the years to come,"
IDC now expects the 2010 overall mobile phone market to grow 14.1%, or 1.5% higher than its previous forecast. Last year, the market declined 2.8%, the first such occurrence in Mobile Phone Tracker history
Despite uncertainty about the economy, the smartphone market is expected to increase 24.5% in 2011. However, smartphone growth will decline progressively over the course of IDC's five-year forecast period. In 2014, for example, the market is expected to rise by just 13.6%
No one smartphone OS will dominate mobile phones in the way that Microsoft has with Windows on the personal computer. "IDC believes the market will comfortably support up to five OS players over the next five years,"
Finally, the big news for Microsoft it they are expected to regain market share bumping from a low of 6.8% to 9.8% by 2014. While that's only a 3% change in overall market share, due to the increasingly huge numbers of smartphones we are talking about, it translates into a 43% change in volume, which is pretty significant (assuming its accuracy). At that point, Microsoft would only trail Android as far as speed of growth.
While no one predicts Microsoft to dominate the mobile OS field anytime soon, it's not too hard to imagine them being a major player by 2014, if they play their cards right.
Daniel Rubino is the Editor-in-chief of Windows Central, head reviewer, podcast co-host, and analyst. He has been here covering Microsoft since 2007 when this site was called WMExperts (and later Windows Phone Central). His interests include Windows, Microsoft Surface, laptops, next-gen computing, and for some reason, watches. Before all this tech stuff, he worked on a Ph.D. in linguistics and ran the projectors at movie theaters, which has done absolutely nothing for his career.
That's if trends follow the path IDC expects fo rthe next 4 years, things could turn out pretty different. For all we know Android growth could start to slow if/when WP7 starts to take off in the market. From the looks of that chart it seems that they expect Android and WP7 will take market share away from the others but not each other? I dunno how true that would be, WP7 could eat into future Android growth and thus make things pretty different a year from now.

dunno.. I worked for a company where we bought these IDC reports and they were grossly wrong. Not because they were inept, but how volatile this industry is. There are rumors that iOS comes to Verizon in Jan/Feb 11... how does that impact these numbers? So, yeah... anything can happen. HP could shake things up next year.

the first six months sales pace (3 months even) for wp7 will be critical to any loner range forecasts. coolness + lower or comprable prices + easy integration into lifestyles of people born since 1982 will be the hallmarks of good sales volume. we'll see...

they will a major player this year, noone with a brain would choose those fugly android phones over a wp7 unit.

This does not explain the situation?just let's see what will happen in the future

I guess it needs repeating: Lies, damned lies, and statistics. Microsoft has such a small market share at this point, even a 43.3% increase in sales would say nothing about the success of WP7. And let's say the forecast was slightly over optimistic in 2014 and Microsoft only garnered 8.8% market share which would equate to a 29.4% gain. Would we deem Microsoft a failure for falling short of the projected mark? Yet obviously a one percent difference is clearly in the confidence limits of the data presented above. I haven't seen the raw data, but it's quite possible that the entire projected Microsoft market share is in the noise. I would like to correct Malatesta on two points. First, there's no question that Microsoft will be a major player even if the sales figures don't show it. It's clear to anyone that Microsoft is finally committing the financial resources that WP7 will need to be a success. Finally, you might want to change the title (taking the accuracy of the numbers presented literally): "IDC's Five-year smartphone forecast: Windows Phone up 44.1% by 2014?"

i dont see android living past 2011. i just dont. windows phone 7 and web OS look 100 times better than any android phone. looks ARE everything when everyone goes for the iphone.

you guys completly forgot about web os am pretty sure webos is comming stronger and better with the 2.0 and tablet on 2011 ,i just cant wait to have a webos tablet and a anew and better smarth phone with webos in it
as me there are so many people waitting for web os cause we all pre and pixi users can say that web os is the best mobile operating system

If this is true, why i can't see any windows phones around me
Windows Central Newsletter
Thank you for signing up to Windows Central. You will receive a verification email shortly.
There was a problem. Please refresh the page and try again.