ID@Xbox Spotlight: Total Monkery discuss MagNets for Xbox One and Elementales for Windows Phone 8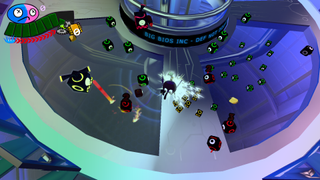 MagNets is a colourful upcoming ID@Xbox action puzzle game from the mind behind Rat Attack! - a similar title from the PS1/N64 era.
In MagNets - your charge is the recapture and recycling of malfunctioning Bloxkbots, maintenance droids who have inexplicably gone haywire. In order to achieve this, you enlist the help of your trusty MagNet, the game's signature mechanic which allows you to ensnare and wrangle the wayward robots.
We spoke to Total Monkery's technical director, Richard Weeks, who has turned his skills to games such as Viva Piñata and Bit Trip. In the interview, we talk ID@Xbox, the exclusive reveal of Elementales for Windows Phone, and of course, MagNets for Xbox One!
Q. 1) How would you describe MagNets in the space of a 140 character tweet?
RW: A fun, frantic, fiendish arena game with retro style. Battle rogue bloxbots with your electromagnetic nets and save Polarity City from doom!
Q. 2) MagNet's magnetic field mechanic seems to be quite unique - where did the idea for that come from?
RW: I worked on a game in the late 90s called Rat Attack (Playstation and N64) and that had a similar mechanic. We considered doing an update of that title, but it didn't go anywhere, so instead we took the idea and brought it up to date. It was a bit limited on the old hardware, and a lot of the ideas I wanted to do back then have been put into MagNets. We wanted to make something that was a bit different, not a FPS or a traditional shooter, something with no weapons. We think this worked out pretty well.
Q. 3) You have a rich dev history with Psygnosis, LucasArts and more - Psygnosis' games are pretty nostalgic for me as a 90s kid - what were your favourite titles you worked on from this era?
RW: That's a hard one as I've had some great experience in the games industry. I'd say Rat Attack was my favourite title from that era. It was a great game and didn't get the recognition it deserved. I've met multiple people who loved it as a kid. My first game Microcosm also has a big place as it was my introduction into the games industry. Some very long hours, the press didn't like it, and not being paid much didn't put a dampener on it. It was a game, a real game, and I was working on it. Looking back now, making CD video games was a bit of a dead-end but at the time it felt like the future.
Q. 4) Are there elements of old school games present in MagNets? Are there aspects of 90s games you wish were more prevalent in contemporary games?
RW: I'd say for mainstream gaming, what I really miss from the 90s were games that took a risk. A lot of the big budget games now are very safe and nothing much new is happening. Back in the 90s a lot of crazy titles came out. Some made money, some didn't and I think that is what has changed. Games cost a lot more money to produce, and companies don't want that risk element, so we get sequels and spinoffs. I'm also a big fan of what used to be called "Blue Sky Gaming" games with happy, colourful graphics and characters. Think Sonic, Mario, Banjo Kazooie, Crash Bandicoot and Jumping Flash. I'm seeing a resurgence of this at the moment, and MagNets was definitely shaped by that.
Q. 5) a) There's been some criticism of ID@Xbox in the media with regards to the parity clause and so on - How does ID@Xbox stack up against other distribution platforms? Has working with them been a good experience?
RW: Well, our first console release will be on Xbox so we can't really compare. We're happy to work with everyone, but Microsoft showed the most interest in getting MagNets onto their hardware, so we chose them first. I've worked on quite a few games for Microsoft and always found them to be a great company to work with, so we really went after trying to get onto ID. We've also started a new game which is favouring Microsoft as well (mobile first then Xbox). Look out for that at the end of May.
Q 5) b) Regarding the Windows Phone title, are there any details you can tease us with?
RW: Elementales is a puzzle game that uses the elemental powers of four brothers, so earth air, fire and water. They were all cursed to take on these forms and travelled to a land where they hope to lift the curse. It's an episodic game, and this first episode will be between 20-30 levels. It's theme was pirate based, so it's become more general of "beside the sea". We have five more episodes planned out and many more we could do if the game takes off.
The following screens are from a pre-alpha build of Elementales for Windows Phone. The final version will have improved shaders, effects, etc. Elementales is slated for a late May release!
Image 1 of 5
Q 5) c) How come you guys decided to target Windows Phone instead of the more popular competing platforms?
RW: It's part of Greenshoots which is sponsored by Microsoft, so we're favouring them. They are happy for us to release on other platforms, but we'll leave it a month or so before we release on iOS and Android. We're quite MS pro anyway. I've worked on multiple games for them over the years and we're all Windows users in the office. Have to say, love the Surface Pro tablets as well now that we have them.
Q. 6) I noted that MagNets and Elementales have been funded in part by the EU and the UK Regional Growth Fund - as a fellow Brit, I'm curious whether you think the Government does enough to support the UK games industry?
RW: For many years I don't think the government did anything for the industry. That's changing now as they are beginning to realise just how much money it brings in and how many people it employs. The new tax incentives that came in last year should help and I think there are more things planned. TIGA and UKIE do a great job in speaking for us all and they are working on getting the industry the recognition it deserves. For MagNets our funding was just from the EU, so no government funding. They have pots of money set aside for regions of the UK that need more help. Luckily we are one such region.
Q. 7) When can Xbox fans expect to get their hands on MagNets?
RW: We're hoping to get it out there in May or June. It'll be getting some graphics updates, more multiplayer levels and there are a few more surprises in store.
And that's a wrap!
Big thanks to Richard Weeks for saying hi to us. It's encouraging to see Microsoft enticing quality Windows Phone game development at a grassroots level. With the launch of Windows 10 just around the corner and the increased availability of platform agnostic engines like Unity, I'm continually hopeful that Windows Phone will experience a gaming renaissance throughout 2015.
MagNets is available now on various distribution platforms, with both a Steam and Xbox One version coming soon.
Elementales will be available on Windows Phone towards the end of May, with an Xbox One version arriving later on.
If you're a dev with the ID@Xbox program and would like to be featured on Windows Central, drop an email to jez@windowscentral.com
Windows Central Newsletter
Get the best of Windows Central in in your inbox, every day!