iHeartRadio finally returns to Windows Phone 8 with latest update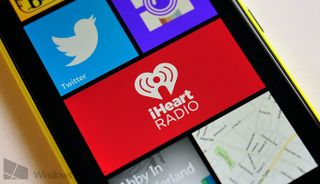 Just around six months ago we reported on how the popular streaming app iHeartRadio was pulled from the Windows Phone Store, with an error in it being "posted early". The issue surrounding the app involve it basically not working any longer, and it was generating quite a negative buzz in user reviews.
Well, here we are on July 1st and behold, iHeartRadio is back on Windows Phone 8 with a 1.0 release. And no, this isn't the same version we say in January as it has a fresh new coat of paint (aka redesigned) and features some nifty Windows Phone 8 tools, such as Lockscreen support.
The app launches nicely, asking permissions for location based services (to determine live radio stations in your vicinity) and to change your lockscreen when playing content (it defaults to a red screen when not active) you also get the doublewide tile support as well. It's also fast and fluid, which is a nice change from the previous version that exhibited some lag here and there. Finally streaming, well, streamed…all is working in that regard.
The app boasts over 1,500 live radio stations that you can listen to on your phone, plus the ability to "create a station" based off your favorite genre or music. They added "like" "dislike" options to the service back in March 2012 and those are still present here to better refine what song comes next. Heck, there's even a sleep timer now so that you can doze off to your music.
Way before Pandora hit Windows Phone, iHeartRadio was one of our favorite apps. When it disappeared, we thought it would only be for a few weeks, but their time in the desert turned out to be longer than expected. All in all, iHeartRadio for Windows Phone 8 seems like it has been worth the wait.
Download iHeartRadio for Windows Phone 8 here in the Store. Thanks, Josh, Paul and Monty, for the tips!
Windows Central Newsletter
Get the best of Windows Central in in your inbox, every day!
Daniel Rubino is the Editor-in-chief of Windows Central, head reviewer, podcast co-host, and analyst. He has been covering Microsoft since 2007 when this site was called WMExperts (and later Windows Phone Central). His interests include Windows, laptops, next-gen computing, and for some reason, watches. Before all this tech stuff, he worked on a Ph.D. in linguistics, watched people sleep (for medical purposes!), and ran the projectors at movie theaters because it was fun.
Was disappointed when it disappeared. Now I'm using Pandora. But again, its nice to have choices.

lamesauce....they broke app publishing continuity. Good grief even Walgreens can figure this out!

What is app publishing continuity?

same guid for app. In the case of Walgreens I got notified of an update from the old shitty version to the new magical WP8 optimized version.
I didn't have to go searching for some new improved version. It really hurts app discovery if you already have the old crappy version installed and there is a new and improved version floating around out there.

I think you're brushing over something: they have a dedicated, re-written WP8 app that won't run on WP7. The WP7 is still on the Store as a separate download. That allows the devs to update watch platform when necessary. Nothing wrong with have two versions.

you can have versions published for both devices on the same guid. I just gave an example. I'm not "brushing over" anything. I'm actually exposing bad app publishing practices.

I think you might be misunderstanding the problem. On my Lumia 920, I had the app for many months. I read this article, followed the link to download the app and expected to see "Update App" when I got there. But instead, it downloaded as a separate app. Okay, fine. So I go to uninstall the old app, and it uninstalls the new one. Fun stuff. All on WP8.

awesome. Just started really using this on my surface. Not aure how often I'd use iHeartradio with my limiting 2GB AT&T data caps, but at least I can pick up that evolution miami radio over hotel wifi for them inevitable summer hotel parties when I dont have my surface nearvby

About time! I never had issues with the old version.

Woah! I did not see this coming! I guess I just settled on them being in a perpetual, "Coming soon" state forever. Happy it's back

Love official apps, android better watch out, once we get close to app parity on the apps people want, they will want other differentiating features, such as Xbox, live tiles, functioning office :)

Why is this listed in the UK store if I'm not allowed to use it

If you clicked the link you'll be able to see it but probably won't see it by searching directly. I thought it was US only anyway...In Australia I can only access iheartradio via the Spotify software app

I downloaded it by searching directly on my phone. I wasn't able to sign up though.

Check another one off the but-it's-not-on-windows-phone sheet. <3

God finnaly!!!!!! I have been waiting for this for so long!!!!!

Sweet, was mad when they pulled it. Good to see them again...

Great update. Use to use the heck out of this service as I found the predictive artists/songs to be the best for me.
That being said, they STILL don't allow you to skip tracks from the volume controls. I sent in the suggestion like four times, too. Good grief, is it that hard to implement?

User country not supported....seriously

What country are you in? Petoria?

Same here (Austria). Says location services are off (they are on on the settings page) and there is no internet connection (but dl's the 'spotlight').
ah, and then - hint, hint - it gives only US states as manual locations to select from. two thumbs down.

Hmm..looks like a nice app. Gotta search it on the store, right now!

More reason not to go for Xbox music now we have Pandora iheart Nokia music metro radio all free

They're all radios. If you want to pick exactly what you want to listen to, Xbox music is a better choice.

Exactly. As well as downloading for offline use (or simply playing music without having to stream it)

not really, cause when I want to listen to EXACTLY what I want it usually isn't in XBM library.

Free vs 120$ and I understand u get what you paid for but its the same song same singer same album and no the song does not sound better on xbm than any other free music app

Hmm... I guess I've been using the "old" app over the last several months to stream a local station that I can't receive in the office over-the-air. No difficulty. Missed the news that it was gone. Good news that it's back in the Marketplace.

Moved to TuneIn radio, and could not be happier...

It says internet radio!! That means any stream?! But no UK stations!! What's all that about?!

My best friend has iHeartRadio on her Lumia 710. I tried creating personalized stations for her, but it never worked. Will it work now, with this updated version?

Works like a charm. Logged in via Facebook an now rocking to some dance tracks from Miami. Nice.

Damn! About time! Been waiting for this. And its great!

I hate it when they make it region specific :-X

I have been waiting for this, just downloaded it but never finish loading streams. Sadly, I return to Tunein. Still the best here (cannot download pandora in indonesian store)

So, why does this app need access to my microphone!?

so they can spy on you, of course... :)

Ah. I missed that when I thumbed through the app. Thanks.

And so they can spy on you. Or so the NSA can spy on you.

Is there any music streaming app that can actually work in Canada? This is annoying I can't use Pandora or Spotify either. We need Songza

Took long enough geeeeeezzzzz !!!


Finally! Now I'll be able to get the Steelers Radio station.
Looks like Nokia Music is getting bumped off my home screen.

That's a good looking UI.

I personally don't want a clear channel app, but its glad to see it back for those who want it.

I used to use I Heart Radio but then I moved to Windows Phone 8 and discovered Audiocloud app for Soundcloud. Sorry but nothing beats Soundcloud for finding new electronic music and Audiocloud is an excellent app to access your Soundcloud account.

Installed it earlier and was pleasantly surprised to see my custom stations appearing on my 920 AND that they were playable. I wonder if custom stations will work on my friend's 710.

Yep not available in Australia :/

It's great having the official app from iHeartRadio again, but where did the option to Pin to Start go? I've noticed the same thing with Windows 8.1 Preview OS (now unable to pin URL shortcuts to the Start screen).

Its there on the now playing screen app bar

Unfortunately, its not available for Indian marketplace... :(

Now I can stop paying for Sirius...this and Tune-In Radio and I'm all set. Good to have iHeart back. Nokia Music just dropped off the home screen...
Windows Central Newsletter
Thank you for signing up to Windows Central. You will receive a verification email shortly.
There was a problem. Please refresh the page and try again.