Iliad ends its bid to acquire T-Mobile US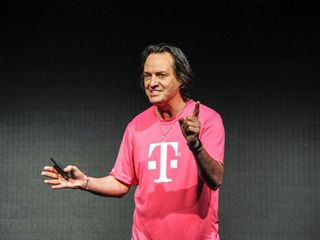 French telecom Iliad has decided to end its efforts to acquire T-Mobile, announcing today that parent company Deutsche Telekom and members of T-Mobile's board "have refused to entertain its new Offer."
Illad had first announced plans to offer $15 billion in cash for 56.6 percent of T-Mobile in July, which was quickly refused by the company. Illad announced earlier in October a plan to increase its offer, which would have seen it take a 67 percent stake in T-Mobile at $36 a share.
Today, Illad said:
So far, T-Mobile has yet to respond to Illad's decision. What do you think of Illad bowing out of their plans?
Source: Illad via MC Cobb on Twitter
Windows Central Newsletter
Get the best of Windows Central in your inbox, every day!
Need more money suckas! Tmobile isn't going anywhere ('o')

They are the perfect buyer. Probably a better owner than t-mobile Germany.

The business decisions made by T-Mobile to its customers is very attractive to other big name companies to acquire it before they become huge. Better buy some T-Mobile stock before they become even bigger

I've actually thought of that. They have been increasing lately.

Hope that T-Mobile confidence is coming from them doing well, not greed or arrogance.

They're picking up more customers than the other big carriers since they started with the uncarrier changes

Meaning they'll never get FTC approval.

Wrong! This would easily get approved. There would still be 4 Big companies. None of the other 3 US companies would pass. With that said I'm glad Tmobile isn't selling out. Posted via Windows Phone Central App

Shame. Iliad might have actually released updates for their WP handsets. T-Mobile so far doesn't seem interested in doing so.

Don't sell. Tmobile is actually changing the rules in US market quick their bold ideas unlike the other two who just tags along.

I second this... Tmobile is truly disrupting the consumer-hating policies the big companies have had in place for years.

I disagree. While TMobile may have some good policies here and there, a lot of what they are doing is overrated.

They can only do this because they leech some of their network from the big carrier. Without that, they would have to charge as much as the other companies to keep expanding and maintain such a large network.

That's not true. T-Mobile is not an MVNO, they're not leeching anything

They refuse to carry high end WP. They refuse to give the WP8.1 update.

They're getting the HTC one M8 for windows which is a high end WP.

But you can bring an unlocked phone to T-Mobile and pay $60 a month for unlimited everything

I was in middle school when I remember news of Duetsche Telekom trying to offload tmo us....... That was more than 10yrs ago is all I'm saying

As long as their plans keep going down in $$$$$ and better in quality. I am good.

I'd rather see Dish buy it, they got spectrum and US customers. If not them I think they'd do great on their own

Back in July, T-Mobile was at $34 a share, now they are at $27 a share and getting lower. They couldn't get a break up fee from Softbank/Sprint because the deal wasn't finalized yet like they did from AT&T.

All they need is someone like carl icahn getting involved

In Europe t mobiles known for a shitty service and the USA for being up for sale , t mobile gives false promises and craps on you later on

They don't exactly have the best service in the US either.

Short and sweet! Stick it telecom!

If MS could obtain t-mo and turn them into Ms store as well as carrier then it will boost more sale for windows product and still maintain wireless carrier business. Also all MS current dept store add wireless carrier as well. This way tmo store have more products to sell instead of waiting for people sign up plan, upgrade, etc. Let say if i have tmo store, I don't just want to sell phone and tablet, I want to sell games, Xbox, Kinect, software, more accessories, more windows phone choices, PC, laptop, notebook, and many more. This could boost up more of my own business and MS too. Is this a good suggestion or comment?

The issue is that would make releasing devices to other carriers more difficult as they would then be competing with them. Also the cost of maintaining the network probably kills the dream of the revenue added.