IM+ can't use Windows Live Messenger due to Microsoft policy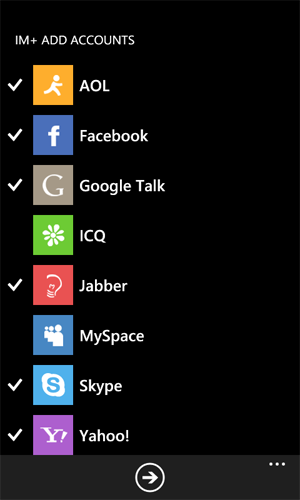 IM+ was submitted to the Marketplace today, and we are all excited for it's arrival (see our hands on video tour). It just cannot get approved quickly enough. But the developers, Shape Services, announced today that it will not have Windows Live Messenger support. The reason? Microsoft doesn't allow it. They are seemingly taking Apple's approach, and not allowing apps that they think will duplicate functionality. Of course, that functionality doesn't exist yet, so maybe there is something else going on that we don't know about. It is worth nothing that IM+ for Windows Mobile also doesn't support Windows Live Messenger, so it's not an OS thing.
On one hand, we all know that WLM will be one of the built in services in Mango, so the support will be seamless, and most likely excellent. On the other hand, it sure would be nice to be able to use the service now. Although Skype has more users, Windows Live Messenger is no slouch, with an estimated 330 million active users, more than AIM or Gtalk (at least, according to Wikipedia). The sooner those users see feature parity with iOS and Android, the better.
Source: Tej Palladino Peters (Facebook); via: WMPoweruser
Windows Central Newsletter
Get the best of Windows Central in in your inbox, every day!
Not really a huge deal. Sure it is a bummer now, but once Mango arrives and the way it will be cooked into WP7, it would be more of a hassle to deal with removing it from IM+ down the road.

Come on Microsoft, don't be a douche. When you guys announced WP7 I thought it would be a great mesh of iOS and Android as far as the security of the ecosystem and the functionality afforded to the user.But you've been leaning WAY too far toward the Apple sice.

I completely disagree with this assessment. Microsoft is no where near as controlling nor arrogant as Apple--they do listen to their customers and developers.MSN/Windows Live Messenger is THEIR network and if they want to keep native to the OS, tie into Messaging and everything else, that's their prerogative as far as I'm concerned.

They are far better at listening to developers I agree, but I wish Microsoft treated WP7 just a TAD more like Windows on the desktop.If these smartphones really are supposed to become the main technology portals of the future, it can't be done through locked down ecosystems.

Agreed with the comment above, (first comment).That's a moving feature in Mango, txt/chat with SMS, FB & MSN all in one... So, WP would rather you use their intergrations to chat on MSN.I'm stoked about this app... I use Google Chat more than MSN or Facebook anyway. MSN will come with Mango, so WP7 will soon all the forums you'll need to chat.

I don't understand why MS doesn't allow this. All they allow is the still sucky excuse for a messenger by Miyowa. They even pulled the Li'Messenger from the marketplace before. I still have it on my phone but it stopped working like a month ago or something. One would think a freakin microsoft windows phone relying so much on live services would have live messenger support. Mango can't get here soon enough.

Well, it supports jabber, just get a MSN transport through jabber, and you will be set.

For clarification, IM+ for Windows Mobile does support Messenger. And Yahoo!, AOL, Google Talk, ICQ, Jabber, MySpace, Facebook, Twitter and Skype. Actually I am using it right now on my Tilt2 talking to Windows Live Messenger on my desktop. I can sort of understanding Microsoft's reasoning, but if they plan to supply a superior product what are they so afraid of. Some users might like the idea of using IM+ to navigate across multiple platforms, including Messenger, all with a swipe.

might be trying to make the msn feature stand out a bit more for the Mango update? i dont know, just guess, it sounds more logical though, and if that is the case they might start allowing the integration into other apps right after Mango strikes lol

Interesting that the previous version for Windows Mobile did not have the support either, in the WM days I used to use Palringo for all messaging needs so it was certainly possible, lets hope the Market Place rules are looked at in the future.I do agree that Mango will technically mean this is not needed but until then it would be worth using.There are other Live Messenger apps around which are available already on Market Place so it seems strange that this app is not allowed to use Messenger unless it is somehow using a more indepth system?

Am not getting many of your guys' comments.MSN chat will be integrated into Mango, in their SMS/FB/MSN - Text/Chat feature. Why would Microsoft allow another app/company to use their feature if that is a STAR feature in their new update.Microsoft/WP does some boneheaded things that we can't figure out, such as not having copy/cut/paste or custom ringtones in their original WP. Not even sure how that happen in the first place, but anyway... Again, think if this was your business and you had a MAIN feature/product you were going to present... Would you let another company/developers use your product/feature in the same sytem you were presenting it to??? And, its YOUR System!!! Anyway... IM+ should be badass, can't wait for it to get approved...

im gonna just say this about the not having copy/paste and custom ringtone in original wp71 they were still working on it2 a polished product out would be better for their image than a half baked one3 i think they were trying to design something unique and innovative so the delay4 they had to release the OS quick due to how the market is movingjust my 2c, could be wrong but i say if those were the reasons i have no problems with that

Does this mean Microsoft will also block Google Maps and Google Earth.WIll MS block them because MS want to impose its **** Bing and Bing Map?!It can't be. If this behaviour is confirmed I am leaving WP7.I want the freedom and the right to chose between different providers with full functionalities.

they don't block them if im correct, or to make this easier, if u have a wp7 just try it out....
Windows Central Newsletter
Thank you for signing up to Windows Central. You will receive a verification email shortly.
There was a problem. Please refresh the page and try again.