India to get an updated version of Cortana with Windows 10 Anniversary Update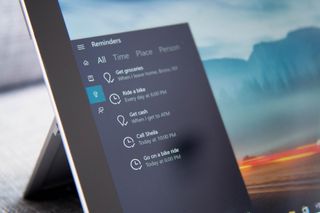 Microsoft is set to roll out an updated version of Cortana to India with the Windows 10 Anniversary Update. The update will be available for free to Windows 10 users over the summer.
In an interview with Economic Times, Program Manager for Cortana Marcus Ash revealed that Microsoft is focused on "getting it right" for its "most important countries," which include India, China, and Japan.
The new version of Cortana will also be available in the U.S., the UK, China, France, Italy, Germany, Spain, Mexico and Brazil. Microsoft showed off improvements to Cortana at Build, highlighting the Cortana Intelligence Suite, a framework that leverages big data, machine learning, and analytics to build intelligent bots that will be able to understand natural language input.
What would you guys like to see added to Cortana's feature set in India? Let us know in the comments.
We want every feature of Cortana as it is in USA. like live score of cricket, reviews of bollywood movies, etc

Reviews of Bollywood movies would be linked to book my show. But u cant trust it bcoz many reviews are paid today. Cricket score and even Epl score should be available.

You can get that from google. Buy a good android phone. Google gives more importance to India and Indian market than Microsoft. Sent using Lumia 640 xl w10m build 14295

Guys who like windows OS will stick on to it.

Yeah. I know that. I really liked windows phone 8.1 but windows 10 mobile is a big let down.

Awesome..waiting for that

Haha Posted via the Windows Central App for Android

That's nice but when is the UK going to be able to connect more accounts than just Dynamics CRM, LinkedIn, Office 365 and Xbox Live?

Nope, the ones I listed are the only ones available

It's going to be a while... =/ Posted from WC 920, 1520, 920, 635, 640 or 950XL

Australia?? Posted via the Windows Central App for Android

Updated or not I just get "interests are not available right now".
Cant change the size of tiles on start.

Ask in forums. Posted from Windows Central for XL

Theer is no chance of cortana being available for Pakistan, just like there are no downloadable maps for us, yes im here in PK too :) i guess we will have to stick with the USA region settings for now to use cortanat, and when its comes for india i will change the region to india :P would love to have cortana in urdu/hindi :D

when in the philippines? we still dont have cortana :(

Change region to USA. I have Cortana here in PH

i know, but we still want to have our own right? even on xbox, my xbox here dont have ph region, i use usa rather. but we want to have here, like in iOS and Android :), you feel me? haha

More than half of Europe doesn't have Cortana. There's your answer. Posted via the Windows Central App for Android

When in Kerala..? :P :P :D

Then i must ask for a Hyderabadi version too ;)

When in Antarctica? Posted from Windows Central for Windows 10

What about NZ Posted from an Oric-1

Acche din aa gye he....>happy days are here for india

Vipaksh ka hamla shuru. Pappu Gandhi ne dadhi badhakar,mummy ko dekhte hue hamla shuru Kara :p

I still don't see paytm integration to pay my mobile, internet bills and others which I receive as emails. Wasn't this feature teased like over 8 months now? I would like to see cricket scores on the live tile when there are major games being played like how it does with NFL and NBA games in US. Bing predictor would be a nice add-on. Train running status/ PNR status like features are welcome too because majority of population still relies on railways. Posted via the Windows Central App for Android

I suppose already Paytm integration..pnr status..Train station details are available to general public i myself used it many times. Better you check your cortana notebook settings. Posted from Windows Central for Windows 10

Even I don't see any PAYTM integration, PNR status etc...nothing in notebook or settings... can someone share screenshots if they are able to see them

Am able to see PNR Status automatically but no paytm integration

Am able to see PNR Status automatically but no paytm integration

Go to notebook in Cortana there you will see am option for track my bills enable it and you must also have a Paytm app in your mobile!! Posted from Windows Central for Windows 10

Why Oceania countries are not getting even basic Cortana?? Here in New Zealand we still didn't receive basic Cortana! This is an English speaking Country, is it really hard for Microsoft to release Cortana here?

I don`t understand 1 thing, why isn`t Cortana generally available, I know English, I can speak it, but for me to use it in Romania I have to switch my location to UK or US or w/e ... why not lift this useless limitation ?

It's all to do with the backend services being in place for your country, the UK didn't get Cortana straight away if you remember ;)

I understand that not every single thing will work but at least I can use some of them... Just make a notice that because I`m not in a supported region not every service will be available. I keep reading that Cortana can notice me on my PC when I get SMS and other stuff... this should be available no matter what region..

Yeah thats so annoying both apple and android have my region (eu/netherlands) how can microsoft not release it?

For pc user or phone user??

And when we're gonna get that anniversary update?

When in Philippines? Microsoft must.

Lumia 525 has all specification which requires for W10 update...dnt know y didn't he released for that

The 525 uses the Snapdragon S4 which is why it didn't receive the update, you can still get W10M via the insider preview. Just use the Release Preview ring, you'll only get updates up to Redstone though.

I hope this includes mobile as well! ..

Balance updates with voice and tv reminders

The present Cortana India really sucks. Speaks in a robotic accent which endears itself to no one. Please give us Indian public school or standard UK type accent in her voice

When in other places than India?

Ola integration and zomato integration. Also FLIPKART's delivery notification and RAILWAYS enquiry and bookings. For the time being these are the India specific features I expect(rather need)

Canada is getting shafted again!?

Neo..it means there is chance to get official W10 for 525???

Yes, but the release preview IS the RTM

it is good to hear it but Cortana for android is available in us only know when it will be released to other regions in android platform

When is cortana coming to East Africa?

If only Cortana India didn't sound like a creepy aunt...

First thing i would like to see is Cortana available in English(India). Anything else is great too ;)

Cortana update should be released with all regional languages of India, I mean the major languages spoken by the people in India...
Windows Central Newsletter
Thank you for signing up to Windows Central. You will receive a verification email shortly.
There was a problem. Please refresh the page and try again.