Indian manufacturer Xolo set to launch the lightest smartphone in the world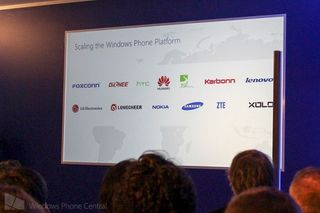 After unveiling its first Windows 8.1 tablet last week, Indian manufacturer Xolo is getting ready to launch a Windows Phone handset, which will reportedly be the lightest smartphone in the world. Unnamed sources revealed to the Times of India that Xolo has managed to bring the overall weight of the smartphone, which will be sold in the Xolo Win series, to under 100g.
That would make the smartphone the lightest smartphone in the world, taking the crown from the Galaxy S4 mini, which weighs 107g. While the exact details of the Xolo Win smartphone weren't made public, the device will reportedly feature a 4.7-inch display and will be powered by Qualcomm's Snapdragon 200 CPU.
The smartphone is rumored to be targeted at the budget segment and is said to be available for Rs. 12,000 ($200). At this price point, there isn't much competition (for now), with the Lumia 630 emerging as the main competitor at a price of around Rs. 10,115 ($170). It remains to be seen whether the Xolo Windows smartphone will similarly be offered exclusively online, much like Xolo's Win tablet (opens in new tab).
Xolo, which is a subsidiary of Indian manufacturer Lava Mobiles, is known to bring innovative products to Indian customers. Whereas most Indian vendors have resorted to using MediaTek SoCs in their offerings, Xolo has launched products with Intel's Atom Z2460 processors, Nvidia's Tegra 3 and Tegra 4, and has recently collaborated with AMD in bringing the AMD A4 series APU to the Xolo Windows tablet.
While the moniker of the lightest smartphone in the world is interesting, Xolo won't be the first Indian vendor to launch a Windows Phone handset, as Micromax is scheduled to launch its offering in this segment later today. We'll be covering the event, so do check back to know more details of Micromax's first Windows Phone handset.
Thanks for the tip Arpit!
Source: The Times of India
Bring it on! The more, the merrier! And "...as Micromax is scheduled to launch its offering in this segment later today. " is that certain?

Yeah. Event starts at around 1 PM.

Yeah they are gonna launch phone with quadcore processor huge processor 1-2gb ram... Something like dat

Micromax just launched the phones. Cheap but power packed it seems. Leather back as they said.

So the micromax WP device comes with Qualcomm or mediatek chipset? If it is Qualcomm than the device would be great.

Best of all, features 1GB RAM and 8GB on-board storage. A 720p screen as well. This is for the 5 inch model. The 4 inch model has half of it.

All wp7.x thru 8 use Qualcomm as an official supplier thats a chassis requirement. Whereas windows embedded handheld uses practically any arm supplier like windows rt did

Yeah... Mouth watering features!

It gives something for MS phone designers to shoot at - losing weight.

I gave this tip yesterday still no name for me, its really BAD,
Anyway happy for increasing WP manufacturers.

Awe that's not good, considering the article being published today, sourced TOI.

I read yesterday on TOI app on Lumia 720

Well that sucks. Let me take a look.

Credited :) Didn't see your mail in the mailbox before. Sorry about that.

Thnx for my name & reply so fast

Go go go conquer India windows phone

Still it won't feel good without Nokia exclusive applications. I would like to stick to Lumia series only.

I think the Indian Market would like to disagree with you.

agree and also no maufacturer ralking about puremotion HD+, clearblack technology,so windows phone are incomplete without it,i think these are just for cheap indians who want everything in cheap and NO quality!

It was imp for Microsoft to buy Nokia so thay they can provide the exclusive apps to other Oem phones too. Microsft will surely provide the apps which are in Lumia phones. Now I hope other OEM make decent quality camera.

HTC is doing nothing for windows phone. Their sales of android hasn't been that kind of remarkable. So they have an option to excel more in windows phone os. They should 2-3 midrange and low budget devices.

I agree.. really they are a good manufacturer, it would have been great to have a device in the market of such company

Micromax announced the phones w121 & w09 both coming under 10000...9500 & 6400 respectively...will be available from next month onwards..1st one is 5 inch device and other one with 4...supporting hd and normal display respectively....india jai ho....

http://wmpoweruser.com/good-news-bad-news-for-microsoft-in-india/

Well, Micromax W092 and W191 have just been launched by Micromax. All you guys might want to have a look. Posted from my Nokia Lumia 720. XP

Dude you still use XP why don't you upgrade to 8.1 ?

95% I hate being Indian This is 5% of the being proud Bogans in Australia need to stop digging holes in the ground like a bunch of dwarfs and take notice of developing countries kickin our ass. Tony Abbott I'm talkin to you scumbag

We need more Nokia phones with 1gb Ram and quad Processor like 636.These phones are just another shit.Xolo android phones didn't cause that much attraction and same will be for this.

Maybe they'd call it Xolo Air ;)
Windows Central Newsletter
Get the best of Windows Central in in your inbox, every day!
Thank you for signing up to Windows Central. You will receive a verification email shortly.
There was a problem. Please refresh the page and try again.