XOLO Win, the Windows 8.1 tablet, launches in India for INR 19,990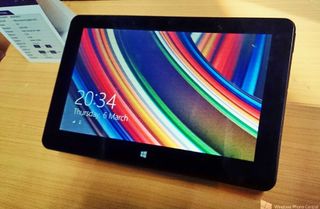 And finally it's here! XOLO Win, the maiden Windows 8.1 tablet from XOLO, the premium devices brand from LAVA International, was first showcased at the CES 2014 in January and has just gone on sale.
The tablet is now available exclusively on Flipkart.com, one of India's largest online retailer, for INR 19,990 ($350). You could also exchange your old smartphone or tablet to get up to INR 3,000-5,000 off on the price. There are also a few launch day offers that will get you a cashback, 50% off on next purchase of Bluetooth Keyboard, and INR 1500 worth of pre-selected eBooks.
The XOLO Win is a 10.1-inch multi-touch tablet with a sleek aluminum body and a silver finish at the back. The tablet feels quite sturdy and is well-built, but isn't too heavy. The LED display has a 1366x768 resolution and has touchscreen recognition of 10 fingers. Powered by an AMD Temash A4-1200 processor with a Radeon HD 8180 GPU and 2GB RAM with 32GB internal memory, the tablet checks all the right boxes in the specifications sheet. There's a microHDMI port, a mini USB port, and a microSD card slot to extend the tablet's capability.
The Windows 8.1 tablet comes bundled with Microsoft Office, and other signature experiences from Microsoft like Skype, OneDrive, and Bing.
XOLO Win Specifications
1 GHz AMD Temash A4-1200 Processor
Radeon HD 8180 GPU
2 GB RAM
32 GB Internal Memory
10.1-inch LED Touchscreen
Multi-Touch and Multi-Display
2 MP Primary Camera
1 MP HD Front Webcam
Windows 8.1 OS
HDMI Port and USB Connectivity
6 hours battery life
You can buy the XOLO Win or check out more details at Flipkart.com here (opens in new tab). Do you think it's a fine piece of hardware at an affordable price? Would you consider buying it or recommending it to a friend or family member? Let us know in the comments.
Windows Central Newsletter
Get the best of Windows Central in your inbox, every day!
Why nooo active digitizer?!!

How does the A4-1200 compare to baytrail in terms of power and battery performance?

I also want to know about this :3

just looked it up. according to cinebench scores the z3740 (dvp8, encore, miix2 etc..) is 3 times faster...meaning this is so not worth it.

Well I can tell you off the top of my head that most FULL Windows 8.1 tablets get around 9 hours of battery life with Atom Baytrail. This AMD offering only says up to 6 hours of battery life. Just that alone I would consider this not worth the price. And from benchmarks I believe the Atom Baytrail is one of the fastest SoC available right now. Bay Trail-T, clocked at just 1.1GHz, is around 30% faster than Qualcomm's Snapdragon 800 clocked at 2.3GHz, the fastest ARM chip on the market.

The A4-1200 is pretty terrible. I'm surprised they didn't at least go for the A6-1450 for that price.

Another beautiful addition.

Hp Omni 10 is ₹23.5k with better resolution... And better after sales support being HP... Hardly any price difference...

I have been using the hp Omni 10 for about 3 months now, discarding my Laptop for the much-lighter Tablet and am happy about it. Yes, there are occasional freezes - especially when I try to access the extra 32 GB microSD I put in, but for the 25K I paid for it, overall, it works just fine! After all, one consumes content most of the time - for content creation, I go all the way back to my trusted desktop! :P I do miss a Bluetooth Keyboard on the Omni 10 though - typing on any Soft keyboard (that gobbles up more than a third of your Tablets precious Screen real estate) is not merely slow, its frustrating as well! :)

Sweet!
Not sure about the processor but the specs are worth the bucks. Curious to see how it sells on flipkart...
.................................
I hope those Windows Phones phones declared at the //build also gets released soon.

Great ... Perfect competition for traditional laptops :)

LOL...
I've got to agree with you... Those low priced acer and toshiba lappies...

just looked up the CPU scores on notebook check and this is about three times slower on cinebench benchmark as well as 3dmark and other benchmarks than the z3740. This is so disappointing =/

Hp Omni 10 on Amazon India was at 23.5k last week...

i live in the US i have no intention of purchasing this, i just want affordable but quality windows devices for everyone. I have a dvp8 i purchased for 220 brand new and that blows this out of the water even though it's only 8 inches.

Would love to pick up a Surface 3 but not Available, and since I'm going to India this summer sounds interesting. I hope WPC come up with a hands on video

Hp Omni 10 or dell venue 8 pro is much better for the price.

+1 I love my Omni 10, very under - rated tablet IMO. Although I am tempted by the new Surface Pro 3. Very pricey though Posted via the WPC App for Android!

finally a user with the Omni 10! tell me sir, how well does the tablet perform? battery? smoothness? and does it feel "solid" in the hands?? Thanks in advance.

It's a nice tablet. The battery is better than any Android tablet I've had, and yes it feels very solid to hold. The screen is bright and clear, and full HD, and it's snappy, I haven't had any lag on mine at all, although I don't really play games or anything, mainly just Internet browsing, reading and watching movies. For the money, the Omni 10 is a great buy IMO Posted via the WPC App for Android!

Oh my, These are the types of OEMs windows 8 tablets do not need. the spec SUCKS. sucks very badly. Some poor customers are going to but it, then hate it with all their geing and blame Microsoft when it is these shameless OEM that have zero design flair or thought process. That table image looks thick, very thick, the sides looks like someone just puch holes on its side, 6 hours battery life, horribly slow cpu/gpu combo and that lame crap screen resolution for $350.00 what's the problem with these guys. Absolutely not sexy looking at all. Make it good, good specs, good battery life, sexy looking for pete'a sake, good screen resolution if it ends up being 8" slim thin and sexy for $350, people will buy it, stop making windows tablets obtuse, ugly, snail crawling, very wanting. Folks sorry for my rants, I am just so fed up with these aweful OEMs who call themselves partners and bring uglies for sale.

Agree, it's not remotely competitive.

Keep it coming keep it coming. Need more windows 8 tabs in India. Come on MS launch surface too.

Knowing AMD, gameplay should be head and shoulders better than a comparable Intel chip.

Should be but most likely at the expense of battery life as 6 hours is petty for a tablet nowadays. Either Xolo have packed a small battery to reduce weight or AMD really need to work on power efficiency. Without looking deeper into the specs its hard to tell.

Great thing. But WTF is Microsoft not releasing Surface tablets in India?

DV8-Pro still looks like the one to beat.

This is a first, a tablet running on a Temash A4-1200. I wonder what the battery life will be like. Edit: Scratch that, 6 hours battery life??? You will probably get at most 5...

I just bought Dell Inspiron 11-3000 from US...for $400.... Although.... Xolo's spec seems a bit shy to my dell's, but at a price of $300 and sporting desktop features....handsome!!!

Should cut down the price. No one will pay₹ 19900 for xolo

For the price and the exchange offer on flipkart I would buy this tablet. It seems worth it in terms of functionality, sprcification and price. I am yet to watch a full review on this tablet. If any one has a complete review (Review done after the reviewer has used the tablet extensively) please do let me know. I also have noticed in some first preview videos on YouTube that the Windows Capacitive button is not very responsive. The previewers would have to tap 2 sometimes 3 times to engage that capacitive button... Any thoughts?

This tablet it seems has been permanently discontinued. Does anybody know why?