India's HDFC Bank revamps its app as part of a new Go Digital campaign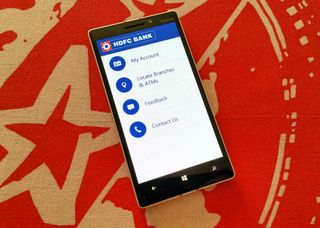 On the sidelines of the launch of HDFC Bank's Go Digital campaign in Varanasi, the spiritual capital of India, the bank's Windows Phone app got a fine update as well, with more capabilities coming soon. The launch saw HDFC Bank announcing a technology agnostic Bank Aap Ki Muththi Mein (Bank in your hand) offering which aims to turn a mobile phone into a bank branch.
The official HDFC Bank app has been very efficient, and has garnered positive reviews and small updates every now and then, but a major refresh in the first week of December went awry. The update brought a set of new features allowing customers to use the app without logging in for contacting the bank for various services and support channels, sharing feedback, and locating nearby ATMs and bank branches.
However, the update prevented a lot of users on a certain Windows Phone 8.1 build to login to one's account. At the event, when I brought this to the notice of the team, I was told that the upcoming update will take care of it, and the test build I tried worked well which has recently been published on the Store as version 2.3.0.0.
As part of the new campaign, the next update will bring over 75 transactions to the app – by far the widest range of transactions conceivable. Besides essential transactions such as booking fixed and recurring deposits, bill and tax payments, buying insurance and mutual funds, the app will also allow customers, for the first time in the country, to buy instantly all kind of loans. The app will offer fully customized user experience, location-specific promotions, and offers/deals on shopping, dining, movies and entertainment.
Incidentally, the bank's Go Digital initiative is technology agnostic and serves smartphone users as well as basic feature phones that support internet browsing. For phones that do not support internet browsing, there's SMS banking and missed-call banking too.
I spoke to Nitin Chugh, Head – Digital Banking, HDFC Bank at the event, and he asserted that Bank Aap Ki Muththi Mein literally turns a mobile phone into a bank branch that is with you round-the-clock, wherever you are. He shared that while there are close to 900 million mobile users in India, just about 40 million of them use mobile banking. In 2014, 55% of the bank customers use Internet and mobile banking to complete their banking transactions, which is significantly higher than the corresponding figure in 2001 of just 3%.
As an HDFC Bank customer, I use the app almost on a daily basis and it's a pretty good app offering comprehensive capabilities at par with or better than other mobile banking apps in India. With the upcoming update, it will take mobile transactions to a different level altogether, and I look forward to it.
Do you have an issue with WC catering to a global audience?

But the ass still had to comment something..!!

Guys...please...stop lashing out at every guy here who borders anti India or Pro America...jumping at the slightest signs of aggression or taunt doesn't make us look any good...so please... simmer down...lets not hit out at people Every.Single.Time.

Your right there..But they should too understand that..!! Ria..Oh sorry..Nair Bro..!! Right..??

Well somebody's gotta be first at it. And i am more than comfortable being first, what say you? Lash back...but lesser if you will....without name calling :D And yup its Nair!

This app blows my mind with the convenience and ease it brings.

Be careful, you don't want your mind blown up by a banking app. It keeps confidential and sensitive information.
Blow up at your own risk.

Made lives of Indian's more convenient ..... But I hope that they don't abandon this app jst like most devs do on WP.

Devs are not abandoning apps on WP anymore.

First para, correction needed: "The bank's Windows Phone..." The word "app" is missing.

Baxi, You article on this event is quite late... Late means reporting after more than 3 weeks after the event.

Did you read the article..?

Umm.. I did and I still feel that it has been reported late. The update to fix the login issue got pushed a few days back. The mention of an upcoming update is interesting though. I hope its not the same update we got recently.

The article focuses on the upcoming update. No, it's not published yet.

I mentioned details about the last update since we didn't report it when it arrived because I could never login to the account.

Any update on the yes bank app... You said was coming Posted via the Windows Phone Central App for Android

Many of the features that you discussed here, like accessing app without logging in, was already there in KOTAK Bank app. That app is also awesome providing notifications etc. You must go through that app once.

Awesome... Hopefully the new update brings notifications just like Kotak Mahindra Bank App. That is the only Bank app that is truly digital with notifications with all the transactions and all.

Please talk to the about getting HDFCSEC app to Windows Phone

HDFC app for iOS has mobile recharge feature, but not in WP.
Windows Central Newsletter
Thank you for signing up to Windows Central. You will receive a verification email shortly.
There was a problem. Please refresh the page and try again.