Join India's popular fictional detective, Byomkesh Bakshy, in his quest to uncover mysteries on Windows Phone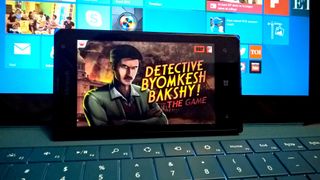 Detective Byomkesh Bakshy! is an upcoming Indian crime thriller film based on the fictional detective Byomkesh Bakshi created by the Bengali writer Sharadindu Bandyopadhyay. The film stars Sushant Singh Rajput, Anand Tiwari, and Swastika Mukherjee in principal roles and is scheduled for release this weekend.
To accompany the movie promotions, Yash Raj Films and Games2Win have partnered to bring a thrilling detective game to Windows Phone. The game is set in the city of Calcutta in 1943 - a city plunged in war, hate, and crime – where people live in fear and shadows. And there is only one man is in search of the truth – Detective Byomkesh Bakshy!
In the game, the famous detective, a man with fascinating intelligence, strong observation powers, and an explosive wit to match decides take you as his partner. You join him on his quest to uncover some of the biggest mysteries and evils that are haunting the city.
You need to catch up with his shrewd mind, and expose hidden motives and follow clues while learning the science of observation and deduction. Whether it's a petty crime or stopping the diabolic plan that threatens the future of India, the two of you can't stop. Check out this trailer for the game... it's for the Android version, but the game play is identical.
Give Detective Byomkesh Bakshy! (DBB) a whirl and engage your detective mind. It's free to download, although ad-supported. DBB is an interesting game with neat graphics and an indulgent game play. Stay alert as everything is not what it seems in this hidden objects game!
Download DBB for Windows Phone (Free)
A bakshy(baxi) article by A. Baxi :P

Me too just was going to right it ... A bakshi article written by baxi

Bakshy ( bengali ), baxi ( Panjabi )

WHEN IN INDIA?! indiaception

Jolly good idea, oh dilli dilli dilli.

Yawn.. Can he slap cars and bite mountains?

I don't know dude, I've seen some crazy Bollywood stuff on YouTube

You know Hindi..? Ya car stunts are sometimes too much. But nothing except that.

I can see him dancing on the street after every mystery is solved probably if he's working for a woman, they'll throw her in aswell.

Totally off topic. Does anyone think Windows 10 For Phones will get a new Store?

I hate the old look time for a change

Probably will. More like Google play style. That's what I few when I use the Store Beta for the desktop/tablet versions.

There has been zero mention of a new store though

The current WP/W 8.1 stores have almost no relation to each other either. Our store is so basic it hurts.

There's might be a new store in the future builds.. If its not then feedback them.. ;)

We should all feedback it lol

Already has an update available, and I just d/l it a couple hours ago!

The repetitive, jumpy music is dreadful. Can't turn it off and leave the sound effects on. Other than that and not being able to find some objects it's ok for a free game. What's a polti?

It reminds me a little of Secrets and Treasure.

It's very pleasing that they remember our WP. Thanks to the developers and the team.

I've installed it.... Looks a lot like games frm artifex mundi....bt its auto closing and unlike enigmatics we cannot use the objects we have collected so far... So aftr some time it becomes a bit boring

Is Byomkesh Bakshy the indian Sherlock Holmes... or is Sherlock Holmes the english Byomkesh Bakshy?

Sherlock Holmes was written 45 years earlier...

@schlubadub:
Thank you. No doubt 'bout that.
My comment was a try at a "Big bang theory"-reference.

oh yeah i remember that one... funny

How about a wp game about the worlds greatest detective - Hercule Poirot - or the second fella, Holmes??? Something western to get ones teeth into.

Indian devs are only at work here.

Maybe he can find our next win 10 mobile update?

"Indian"a Jones, is that you?
Windows Central Newsletter
Thank you for signing up to Windows Central. You will receive a verification email shortly.
There was a problem. Please refresh the page and try again.