InstaBooom is your third-party Boomerang app for Windows 10 Mobile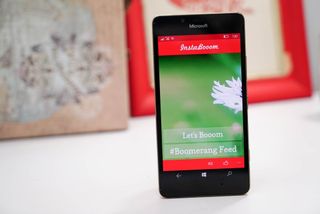 Boomerang is an official app from Instagram that takes a burst of photos and stitches them together into a high-quality mini video that plays forward and backward. It's already available on Android and iOS, but still missing in the Windows Store. While Windows 10 Mobile users wait for the official app, they can try out a third-party app called InstaBooom that mimics the features found on Boomerang. Check out our hands-on video.
It's not that hard to use InstaBooom. When you open the app, the main screen displays a sample looping image in the background, with two large buttons in front. One button opens the camera to create a Booom, while the other opens a page with a list of images from Instagram with the hashtag, #Boomerang.
When you tap the Let's Booom button, a camera interface shows up. You can switch between the selfie and the main cameras. Tapping the red button captures a burst of photos and stitches them together into a mini video that plays forward and backward. You can then save it to your phone, or share on social media like Instagram. If done right, you can create some really compelling images.
One issue worth mentioning is that we've had problems creating images when holding our Lumia 950 in portrait mode. We hear the camera sounds after tapping the capture button, but nothing shows up in the image preview. Capturing an image in landscape mode, however, works fine.
Here's a sample Booom image below:
InstaBooom is a free download from the Windows Store, but you'll see ads after tapping the Let's Booom button. There's an in-app purchase of $1.49 for an ad-free experience. Download it on your phone and let us know what you think in the comments!
Download InstaBooom for Windows 10 Mobile (Free/In-app purchase) (opens in new tab)
Yeah for me too it didn't work at all. Lumia 950 Lähetetty Windows 10 -puhelimen Windows Central -sovelluksesta

Doesn't work on my Lumia 950 either. I can take the picture ...but it never loads it after processing. Tried on a friends 650 and same thing.

The point? Fun... Posted via the intertubes

Used this a few times. Does the job well. For those asking what's the point... Obviously bc ppl like this sort of thing... The effect is a lot like MSFT Blink. Which was always fun to use. Posted via the intertubes

Wish there was a Dubmash or Musica.ly app or client at least. The clients for Dubmash are terrible honestly. Zachary Bowling - ZAD Apps

There are dubsmash 3rd party apps that work pretty well. I have used Dubscratch

cinemagraphs just look so much better, MS needs to update the app/integrate it in the camera app and get facebook to support them. 10x better than live photos or this tacky boomerang stuff.

I hope they improve the app... Or hopefully Instagram releases it...
Windows Central Newsletter
Get the best of Windows Central in in your inbox, every day!
Thank you for signing up to Windows Central. You will receive a verification email shortly.
There was a problem. Please refresh the page and try again.