Instagram client InstaPic now available for free on Windows Phone 8 as InPic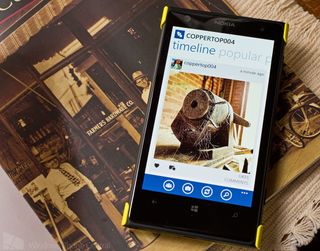 A few weeks ago we mentioned that InstaPic, a fully featured Instagram client, had been released for Windows 8. Over the weekend, the developer released the Windows Phone 8 version of InstaPic but with a slight name twist... InPic.
The name change is likely in response to Instagram's request that unofficial client apps not use "insta" or "gram" in their titles.
InPic for Windows Phone 8 shares the same feature rich environment the Windows 8 version offers. InPic includes most of the features of Instagram including account log in, uploading photos (no videos), viewing videos, comment on photos, and follow other Instagram members.
InPic has main pages that cover your Instagram Timeline, popular photos from other members, and your profile summary. You can edit your profile from InPic.
Images can be uploaded from your Pictures Hub or by launching your camera and capturing fresh photos. InPic does have a nice selection of filters to fine tune your images prior to uploading them to Instagram. Photos from Instagram can be shared via your Social Networks (labeled as "Instagram photo by..."), emailed to friends, and saved to your Windows Phone.
In just using InPic for a short time this afternoon, it comes across as a nice Instagram client. It does lack video support and doesn't have a live tile. We also aren't sure if it has the hashtag issue, though we're leaning on that it does.
For now we'll say that InPic isn't too shabby of a Windows Phone 8 Instagram client. We'll take it out for a test drive over the next few days and see how it shakes out and get a review up on the site.
In the meantime, if you want to give InPic a try it is a free app for your Windows Phone 8 device that you can find here (opens in new tab) in the Windows Phone Store. For those wanting a Windows 8 solution, InstaPic can be picked up here in the Windows Store (opens in new tab).
Thanks, zhoulhas, for the tip!
Windows Central Newsletter
Get the best of Windows Central in in your inbox, every day!
George is the Reviews Editor at Windows Central, concentrating on Windows 10 PC and Mobile apps. He's been a supporter of the platform since the days of Windows CE and uses his current Windows 10 Mobile phone daily to keep up with life and enjoy a game during down time.
Did you really need to ask that question? Nothing will ever be as good as 6tag

6tag only better for video uploading both are great.

Plz tell how to sign in this app "Inpic".... There is no sign up option and I tried sign in with my Microsoft a/c and my Fb account but I am unable to sign in..... Plz help me regarding this........

I seem to automatically love apps that say "No ads". I admire selfless efforts like that :)

You realize they put time and money into these things. Would you spend hours and hours and hours on something and then just give it away......i don't think so. Its not like they are trying to billionaires they are supporting windows 8 but the only way they can afford to is by doing that

Wtf! When did I say I don't want to pay for apps? I said I love apps with no ads.

Why don't you go to work for the next 6 months and tell your boss you don't want to get paid.

I would definitely choose to work for free vs sticking a label of KFC, McD, Apple and Gmail on each and every letter or client report I post. However, point being I said - I don't like ads. I didn't say I don't like paid apps. Probably have paid for more apps and games on WP since 2010 than these two commenters slating me combined.

+1020 I agree. I always make sure to give them lots of praise for that in the app's review.

I am clueless on how to make an app or where to even start! Even apps that are so so should get decent reviews! People are harsh!! With that said, I buy apps if they are only .99 or $1.99, hell thats only a Pepsi! I am going to lose sleep over it!

But bad apps are like a warm can of Pepsi that's also gone flat. A wasted can. You don't do that daily do you?

And what about the suspicious account problems, that was blacking hashtags? Does this app prevents it from happening?

Yeah, guess we should have wrote about in the ar...oh wait, look at that... ;) My guess is no, this does not have the proper image security on board.

Although english is not my native language, it is good to clarify that it was a retorical question: the app DOES block you, since I was blocked, myself, after using the Windows 8 version a few weeks ago. Best regards.

You've been Daniel Rubinoed!!

Will try this only because 6tag crashes so often.

Try uninstalling and reinstalling it. My hasn't crashed at all

That may be because you didn't surfed the app for a long time continuosly, but it crashes for me and even makes the phone lag after crashing. Several other people have also mentioned this on the reviews.

Never crashed or lagged for me either.

That's Rudy's way of telling you to get a life.

It crashes here continously too... I think it is related to bad network coverage while surfing the app

No it can't be bad network, there's something wrong with the app, my connection was fine everytime it crashed.

6tag is unusable on Lumia 720, crashes and crashes. The app is not working good on 512 MB devices. Seems the InPic is working good.

Oh yeah, that might be the reason cause i own a Lumia 620

6Tag works perfect and crash and lag free on my Lumia 720.

I've had a few crashes, but nothing I would call, continuously. Funny thing is, the beta never crashed on me

Ya, reinstall it, mine never crashes, actually it literally hasn't!

Never crashed since day 1

My doubt is: did they implement the truly logout request??

Read article then read comments before yours......ppl

Go buy a 520 or 521 it will change your WP experience not getting apps will just keep annoying you

Want to buy a Lumia 520 for me? ;)

Nice to have a few options. Props to the devs

Really, what's up with that?

Isn't it too much for a basic instagram app... It seems that he is a early developer who has made mistakes in the code or he hasn't compressed it ._.

Wow, that's actually great app

It's good to see more options, but 6tag got me covered. Now, it could be the client I need for Windows 8, if it's confirmed it doesn't have the hashtag issue (and yes Daniel, I read the article). :)

I have looked for something that works on my ASUS Vivotab Smart and nothing, no 6tag, instance, will this work for the TAB?

yea i use this on my yoga all the time. it's great for posting from computer

So after the great instagram drought, we are suddenly flooded with instagram apps. I'm just wondering when the official snapchat will come out. Or at least flooding of snapchat apps

You won't see any snapchat apps until the official as we have already had 3rd party apps that were forced to be removed from the store.

True but it sucks cuz it was reported to be coming out last month I believe, but obviously things change so I'm like restless lol.

Going to try it out but the number of instagram apps are becoming like twitter I brought like 5 and decided to use the official app now

Meh.
No reason to get any instagram client other than 6tag until they incorporate video & security features.

Yep. But if you're like me and still blocked from hasgtags give it a go. Lol

6tag is definitely better.

whats the name and where cani get that case, can that fit on my 928

I already received 10 mails, so I need to prevent.

Careful, inPic doesn't manage hashtag security, you can test it but create a new account before test it, else, your acount will be flagged as suspicious

But you should look ahead to fix 6tag crashes mainly on 512MB Windows Phones.

to be honest I received my first 512Mb device some day ago, it's my principal priority now

Haha, now that's a good news for 512MB WP owners! ;)

Same here, it just seems random. Took photo, edit it, wrote the description and then got distracted and let the phone went into lock . After that it didnt came back from that state, with a black screen and receiving mails (sound notification), I needed to do a soft reset to bring it back to normal. Lumia 720 here

Rudy,
And the issue of notifications that do not work there any plans to fix this bug? Only update the Live Tile when I'm followed by someone.

Notifications are not included in 6tag cause impossible technically to have real time notifications, instagram sends only ios and android notification format, no WP

Let's just test them all ;)

So they renamed that InPic.

Inpic & instance not publish picture upload, private picture by server API instagram because ilegal. Just 6tag better & the best publish share picture to instagram & Legal

I actually like the design of this app. Its only version 1.0 but I can see this with future updates being better. I mainly am looking for real notifications and live tiles that work....and right now 6Tag is the only one that works

Im buying a brand new unlocked LG l9 for 120$ im over this whole windows experience! It lacks everything I enjoy.. Other than a great camera I don't see the need

How can instacrap "own" the names for "insta" and "gram". They are so childish and evil.

Anything is possible though, Apple have a patent on rectangles with rounded corners!!!!

No video? Is there a reason to even get this when we have 6tag?

Not really, but it's nice to have a choice.

I've scared because my suspicious tag at my account never revoked -,-

Off topic a little, does anyone know where I could get this phone case and who the maker is?

Can this App actually upload a profile pic? Because 6tag can't? And there's literally no other way to upload a default pic short of logging onto someone else's non-winpho mobile device. So now you're just that creepy guy without a profile pic. Awesome.
Windows Central Newsletter
Thank you for signing up to Windows Central. You will receive a verification email shortly.
There was a problem. Please refresh the page and try again.