InstaPic for desktop gets a new look for Windows 10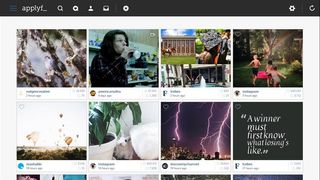 InstaPic, the Instagram client for Windows, has been updated for Windows 10. InstaPic is a free app, providing a number of features to desktop Instagram users such as filters, attribute adjustment controls, and more. You can search through tags and locations as well.
The app's latest update refines the interface, making the app better suited for Windows 10. The big icons from the previous version have been stripped out, and the toolbar now remains static on top of the app as you navigate around.
You can download InstaPic from the Windows Store now.
Thanks to AJ for the tip!
Download InstaPic from the Windows Store (opens in new tab) (Free)
Windows Central Newsletter
Get the best of Windows Central in in your inbox, every day!
One of the best Instagram clients for desktop! :)

They stole the code from 6tag.

Good cause im still waiting in Rudy universal 6 tag app pal...smh

That's not on desktop though

Based on our past experience with Rudy.....i would say the app is ready.

damn i just saw on twitter, rudy says the instapic guys stole some code from 6tag, and also rudy was recalling an event in the past too where they stole another dev's code.

Is Instapic as well as twitter apps dubbed for Windows 10 store can be downloaded in Windows 10 Mobile?

The Windows Phone app was killed, so no

Not universal? Not interested

Ask the developer or try the app. If they see demand, I'm sure they will. Although it is hard as 6tag kind of eclipses everything.

That's probably why there is no phone app, 6Tag has a really good hold on the market for IG clients. He probably though it was better to work on a PC app because there are far fewer PC IG clients.

This is why it woulda been better to have launched windows 10 and windows 10 mobile at the same time

Ist the instapic or my webcam driver that triggers bluescreen on my wondows 10? Everytime i used the camera on instapic,bluescreen of death shows up.

To use this app, upgrade to Windows 10. This is where Windows become fragmentation.

But considering how Windows 10 is a free upgrade for Windows 7 and 8.1 users, and considering over 16 million people have already upgraded to Windows 10 in only a few days (which is already more than the amount of Mac users), I'd say the fragmentation won't last long.

64 million as of yesterday, I think. Posted via the Windows Central App for Android because I am unfortunately with Sprint

I supposed your right. I hope Windows as a service works out because at the moment Windows 10 needs a lot of work on the tablet side.

I'm using it on my tablet and enjoying it immensely

I love using Apps on Windows 10 now. I used to dislike them and avoid them at all costs.

Whoa So much nicer than Metrogram. Thanks for the heads up!

Nice one, stealing code from Rudy Huyn is enough to get on the front page. It's not like I really care, but developers should been open about it. Profit is the only thing that matters for some people.

Yes, Rudy tweeted about it here: https://twitter.com/RudyHuyn/status/627555588155797504

I want new Facebook for Windows 10 app

me too with an improved notification syncing...

It's high time Facebook releases its own app.

niceeeeeeeeeeeeeeeeeeeeeeeeeeeeeeeeeeeeeeeeeeeeeeeeeeeeeeeeeeeeeeeeeeeeeeeee

Rudy Huyn tweeted that Instapic has stolen some code from his 6tag app.

They're both unencrypted, so by taking the .appx and renaming it to a .zip, Rudy is able to read some of the code from Instapic.

You can decompile the xap and see the code

We really don't have much choice with insta client on PC/ tablet. This is the best one I've tried and been using ever since. Thanks for posting my tip!

the title bar is still the same though, ie. with the hamburger thing in it.

Windows central shocks me daily with the stories they post. Isn't the guy someone known to steal code. Why exactly are we advertising.

since this update the ability to scroll on a profile is lost...

Instapic no longer working since upgrade, keep getting error,uploaded image isn't square. Used to be half decent app.

This should have 1 star for stealing source code Posted via the Windows Central App for Android
Windows Central Newsletter
Thank you for signing up to Windows Central. You will receive a verification email shortly.
There was a problem. Please refresh the page and try again.