InstaPic, the first fully-featured native Instagram app for Windows 8, is now available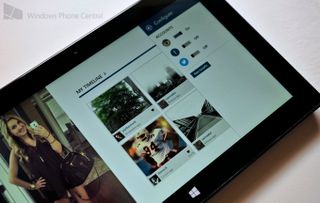 We recently reported that the developers behind the popular YouTube apps for Windows 8 and Windows Phone 8, PrimeTube, had a new one in the works titled InstaPic. The app was to be the very first, native Instagram client for Windows 8 devices, allowing you to see all of your images, activity, share images and more importantly, post directly through the app from your photo library or device camera.
We're happy to report that InstaPic is now live in the Store and ready to be downloaded to your Surface or Windows 8 machine. You can see in our video tour that a native app, as opposed to an inferior "web wrapper" app, provides a fast and fluid experience. Indeed the app is quite fun to use and for being a 1.0 release, it's quite stable (we did occasionally have a loading issue here and there, but trivial).
Now of course many of you should know that Instagram has been monkeying with their posting-API this week, causing havoc with third party apps. InstaPic is no different, although we were able to successfully log into our account without a problem. Instagram of course could change their API again (or rather, reinstate it), which will once again cause posting issues. Fear not as the developers behind InstaPic have a fix on the way, which should ameliorate any potential future problems.
Regardless, the app is free and a joy to use if you're an Instagram fan, so we recommend you give it a spin.
Head here to the Windows 8 Store (opens in new tab) to pick up InstaPic.
And if you do like this app, we're happy to tease you with the knowledge that a Windows Phone 8 version is also in the works. More on that next week!
Windows Central Newsletter
Get the best of Windows Central in in your inbox, every day!
Daniel Rubino is the Editor-in-chief of Windows Central, head reviewer, podcast co-host, and analyst. He has been covering Microsoft since 2007 when this site was called WMExperts (and later Windows Phone Central). His interests include Windows, laptops, next-gen computing, and for some reason, watches. Before all this tech stuff, he worked on a Ph.D. in linguistics, watched people sleep (for medical purposes!), and ran the projectors at movie theaters because it was fun.
Pretty cool. As much as Instagram would prefer you experience their site through mobile, I like the large screen real estate when browsing, liking, and commenting. Can't wait to upload from the app too!

Why do you have to comment first to almost everything? Lol. (I know it is to stop those "First!" people, :P)

Lol, I quess you are joking :D

It's a conspiracy. His comments automatically float to the top, as an insider. And yeah, I am kidding.

im with you on that. i love when i can use apps across devices. it just makes it more convienent so i dont have to always have a certain device to accomplish what i need.

I think like him and many off us, this is our most used app. This is the first and last app I check daily.

Ah, but the real question is if its ready for 8.1? O_o

well, it runs on 8.1 at least..as shown in the video ;)

Now all Microsoft has to do is put a decent camera into the Surface and this will be great. The cameras on my RT suck!!!

Please no. Damn I hate seeing people take shots with tablets. You can get away with a 7 inch but that's a huge stretch.

The 6 inch phablets are almost at that level.

Not necessary; take the pic with your phone, sync to SkyDrive automatically, pull up pic on RT and edit then post. Tablets are not for picture taking!

These 3rd party apps are getting out of hand for instagram. Do you think instagram will keep playing nice or request to remove them soon?

Getting real poor rating on MS store for some reason.. the app works and seems nice, definitely a few glitches here and there to fix though

See the section about API changes. That's your reason.

There was something in the reviews about logging in with username (which works fine for me) as opposed to email. So some may have had issues with that. But as Daniel pointed out - reviews on the 30th... would be negative!

Anybody know what happened to to the snapchat clients? Looks like they may have all been removed from the store.

Swapchat was pulled a little while back. There was an article on it.

YEEEAAAA.......awwwwww Windows 8 :'(

looks good! ill have to try it out! Thanks for the heads up Dan!

Can't access app. Was up?

Hope you not trying on your phone...

Nevermind. App hasn't been approved yet. I just had to read little more Down the line...thanks

I tried on Pc but doesn't show a link to DL

It´s a Windows 8 app, you just install it from the store for free.

Make it for the phone damn it

Very well designed this app :) Altough I noticed 2 situations:
- Cannot share my post to Twitter (Error posting in Twitter it's the message)
- When searching for friends, everytime I open the application I have to give permissions in order to the application search for my facebook and address book friends

Just followed the link provided here or you can try opening Windows Store and search for Instapic

I have never understood the popularity of the 'Insta-Apps' Hey look at my photos! Ok....big woop.

Today's word is "ameliorate".

Cool now all I want is the official Facebook app and Pandora app!

Word of the day: Ameliorate!

This is a REALLY nice Instagram client and miles beyond Metrogram, which I only used a few times due to it not being good. Having errors when trying to upload but I don't fault the devs.

Cool. I'm gonna try it as soon as I drop home.

Can't create new account, with Facebook or regular mode. Now it says "Too many users have been registered on this device". Using Surface RT Win 8

i have the same problem. Using windows 8.1

And y is this not for WP8???

And why did you not read the end of the article?

Cuz I didn't wanna read the full article. It should've been developed for Wp8 period. Forget Windows 8!

I just figured that out...dah

Aren't all these third-party apps violating the DMCA? Serious question.

Was a little curious about something. It seemed for a while that there were no third party instagram apps at all but all of a sudden, in the last 4 months, a number of them are popping up. As opposed to say Twitter or Facebook which have a ton of third party clients. What took so long? Is Instagram's API so hard to crack that it took one or two people to do it before everyone figured it out? Do Twitter and Facebook purposefully leave their API's available for the third party competition? Is it because Instagram has finally become popular enough for developers to try? This whole thing is just very interesting to me.

Not sure why this app require to access all that stuff on our device, so i'm not installing it.
It's ridiculous.

Nice! But the font for the comments are too small and emoticons are all pixels, can barely see what they are. Developed for devices with high res, most Win8 devices dont have high res. Like my Acer Iconia w510.

WHY do devs cramp everything when they have big nice screens to take advantage of?

Is this app only available for certain WP devices? I got the Nokia 928 and I can't find this app

It's for windows 8 meaning for tablets and laptops and PC.

I'm hooked on Oggl. Its so much better than Instagram for my personal tastes. Its all about the photography.

Great BUT unable to upload pictures

Yeah me too. is the problem resoved yet? whats wrong with the app?

I cant log in instapic it always says "error occured"

i have two instagram acc. and i want to upload pics on my main acc. but instapic wont let me... but on my other acc. i can post a lot pictures... i dont understand... why can one of my acc be able to post pictures and the other acc cant... WHYYYY

I have used Instapic for several years to discover today that it has been changed. No longer can you upload photos or videos. So, how can be a "fully-featured" IG app. What's th purpose if you can't use it!!!!
Windows Central Newsletter
Thank you for signing up to Windows Central. You will receive a verification email shortly.
There was a problem. Please refresh the page and try again.