Download your favorite Instagram videos with InstaVideo Downloader for Windows Phone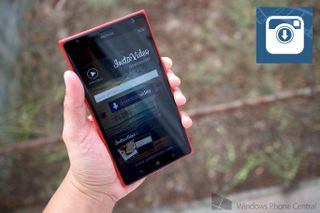 There was a lot of excitement when Instagram introduced video. While we're still not able to upload videos using the official app on Windows Phone, we can view our friends' videos. If you're looking for a way to download your favorite Instagram videos, there's an app for that at the Windows Phone Store. InstaVideo Downloader provides that feature.
Head past the break to watch our hands on video and walkthrough.
The InstaVideo Downloader application downloads Instagram videos by asking you for the URL. Instructions in the app show you how to do this, but it's very simple. You will need to open the official Instagram BETA application, click the three dots below the video you like, and then click the "copy share URL" option. Once the URL is in the clipboard, open InstaVideo Downloader and paste the URL. Click the download button to save the video to your phone
Saved videos are accessible in the video library within the app. You can see it on the upper left corner of InstaVideo Downloader. We tried looking for the videos in our camera roll and gallery, but they're nowhere to be found there. We have also connected our device to the computer and both Nokia Photo Transfer and Windows Phone desktop app could not find the files. It seems the only way to watch saved videos is through the app itself.
If you use 6tag, a popular third-party Instagram application for Windows Phone, copying the share URL is just as easy. Tap the three dots below the video, click the share button, and hit 'copy link.' The app currently has no option to download videos, but it does have the option to save photos. Rudy Huyn, the developer of the popular app, constantly updates 6tag, so we wouldn't be surprised if this functionality gets added in the future.
InstaVideo Downloader costs 99 cents at the Windows Phone Store. Are you you planning to download videos from Instagram? Let us know what you think of this app in the comments!
Windows Central Newsletter
Get the best of Windows Central in in your inbox, every day!
Well I don't use Instagram but vine will be awesome!

Vine Downloader is also on the Windows phone store. You can download it from the following link and enjoy it on your windows phone. http://www.windowsphone.com/en-us/store/app/vine-videodownloader/96440141-eacd-429a-92df-1cd8da36e182

Wow, now we have a rain of Instagram tool apps together with endless run games!!! Like that!!

There is currently no API to save videos on video/photo hub, the only way to save videos in locally, in the app. So, I'm really not sure that it's pratical. Let's me know what do you think about this kind of feature ;)

I really don't understand why Microsoft have all these limitations on the OS, it only turns people away from WP when every other OS have these basic functions available. I really hope WP8.1 changes things like this. Thanks for clarifying though, I was confused as to why this type of app has only just come about.

Maybe to Skydrive or any cloud, but yah it's two steps.

I think we need to ask microsoft to release that API? Whatsap had access to it right? Because we can have whatsap in the photos album. Why microsoft didn't give it to all developer, I'm confused.

well, windows operating system has lot of limitations. One of them is, that the downloaded videos are saved in Isolated storage and OS doesnt allows you to access those videos from video gallery. So there is no other way to access those videos accept the app itself. I have used this app on my lumia 520 and works perfectly fine. its easy and simple

I know 4K Download is one of the best tool in the current market to download and play videos from Instagram. Here are more information
https://www.4kdownload.com/howto/howto-download-video-from-instagram
Windows Central Newsletter
Thank you for signing up to Windows Central. You will receive a verification email shortly.
There was a problem. Please refresh the page and try again.