Intel takes a bite out of Qualcomm's Snapdragon 8cx series with Lakefield
Intel unveils its answer to Qualcomm's ARM-based 8cx series.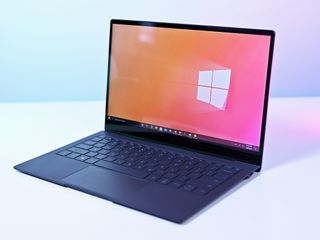 (Image credit: Daniel Rubino / Windows Central)
What you need to know
Intel has revealed its first hybrid processors under the Lakefield moniker.
The Core i5-L16G7 and Core i3-L13G4 feature integrated memory and utilize 3D stacking tech to deliver a more energy efficient design.
The first Lakefield-powered product is the Galaxy Book S, and it will be on sale later this month.
Qualcomm has fared well in the always-connected category thanks to its Snapdragon 8cx chipsets, featured in the likes of the Samsung Galaxy Book S and the Surface Pro X. Intel is now taking a swing in this segment by offering x86 chipsets under the Lakefield moniker.
Intel is offering two chipsets at launch: the Core i5-L16G7 and the Core i3-L13G4. Both have integrated Intel UHD Graphics and are the first from Intel to feature "native dual internal display pipes," making them a decent option for foldable and dual-screen PCs. The Lakefield designs take up a "56% smaller package area" for up to a 47% smaller board size, leading to much better energy efficiency.
Both chipsets have a single 10nm Sunny Cove core for intensive workloads, four energy-efficient Tremont cores, hardware-guided OS scheduling, and 7W TDP. The i5-L16G7 has a base frequency of 1.4GHz and goes up to 3.0GHz boost, with the i3-L13G4 offering base clocks of 0.8GHz and 2,8GHz boost.
Another interesting fact is that the Lakefield designs are the first from Intel to feature LPDDR4X package-on-package memory, eliminating the need for external DRAM modules. Intel is leveraging its Foveros 3D stacking technology to stack two logic dies and two layers of DRAM in three dimensions, and the designs also have a built-in Wi-Fi 6 modem and LTE capabilities.
Because the Lakefield processors are based on the x86 platform, they run full-fledged Windows 10 and don't need to run on an emulator, unlike Windows 10 on ARM. That's a huge advantage right there as you don't need to worry about any compatibility issues. Intel says that the Lakefield designs deliver "full Windows 10 application compatibility" at both 32- and 64-bit, and that the Core i5-L16G7 requires standby power as low as 2.5W, up to 91% lower than the Y-series i7-8500Y.
Details of a Galaxy Book S powered by the Lakefield chipset surfaced last month, and the variant will be on sale in select markets later this month. Intel is counting another design win in the Lenovo ThinkPad X1 Fold, a PC with a foldable OLED panel. The X1 Fold will debut later in the year.
Windows Central Newsletter
Get the best of Windows Central in in your inbox, every day!
Harish Jonnalagadda is a Senior Editor overseeing Asia for Android Central, Windows Central's sister site. When not reviewing phones, he's testing PC hardware, including video cards, motherboards, gaming accessories, and keyboards.
It doesn't seem like they've "taken a bite" out of anything just yet.

That's because this device is not on sale yet, but it will definitely eat some of Qualcomm's lunch because this Lakefield chipset solves the primary pain point of Qualcomm-based Windows 10 laptops: app compatibility. No emulation, no recompiled apps, it runs any x86/x64 Windows app without hassles, and that's going to be a major factor for a lot of people (businesses using legacy software, people wanting to use the latest Photoshop, etc.). Not everyone will care, though. If someone just wants something to browse the web, read docs etc. they can be fine with either a Qualcomm or Intel-based device.

Interesting. Will be a winner if it can actually compete with ARM for power efficiency. My Surface Pro X excels here so we'll see.

Would so love to see Microsoft drop Lakefield in Surface Pro X II and Go III.

I can't shake the feeling that Intel's bark is going to be worse than its bite. I hear "Intel UHD" and I think bottom of the barrel. That's probably unfair, but off-hand, I can't think of a single Intel UHD device where reviewers were impressed by the graphical/gaming capabilities. I'm sure Lakefield devices will do a fine job running typical productivity software and none-demanding apps, but Intel UHD will be its handicap when compared to Snapdragon chips. I know the comparisons aren't totally fair because it's a bit of apples to oranges. But I caution anyone buying a mobile Intel chip and think they're going to do some solid gaming.
Windows Central Newsletter
Thank you for signing up to Windows Central. You will receive a verification email shortly.
There was a problem. Please refresh the page and try again.