Samsung Galaxy Book S review: Excellent battery, slim design, but just OK keyboard
Samsung's latest ultra-slim Ultrabook does something not done before: all-day battery life, 4G LTE, in one of the lightest designs to date. Too bad about that keyboard.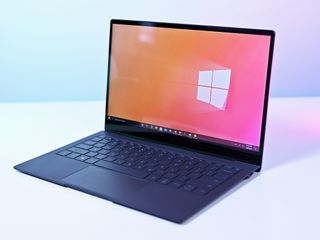 (Image credit: Daniel Rubino / Windows Central)
The tale of Windows 10 on ARM is an ever-evolving one with small, but significant advancements. The Samsung Galaxy Book S is the second PC to feature Qualcomm's Snapdragon 8cx ARM processor (the other being Microsoft's Surface Pro X).
Following a more traditional clamshell design, this always-connected 4G LTE computer brings back one of Qualcomm's main advantages over rival Intel: battery longevity in a super-slender design.
I've spent the last few weeks with the Galaxy Book S, and Samsung has done an excellent job on hardware execution. But who should buy the Galaxy Book S, and what are the downsides to this $1,000 ultra-slim Ultrabook? Let's find out.
The Galaxy Book S has remained firmly at its $1,000 RRP since launch, and with Amazon Prime Day fast approaching, any discount on this device may tempt those considering a purchase. While Amazon doesn't currently stock this 8cx-powered Ultrabook, keep an eye out for price cuts to come.
$999 at Microsoft (opens in new tab)Bottom line: The Samsung Galaxy Book S does something Intel-based laptops can't: deliver a super-thin, very light premium laptop with more than 10-hours of battery life and 4G LTE all for $1,000. With excellent audio, a delightful display, it is only the shallow keyboard that holds it back from greatness.
For
Beautiful, slim, all-metal chassis
11+ hour battery life
Excellent audio
Outstanding full-HD display
microSD expansion
Against
The keyboard is very shallow
ARM64 may be confusing
No anti-glare display, 16x9 aspect
Know before you buy
Samsung Galaxy Book S who this is for
Like the Surface Pro X, the Galaxy Book S has a specific demographic in mind: modern, mobile workers who need a premium, always-connected Windows 10 PC with better-than-average battery life.
Samsung built the Galaxy Book S, much like its previous Galaxy Book2, for executives and enterprise users who jump between meetings, ride trains, and who want to be in their work in an instant. That's not to say, students, journalists, writers, and anyone who focuses on office productivity tasks can't benefit either.
While Windows 10 on ARM has limitations (such as not being able to run any specialty 64-bit "classic" Windows applications, heavy lifting CAD programs, or be adept at gaming or video editing), but it still can do many of the core tasks for modern PC users. Running Microsoft Office, Slack, Microsoft Teams, Skype, web browser, email, maps, and collaborative software is all some people need (see the rise of Chromebooks).
But it comes down to instant-on, ubiquitous 4G LTE connectivity, and all-day battery life that makes this laptop stand out from the rest.
So thin, so premium
Samsung Galaxy Book S design and features
The Galaxy Book S is a combination of exquisite, slim, handsome, and a touch of boring. In an age of 2-in-1 convertible laptops, or tablets that have pens that hide in the keyboard, the Galaxy Book S falls into the ho-hum "it's just a laptop" category.
The Galaxy Book S's trick is an old one: it's one of the thinnest and lightest laptops around (rivaled, perhaps, by the Acer Swift 7 (opens in new tab)). That's not to be dismissed. There is an audience for those who want skinny, but also long battery life in a laptop. Up until now, that's been hard to ascertain, especially with an LTE modem.
Swipe to scroll horizontally
Category
Samsung Galaxy Book S
Operating System
Windows 10 Home
Display
13.3 inches
Full HD TFT (16:9)
Touch (no inking)
Processor
Qualcomm Snapdragon 8cx
Memory
8GB RAM (LPDDR4X)
Storage
256/512GB
Expandable Storage
MicroSD slot (up to 1TB)
Front Camera
720p HD
Security
Windows Hello with fingerprint sensor
Connectivity
802.11 Wi-Fi
LTE
Nano SIM
Bluetooth 5.0
Ports
2x USB Type-C
Audio
Stereo (sound by AKG)
Battery
42Wh
Up to 23 hours of video playback)
Dimensions
305.2 x 203.2 x 6.2-11.8 mm
Weight
2.1lbs (0.96 kg)
Colors
Earthy Gold
Mercury Gray
Price
$999

(opens in new tab)
With an all-metal, anodized aluminum design, tapered edges, and a rounded back, Samsung can undoubtedly design a pleasing laptop. Weighing just 2.1lbs (or 0.96 kg), the Galaxy Book S is exceptionally light. Still, due to that metal chassis, it doesn't feel cheap or hollow compared to similar designs that rely on polycarbonate for materials.
Two colors are available, including Mercury Gray (used for this review) and a pinkish "Earthy Gold."
Two Type-C USB 3.1 Gen 2 (10 Gbps) ports flank the sides of the Galaxy Book S, which is all you get for input/output. Samsung does toss in a Type-C to Type-A converter for those who require the usage of a traditional thumb drive or wired mouse. Unlike the Surface Pro X, there is a 3.5mm headphone jack too.
Underneath the chassis is a simple pullout drawer for the physical SIM (no eSIM, unfortunately) and microSD expansion.
The power button also houses an excellent fingerprint reader. While it doesn't read at the BIOS level (requiring to presses: one to power on, one to log in), it is very accurate and fast with no failures.
Either of those Type-C ports can be used for charging with the minuscule wall charger. A small LED light up on the right-hand side to let you know the device's charging status, which is a nice touch.
Excellent viewing
Samsung Galaxy Book S display and camera
Samsung uses a full HD (1920 x 1080) 13.3-inch TFT 10-point touch display with an aspect of 16x9. Pen and inking are not supported, unfortunately, though it makes little sense on a clamshell anyway.
It's a sharp display with excellent contrast, but there is a visible banding that can be seen in photos (not in real life). Even though it is "only" full HD, this is one of those screens that could pass for a higher resolution as it looks better than it should.
The display can get quite bright, falling just below 380 nits of brightness. It is glossy, but not the worst I've seen.
There are three thin bezels (top and sides) with a larger ~0.75-inch bezel on the bottom, which also has the Samsung logo. Such a design is a consequence of using the 16x9 aspect where a taller 16x10 would have looked better and more modern.
Samsung managed to squeeze in a very tiny 720P web camera on the top bezel too. It's surprisingly good, considering how small it is compared to others, though it leans on reds for colors a bit much. A little blue LED lets you know the camera is active.
There is no physical privacy shutter, nor is Windows Hello facial recognition supported.
Typing is a challenge
Samsung Galaxy Book S keyboard and trackpad
If there is one area that gives me pause on the Galaxy Book S, it is the keyboard. Key travel is exceptionally shallow, hovering near the 1mm mark.
I hesitate to call the keyboard bad because if you spend enough time with it, you do get used to it, but that adjustment curve is longer than any other laptop I have used recently (even the XPS 13 2-in-1). There is an uptick to shallow keyboards so long as you can get used to them: you can type very fast due to less movement.
The keyboard backlight is also tricky. It technically has three stages, and Samsung uses this cool light green color scheme, which contrasts nicely with the grey keys. But to call it dim is an understatement. You'll only see the key illumination in the darkest of scenarios. While it's not clear why Samsung opts for such dim keys, my hunch is it plays into their focus on extended battery life, which is a big part of this laptop's story.
The trackpad is large, smooth, and has a satisfying (albeit shallow) click. Samsung uses Microsoft Precision drivers, and it is overall excellent.
top-tier sounds
Samsung Galaxy Book S surprisingly excellent audio
Usually, when one talks about super-thin Ultrabooks, the speakers get the ax in terms of quality. That's not the case here.
Samsung uses two speakers on the bottom edges (side) that, due to the slight curve, will clear your lap or desk. The audio profile is tweaked by Samsung's go-to subsidiary AKG.
I'll be blunt and just say that Samsung did a remarkable job with the audio. It's loud, clear, and has perfect stereo separation and space. There's even some bass and resonance from the chassis, which is something larger laptops often omit but is found here. It's some of the best aural performance I have heard in the 13-inch class, and Samsung deserves commendation.
For conference calls, two microphones on the top deck also work very well.
OK CPU, excellent battery
Samsung Galaxy Book S benchmarks and battery
Windows 10 on ARM PCs are a bit tricky to describe, and therein lies the problem. A laptop like the Galaxy Book S is perfect for using apps from the Microsoft Store, or using the new Edge browser's ability to install web-apps like Disney+, Kindle Cloud Reader, Twitter, Slack, Microsoft Teams, and more.
Other apps like Microsoft Office, Skype, and other productivity-based programs that are Win32 (x86) based also work quite well. The caveat is 64-bit x86 applications like from Adobe don't run at all on the Galaxy Book S, though I'd argue this is not the kind of laptop for that task.
Read more: How to get the most out of your Windows 10 on ARM device
The Galaxy Book S won't win awards for being the fastest laptop due to the eight-core Qualcomm Snapdragon 8cx processor (2.84GHz), but it's a solid step up from previous Snapdragon PC chips. Microsoft uses the "SQ1", which is just a fancy name for a ramped-up Snapdragon 8cx (3.0GHz), but it does reveal itself as the more powerful of the two PCs.
Geekbench 5
Geekbench 5.0 (CPU) (Higher is better)
Swipe to scroll horizontally
| Device | CPU | Single core | Multi core |
| --- | --- | --- | --- |
| Galaxy Book S | SD 8cx | 685 | 2,681 |
| Surface Pro X | SQ1 | 725 | 2,819 |
| Lenovo Flex 5G | SD 8cx | 713 | 2,828 |
| Acer Swift 7 | i7-8500Y | 732 | 1,106 |
| Surface Laptop 3 13.5 | i5-1035G7 | 1,177 | 4,413 |
| Surface Laptop 2 | i5-8250U | 909 | 3,372 |
| Surface Pro 7 | i5-1035G4 | 1,191 | 4,441 |
| Surface Pro 6 | i7-8650U | 1,113 | 3,519 |
| Surface Pro 6 | i5-8250U | 904 | 3,440 |
| Dell XPS 13 2-in-1 7390 | i7-1065G7 | 1,209 | 3,571 |
Geekbench 4
Geekbench 4.0 (CPU) (Higher is better)
Swipe to scroll horizontally
| Device | CPU | Single core | Multi core |
| --- | --- | --- | --- |
| Galaxy Book S (ARM) | SD 8cx | 3,271 | 11,096 |
| Surface Pro X (ARM) | SQ1 | 3,505 | 11,727 |
| Galaxy Book S (x86) | SD 8cx | 2,032 | 6,371 |
| Surface Pro X (x86) | SQ1 | 2,182 | 6,822 |
| Acer Swift 7 | i7-8500Y | 2,281 | 4,905 |
| Samsung Galaxy Book2 (ARM) | SD850 | 2,262 | 7,405 |
| Samsung Galaxy Book2 (x86) | SD850 | 1,345 | 4,164 |
| HP Envy x2 (ARM) | SD835 | 2,111 | 6,314 |
| Surface Go | Pentium | 2,078 | 3,934 |
| Surface 3 | Atom x7 | 1,078 | 2,777 |
| Surface Laptop 3 13.5 | i5-1035G7 | 5,265 | 17,345 |
| Surface Laptop 2 | i5-8250U | 4,203 | 13,233 |
| Surface Laptop | i5-7200U | 3,725 | 7,523 |
| Dell XPS 13 2-in-1 7390 | i7-1065G7 | 5,459 | 19,097 |
PCMark 10
Applications (Higher is better)
Swipe to scroll horizontally
| Device | CPU | Score |
| --- | --- | --- |
| Galaxy Book S | SD 8cx | 4,308 |
| Surface Pro X | Microsoft SQ1 | 4,617 |
SSD
CrystalDiskMark (Higher is better)
Swipe to scroll horizontally
| Device | Read | Write |
| --- | --- | --- |
| Galaxy Book S | 1,912 MB/s | 425 MB/s |
| Surface Pro X | 2,023 MB/s | 832 MB/s |
| Samsung Galaxy Book2 | 722 MB/s | 205 MB/s |
| HP Envy x2 | 513 MB/s | 197 MB/s |
| Surface Go (SSD) | 1,185 MB/s | 133 MB/s |
| Surface Go (eMMC) | 260 MB/s | 145 MB/s |
| Surface 3 | 149 MB/s | 33 MB/s |
| Surface Laptop 3 13.5 | 2,338 MB/s | 1,583 MB/s |
| Surface Laptop 3 15 | 2,028 MB/s | 806 MB/s |
| Surface Laptop 2 | 1,509 MB/s | 811 MB/s |
| Surface Laptop | 486 MB/s | 244 MB/s |
| Dell XPS 13 2-in-1 7390 | 2,400 MB/s | 1,228 MB/s |
.
Samsung looked to reduce system costs by using its own UFS 256GB storage solution (KLUEG8UHDB-C2D1). Read speeds are respectable near 1,900 MB/s, but writes are just below 500 MB/s. While this isn't terrible, the Microsoft Surface Pro X uses a PCIe NMe SSD with slightly better read and write results.
RAM is fixed at 8GB LPDDR4x on either the 256GB or 512GB models.
For overall performance, the Galaxy Book S felt solid when sticking to productivity-based tasks. Gaming is a no-go if venturing beyond simple platformers or 2D titles. The 8cx can beat the Intel 8th Gen i7-8500Y, which is a dual-core low-power chip and speaks in favor of Qualcomm (which also costs less).
Example of the apps that I ran on the Galaxy Book S for my normal workload during this review period:
Microsoft Office (Word, OneNote, Excel)
Microsoft Edge (ARM64)
Hulu
Netflix
Spotify
VUDU
Twitter
Microsoft Teams
Slack
Mail (Outlook.com)
Flow Mail (Gmail)
Polarr Photo Editor Pro
Microsoft News
GroupMe
OneDrive
Skype
Microsoft To Do
myTube!

(opens in new tab)

(YouTube)
MobileDiscord PTB (Discord)
Unigram (Telegram)
ExpressVPN using manual configuration
Because ARM PCs run so efficiently, there are no fans or even vents for cooling, ergo no noise (and no coil whine, either). Like other ARM-based PCs, this one never also gets warm.
Where the Galaxy Book S shines is battery life. Though it has a slightly larger 42WHr battery compared to the Surface Pro X's 38Whr, the real power savings come from that marginally slower processor and lower resolution display, both of which add hours of longevity to the Galaxy Book S.
Using Microsoft's battery report feature, the Galaxy Book S ranged between 8 and 16 hours, averaging just over 11 hours for usage during testing.
Turning to synthetic tests, specifically PCMark 10, which loops between Microsoft Office Win32 apps, the Galaxy Book S pulls in just over 11 hours. That test was run with the display brightness set to 35 percent, which was more than adequate for working under overhead lights. The Surface Pro X yielded just 8.5 hours on the same test in the same scenario. Both results are with 20 percent battery remaining, which means both laptops could get another hour or two on top of that.
Note: The biggest battery draw on these devices is display brightness. Running them higher and brighter will result in reduced battery life, so your results may vary.
PCMark 10 Battery (Applications)
Swipe to scroll horizontally
| Device | Time | Battery |
| --- | --- | --- |
| Galaxy Book S | 11 hours, 11 mins | 21 percent left |
| Surface Pro X | 8 hours, 31 minutes | 20 percent left |
Finally, turning to the 4G LTE, Samsung is using the Qualcomm X24 modem, which supports CAT20 LTE and up to 2 gigabits download speeds. Samsung sells the Galaxy Book S in partnership with Sprint and Verizon (opens in new tab) in the United States. Data performance and reception were excellent, with 60 Mbps achieved easily even without full-bar status, though individual results will vary. The modem never failed to connect and was extremely reliable.
Although the Galaxy Book S is sold through US carriers, the laptop is not SIM-locked. Dropping in a SIM from T-Mobile, for instance, worked just fine. Unfortunately, there is no eSIM support.
Filling a specific role
Conclusion: Samsung Galaxy Book S does some firsts, has one major oddity
The Galaxy Book S is one of the nicest looking Ultrabooks around that pushes various extremes. It is very light, super thin, all-metal, and solidly built with premium parts.
Its strengths are easily very long battery life that has particularly good standby time lasting days (or even weeks) and is always connected to the internet through Wi-Fi or LTE. Although the display is just full HD, it's a very evenly lit panel and matches Samsung's exceptional reputation for screen technology. Audio is also way better than expected, making this a fun laptop for watching Netflix in between work sessions.
Compared to the Surface Pro X, it has slightly worse performance, but it's not substantial. You could argue that the extra 2.5+ hours of battery life favoring the Galaxy Book S makes up for that slight performance hit. There's also the shorter 16x9 display (versus the 3x2) of the Galaxy Book S, and no pen support. Price-wise the Galaxy Book S costs less ($1,000) versus Surface Pro X at $1,250 with the keyboard.
Image 1 of 2
My only main gripe is the keyboard. Typing can be frustrating due to the low-key travel, and it takes a while to adjust to the design. The keyboard backlight is also much too dim.
There aren't many laptops in this class that directly compete with the Galaxy Book S. There is a similar 2019 Acer Swift 7 (opens in new tab), which is nearly the same size and even slightly lighter. Build quality and audio is nowhere near as good, and the performance is worse due to dual-core Y-series Core processor. That Acer laptop is also $700 more expensive, lacks a touchscreen, a 4G LTE modem, and it has around half the battery life of the Galaxy Book S.
Another option is the best-value HP Spectre x360 13t. That laptop also gets very good battery life, has a more powerful 10th Gen i7 processor, double the storage, and it supports inking all for the same $1,000 price. HP, in theory, offers optional 4G LTE, but its availability is hit-and-miss, and that laptop is more than a half-pound heavier.
The question then comes down to how much you value one of the lightest, thinnest laptops on the market with quite remarkable battery life and 4G LTE? For most consumers, they will be better served with something like the HP Spectre x360. But for individual mobile workers who need an always-connected PC that effectively never hibernates and has instant-on that weighs just 2.1lbs, well, there are no other options I can recommend. That makes the Galaxy Book S a tool for a specific user, but a pretty great one for a friendly $1,000 price. That is if Samsung can just fix that keyboard.
Long battery, all 4G LTE
Crazy thin, all-day battery and always-connected

The Samsung Galaxy Book S does something Intel-based laptops can't: deliver a super-thin, very light premium laptop with more than 11+ hours of battery life and 4G LTE all for $1,000. With excellent audio, a delightful display, it is only the shallow keyboard that holds it back from greatness.
Windows Central Newsletter
Get the best of Windows Central in in your inbox, every day!
Daniel Rubino is the Editor-in-chief of Windows Central, head reviewer, podcast co-host, and analyst. He has been covering Microsoft since 2007 when this site was called WMExperts (and later Windows Phone Central). His interests include Windows, laptops, next-gen computing, and for some reason, watches. Before all this tech stuff, he worked on a Ph.D. in linguistics, watched people sleep (for medical purposes!), and ran the projectors at movie theaters because it was fun.
Nice review. Honestly, the boost in battery life you get with this compared to the Surface Pro X is worth the (according to the benchmarks) relatively minor performance difference...most people wouldn't notice it anyways. The SD card slot and headphone jack are also a plus.

In fact the performance (ignoring compatibility issues) looks about comparable to that of my Surface Pro 5 (i5). Same with the Surface Pro X. If you need LTE and don't need any x86-only software on the go, this could be great. That's not me, but it's not hard to imagine a lot of people for whom this would work great. And for virtualization? 8 gigs is plenty for the stuff my wife does when she works at home and dials into the office.

And even then lots of x86 apps should work just fine. There are loads that aren't power hungry.

For me I only need an ARM app for Citrix and then I'm golden for legacy stuff. For personal use I don't need x86 stuff too often, but many will work already. Really looking forward to x64 apps working soon

For me, I love / prefer 16:9 vs 3:2. I can see for writing, but if your workflow is more Excel and PowerPoint, then 16:9 is a much better fit.

Yup, I hear that a lot and I believe may laptop makers too.

To each their own of course. Personally for Excel, I prefer some vertical space. At home I have a two monitor setup: one in landscape, one in portrait, both 16x9. Often I have at least one Excel window maximized on the portrait-oriented monitor, particularly when there are few table headers (variables) or when I'm focusing only on a few.

16:10 is the perfect compromise. Although I'd argue Excel needs height as much as it needs width. Personally I hate 16:9, much too cramped. It's awful for web browsing.

Practically wise with 3:2 or 16:10 you just get free vertical space (which is always nice Excel and PP), since often horizontal screen space is the same (just the vertical bezels are smaller), best modern example is still the Huwawei matebook pro one with the 3:2 screen. The exception is of course tablets (where 16:9 is very cramped for anything besides watching videos) or a handful of laptops (like the 13 inch dell xps) where the touchpad and/or keyboard are made smaller vertical wise (which also sucks).

Great Review. Just noticed the comparison to Asus Swift 7. Shouldn't that be an Acer Swift 7?

Thanks, and you're right, fixed!

These ARM processors absolutely obliterate the 8th Gen Y series Intel CPUs, and the worst part is that alot of tech websites call them weak.

Absolutely and Qualcomm does it for a lot less money. $700 cheaper than that Acer and you get touch screen, LTE, double battery life, and better performance? No brainer.

Excellent article. My question, can ScanSnap i1300 software be installed and properly work? For me, I do much with photography but not video, Google suite now incorporating MS Office and OneNote and Evernote. Some sites say those do not perform too good on this Book S. A correction, "...requiring to presses: one to power on, one to log in...", should read "...requiring two...".

Office, OneNote, Evernote should be fine. ScanSnap i1300 is scanning software and there's no mention of ARM64 support on their website. So no it won't work. The website only lists Windows x86 32-Bit and 64-Bit drivers. Neither work on Windows on ARM devices. Your best bet is to email Fujitsu and ask if ARM64 support is available.

Hi bradavon, sorry I took too long getting back to you. Yes, I did contact ScanSnap here is their reply:
"Dear Valued Customer,
Thank you for contacting Fujitsu. I am sorry but the Fujitsu scanners are not compatible with ARM processors. " Now, I must look at other options.

Hi Daniel, Thanks for the review. Any idea why battery wasn't anywhere near the 16-20 hours reporte? Obviously that's a guide but I was still expecting certainly past the 10-11 hour mark. There are Wintel laptops that can achieve this.

There aren't Wintel laptops that can achieve this at this weight + price though. Not completely related but still interesting: another reviewer (Andrew AMD on youtube, Samsung Book S review) got about 14 hours with his test where he got 10 hours with the Pro X and something like 7 hours iirc with the Pro 7. That should give a rough estimate of the advantages of these qualcomm chips vs intel battery wise (/similar weight class). The likely reason why the Book S has better batterylife than the Pro X is probably because of its lower screen resolution.

16-20 hours is reserved usually for video streaming, which Intel/Qualcomm chips are highly optimized for. At the end of the day there is no other laptop that is this thin/light

and

has LTE/touchscreen

and

gets this much battery life.

"There are Wintel laptops that can achieve this."

I'm unaware of any except maybe for the Latitude 7400 2-in-1 (~15hrs). But that's only because it has a 78Whr battery (vs 42WHr here), which is

huge

. It also weighs a pound more, is nowhere as thin, and costs at least $600 more without LTE and $1,400 more if you want one with 4G. All else equal, were you to put a 72WHr battery with a Snapdragon 8cx you'd easily see 22+ hour of real-world usage.

8.5 hours for the Surface and 11 hours for the Samsung, with 20% battery left on both, is an incredible result for such light machines. I assume that's running ARM64 Office365 binaries because x86-32 translation would consume more power. I just wish Samsung made a tablet version that competes directly against the Surface Pro X, for pen-centric users who want longer battery life and a microSD slot. Running ARM64 apps, these machines get 6th gen i5-level performance but with double the battery life. Running x86-32 apps, they're comparable to the Surface Go's Pentium Gold: not great but bearable if most of your apps are not x86. $1000 isn't steep when you consider the LTE hardware and ultralight weight. Nothing in the Intel/AMD camp comes close.
Windows Central Newsletter
Thank you for signing up to Windows Central. You will receive a verification email shortly.
There was a problem. Please refresh the page and try again.