Qualcomm's 'extreme' Snapdragon 8cx processor for Windows 10 can handle dual 4K displays
The most 'extreme' Snapdragon processor from Qualcomm is coming, and it's only for Windows 10.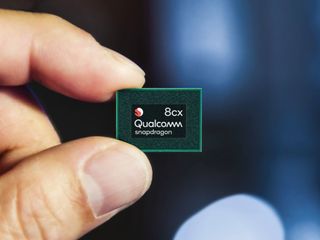 (Image credit: Windows Central)
Qualcomm is doubling down on Windows 10 and its commitment to the always-connected PC (ACPC). At its Snapdragon Summit in Maui, Hawaii, the company announced the forthcoming Snapdragon 8cx, an all-new seven-nanometer (nm) processor that is the first of its kind and built for Windows 10 PCs only.
The new premium-tier processor should launch in the third quarter of 2019, according to Qualcomm. Packing its most potent GPU yet and twice the performance of the Snapdragon 850, the new Snapdragon 8cx may finally be the ARM processor to break into the PC mainstream.
What's new with Qualcomm Snapdragon 8cx?
The Snapdragon 8cx features the new Adreno 680 and Kyro 495 CPUs, which are significantly more potent than current Snapdragon processors for phones. With two times the performance increase over the last generation, Qualcomm claims a 60 percent greater power efficiency as well as giving devices the same multi-day battery life as the current Snapdragon 850.
There is also now an X24 LTE Category 20 modem with a top theoretical download speed of 2 Gbps and 316 Mbps upload.
Qualcomm promises more robust graphics performance with hardware acceleration and 4K HDR video playback at 120 frames per second for streaming. The GPU can also now support up to two external 4K HDR displays.
Here's a look at a spec sheet from Qualcomm:
Other changes include additional connectivity ports with second-generation USB 3.1 over Type C and third generation PCI-E allowing "limitless peripherals."
Storage is also getting a boost, as there is now support for faster NVMe solid-state drives (SSDs) instead of slower (but cheaper) eUFS 3.0.
There are enhanced voice assistant experiences for Alexa and Cortana from the Hexagon 685 DSP and new "All-Ways Aware technology." Artificial intelligence is also featured with Qualcomm's fourth-generation AI engine on board.
Rounding out the new features, there is now support for Bluetooth 5.0 and Qualcomm Quick Charge 4+ technology.
Alex Katouzian, senior vice president and general manager of mobile for Qualcomm Technologies, had this to say about the new processor:
Interestingly, the Snapdragon 8cx also brings the first Windows 10 Enterprise certification to a Snapdragon platform, which is critical for adoption by businesses who are interested in an always-connected PC platform.
What's with the name 8cx?
The "cx" in the Snapdragon 8cx name stands for "compute" and "extreme" because everything about this processor represents the most radical iteration of ARM from Qualcomm so far.
The new processor designation is purposeful as Qualcomm has built the CPU specifically for PCs and only PCs. Previously, Windows 10 on ARM devices used the Snapdragon 835, which was a straight port from phones, and the Snapdragon 850, an enhanced Snapdragon 845, also from phones.
The 8cx is a shift away from that even though the current Snapdragon 850 will continue to be used. The 8cx is a more powerful (and presumably expensive) tier of processors for higher-end devices. We're told Qualcomm has been working on the Snapdragon 8cx for the last few years.
What's real-world performance like?
While it is too early to benchmark the new Snapdragon 8cx, Qualcomm seems confident that its performance when running native Windows ARM applications and Windows 10 should rival that of an Intel Core i5 U-series processor.
In our previous tests, the Snapdragon 850 beat an Intel Core i5-6300U in multi-core scores and only slightly lagged in single-core benchmarks. Where things changed was during emulation of classic Win32 apps like Google Chrome, where scores fell between an Intel Atom and Intel Pentium processor.
Considering how much more powerful the Snapdragon 8cx is supposed to be, it should be able to handle much more, and powering dual-4K HDR displays is a stunning achievement for this class of device. Combined with ARM64 app support and Microsoft switching to a Chromium-based version of Edge, the Snapdragon 8cx should be an exciting processor solution to test.
As to what devices will utilize the new Snapdragon 8cx in 2019, we'll have to wait and see. However, Qualcomm seems to tease a few reference designs in its promo video (above) including a dual-screen 2-in-1 design and a new-style fold-out keyboard. With the higher price tier and performance boost, this may finally be the ARM processor that Microsoft commits to with a Surface tablet. Even if not, its partners are sure to have some unique and creative ideas.
Windows Central Newsletter
Get the best of Windows Central in in your inbox, every day!
Daniel Rubino is the Editor-in-chief of Windows Central, head reviewer, podcast co-host, and analyst. He has been covering Microsoft since 2007 when this site was called WMExperts (and later Windows Phone Central). His interests include Windows, laptops, next-gen computing, and for some reason, watches. Before all this tech stuff, he worked on a Ph.D. in linguistics, watched people sleep (for medical purposes!), and ran the projectors at movie theaters because it was fun.
If this news had come out a week or less ago, I would have been ecstatic. But now all this raw power and new features for what... a future filled with Win32 apps? Sorry, I'm totally being a Debbie Downer. Thanks for reporting on this, Dan. It's honestly really cool stuff.

wow.. you are a downer, but the worst thing is you're right.

At present yes the Op is somewhat right. However things change so who knows.

Obviously, I missed some big news?

This is the arm processor that we were waiting for, like Apple has the X versions of their A** SoC (A12 and A12X for example) now we are getting something made for larger devices in the Windows world too. And this isn't a weak processor like some people here want desperately to believe, the GPU on this SoC will be stronger than the one on the Xbox One, the CPU will rival the new quad-core i7 U CPUs meaning that it is 2x more powerful than the one found on the Xbox One X. And what is interesting and I bet that many people haven't thought about is that this announcement shows that Qualcomm doesn't care about Android Tablets as well as Chromebooks.

If all apps ran natively, this SoC would solve the biggest problem of the Surface Book concept and that is the battery life when only using the screen.

ChromeOS already runs on arm. Were I qualcomm, I would create a version of this chip for other manufacturers. Google could call it the OP2

There's something about Google not exposing proper ChromeOS/Android bits to Qualcomm that prevents them from widely using ARM. It's why Samsung and even Chromebooks are all Intel. That's not changing and Qualcomm sees Windows 10 PC + enterprise as the real winner here. No one in business wants a Chromebook. This is about ISVs/enterprise, not regular consumers.

I see this as the perfect compliment for Lite (if it is real). Does this mean there is no snapdragon 1000? or is this what that became?

Pretty sure they're one and the same.

Too bad all that power will be used up emulating win32 applications.

Not really. Microsoft just released the ARM64 dev kit so "classic" apps can be recompiled in ARM64. Firefox just announced ARM64 support. Chromium getting ARM64. The OS is ARM64. Office is ARM64. With Slack, Discored, Skype going Electron, that's powered by z-chromium. Microsoft just announced it's adopting Chromium and guess who runs Electron? Github. Who owns Github? Microsoft. Connect the dots, man. A bunch of ISVs just announced ARM support with Qualcomm and Microsoft here in Hawaii. This is not a problem, it's a side effect of an early ecosystem but is solvable by the very tools devs use to make and compile apps (Visual Studio).

Oh I see. I couldn't connect the dots because nothing has been written about it on here. Perhaps if more articles about windows were written instead of mostly ads would help.

They have been written properly, but not all of the pieces have come out all at once to make one article connecting all the dots. It has nothing to do with ads.

They just kind of make this stuff up as they go along. If you think there's been an overall coherent strategy here the entire time I would dearly like some of whatever you're on.

Odd way to say you're wrong, but I'll take it. 👍

Nice to see ARM taking a bigger step towards the PC, will be interesting to see benchmarks.

This in andromeda. Go to so many meetings where a hassle to take surface, so read agenda on phone, not ideal. Slip andromeda in pockets, ink notes during meeting. Back to desk and Docke, it fires up 2 screens. Take it home end of the day. Cast Netflix to big screen in lounge, or do some gaming.
Could this act as cpu/gpu to attach to hololens chassis?
Truly 1 device to rule them all.

This would be designed around the heat dissipation of a laptop or tablet, not a phone sized device.

Not saying it will but could it not also, theoretically, be applied to a phone-like device too though?

No, likely not for the same reason you don't see Core i5 phones. To much heat and high power draw.

But could do in a Surface Go. Then the discussion would move to price.

Isn't the point with the Snapdragon processors that they are more power-efficient, and provide comparable power to the Intel processors with much less heat-generation?

Power draw isn't as big a deal in a dual screen device tho. Bigger batteries than typical phones. Heat is though, and I doubt they'd use liquid cooling (although technically it exists on that scale)

It can be used in a cell phone with some passive cooling. It is only a 7.5 watt chip...

7.5? Ah then it's doable. Bigger battery from dual screen design, and liquid cooling.

I am an Andromeda fan too but Microsoft is going to introduce the "Centaurus"
non pocket able folding screen Tablet PC using an Intel CPU running the New!
Windows Core OS. I hope that Microsoft puts a basic 4G Cell phone inside this
device so folks can send & receive phone calls. This capability would make it more
useful and more people would buy "Centaurus" Folding screen Tablets

Drat, comment didn't load. Data connectivity on rugged East Coast of New Zealand sometimes dodgy...
... Anyway...
Put this in andromeda. Go to meeting, ink notes. Back to desk and Dock it to the twin screens and carry on working.
Take it home, cast Netflix to big screen in lounge. Maybe do some gaming.
Hook it up to a hololens chassis?
Would be awesome, stylish and greatly reduce overall costs.

Haha, maybe data not so bad afterall...

8 cores CPU with each core potentially i5 performance is a game changer.

Curious if they'll offer LTE/5G on release too.

Yeh they will obviously. LTE is built in to the SoC itself.

Nice Dan! Thanks for the insight/update. Intense upgrades here. 2019 here we come!

Finally the dedicated Snapdragon for Windows I was long waiting for : I believe it has the potential to bring new opportunities to Windows devices that were not possible with only Intel / AMD processors. Only a tad disappointed that it seems not to support WIFI 6 (802.11ax) and not to support 802.11ay for better wireless docking functionalities : It seems that the Snapdragon 855 support them... Well I guess it will be for the chipset in 2020 / 2021 or so...

Would love to next version of the HP Envy X2 rock this chip. Would love to make that device my main mobile driver. Nadella's genius mobile play is finally coming to fruition. ;0)

About what I thought back in the beginning, third consumer iteration is where it gets interesting.

Microsoft just won a huge government contract to develop a HOLO lens for the military. I wonder if this SOC will provide the foundation for this next gen device...

i like where ARM/Qualcomm is going. I see it a bit like the transition from Windows 9x based on DOS to Windows XP based on NT. It's a good thing in the long run, but my concern is in PC games and hardcore software (CAD, coding dev apps and APIs, etc.). Will these companies port their software to ARM64? Will ARM64 take off sufficiently to kill Intel? or will the two coexist?

I think it will co exist. ARM still can't touch the performance of intel/amd desktop class processors(45w and above TDP). Just to give you an idea how fast these are, these processors can render and export 4K video in less than half the time of Intel Core i7 U series processors. These are beast when it comes to gaming and video/film production, or ray traycing etc.

A little competition is the best thing that could have happened to Intel, which was frankly resting on its laurels way too much for the last decade or so. We'll continue to see the Intel "top shelf" power house chips of course (think of the new 8th gen U series line up)... but now we'll start to see some Intel "middle shelf" respectable power but battery sippers too... in fact we're already seeing it. Look at the 8th gen y series chips used in the HP Spectre Folio... which some compare in performance with their 7th gen U series counterparts... but with the all battery life expected of a modern chipset.

I wouldn't compare it to the switch from Windows 9X to NT.
While 9X and NT shared the Win32 API, there were enough differences in behavior that code written for 9X often had to be reworked to run properly on NT.
Basically functions were the same, but behavior and security enforcement weren't, NT was Unicode (technically UCS-2) with an ANSI (technically Windows 8-bit code pages) compatibility shim, while 9X was ANSI with a Unicode shim, ... Code tested to "just work" on 9X would fail on NT. Now that we are all writing proper NT code, and usually already have worked around the CPU architectures specific dependencies because of the move to x64, most code can be recompiled for ARM64 without any changes. Most of my code compiled to ARM64 by simply adding it as a target in the project. This means the tools are really all it needs to get most applications that are still supported to be recompiled for native ARM64.
Looking at my own projects, I'd say the biggest issue left is the MSI installers based on WiX, and not everyone will move to MSIX just to support ARM64, so supporting ARM64 in MSI will be required if we want to make sure all apps really can be recompiled and distributed without any modification.
I'd recommend Microsoft doesn't leverage ARM64 to force developers to embrace MSIX, they need to get developers to adopt MSIX based on its own benefits, and allow ARM64 in MSI to get as many native apps as possible on these new devices.

I can't wait. This and streaming Xcloud games is all I need for my away gaming sessions!

i5-6300U seems like an odd point of comparison for the 850. It's a higher TDP chip, from the 6th intel generation. There are faster 15 TDP Intel chips, as well as slower lower TDP chips. Plus the difference in multicore is expected, Intel chips generally have fewer cores (typically no more than 4 in the mobile chipsets). In fact the lower TDP, is kind of one of the reasons this is truely interesting because it opens up doors for hardware that intel hasn't really been producing for awhile (15 being about as low as they go, albiet with some fascinating directions like discrete graphics and high single core power). Most noteably, smaller tablets, where passive cooling isn't too tricky. This would thusly be ideal for the next surface go. But things like personal assistance devices, navigation and so on also come to mind; without the need to run IoT stripped down windows. Not saying there is an obvious comparison, most lower TDP chipsets for intel are older, and using cTDP isn't really apples to apples. Plus it might not seem so favourable compared to say, the i7-u8565, especially on single core. Regardless, I look forward to the chipset. I think it'll be ideal for tablets and 2 in 1s, and office/productivity applications running lighter software. Good to have NVME no doubt, and I wonder will we see any minipc's as well as the expected laptops and tablets?
Windows Central Newsletter
Thank you for signing up to Windows Central. You will receive a verification email shortly.
There was a problem. Please refresh the page and try again.